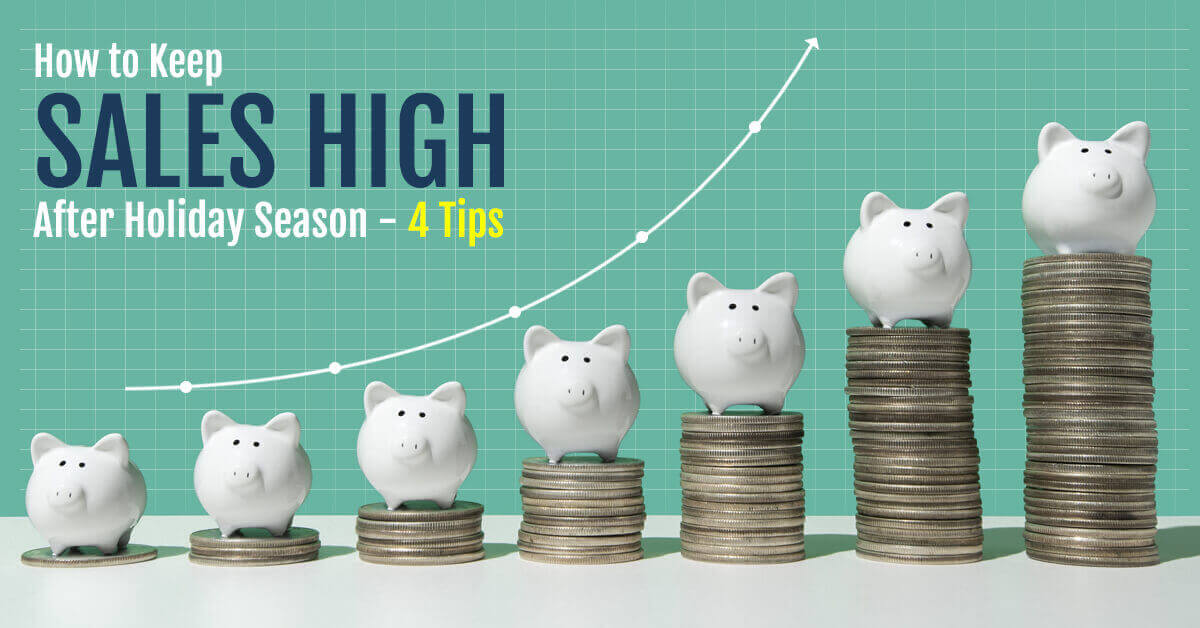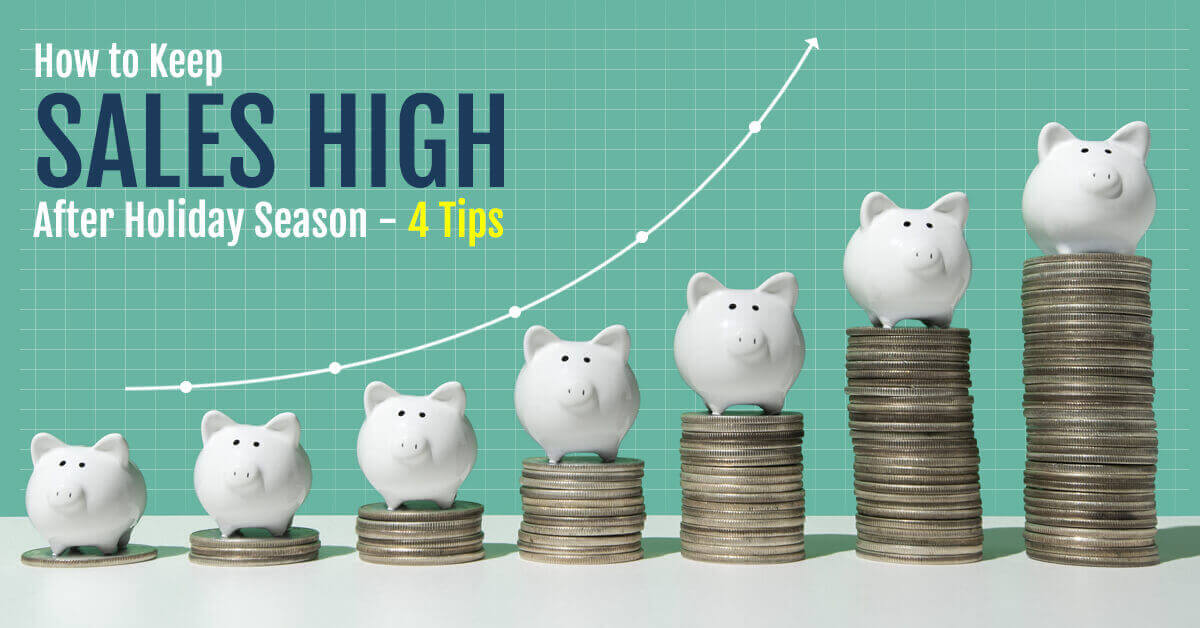 The annual holiday season (from Thanksgiving to New Year) brings a ton of opportunities for every enterprise in eCommerce. Sales strategies get revamped. Offers & discounts gets more exciting than ever. And, many businesses make as much as 80-90% of their revenue from holiday sales.
What happens right after, however, is a bit of a downer.
Post-holiday slump is not unheard of in the eCommerce industry. Right after Christmas, the sales begin dipping. Return increase & shipping bills take a toll on sellers who pay out of pocket. The holiday-high plummets and this dead zone leaves eCommerce sites coping for months.
Well, not anymore!
In this space, we'll cover ways to create an eCommerce sales strategy that helps you keep the spirits and the sales up, even after the holiday season.
The Post-Holiday Dead Zone Is An Opportunity In Disguise
Businesses invest a lot of time, money, and energy in holiday planning. Ideally, those efforts create good enough results. The number of website/eStore visitors takes a hike, as do the sales and leads figures.
Here's how the 2019 holiday season went!
Thanksgiving Day 2019 recorded a $4.2 billion worth of sales in the US
Black Friday 2019 acquired $2.9 billion in mobile alone, with a total of $7.4 billion
Black Friday left Cyber Monday behind with a total of 93.2 million online shoppers
We also saw the effect of different eCommerce sales strategies.
39% of consumers used deal & promotions sent to them via emails
20% of shoppers preferred easy online purchases with in-store pick-up
21% of buyers preferred websites/apps that were easy to use
75% of customers used mobile devices for product research, comparison, and buying
There are a lot of immediate and long-term methods to benefit from the holiday-high. We will talk about ways to keep your sales up in the new year soon enough. Meanwhile, you can utilize the post-holiday season to study insights about your holiday performance.
Here's what you can discover-
Best-selling items, most popular product category, and consumer preferences
Product combinations that customers bought together the most
Devices and mediums used for most purchases
Creative campaigns and copy which drove the highest engagement and clicks
Distribution channels which performed the best for specific products/overall store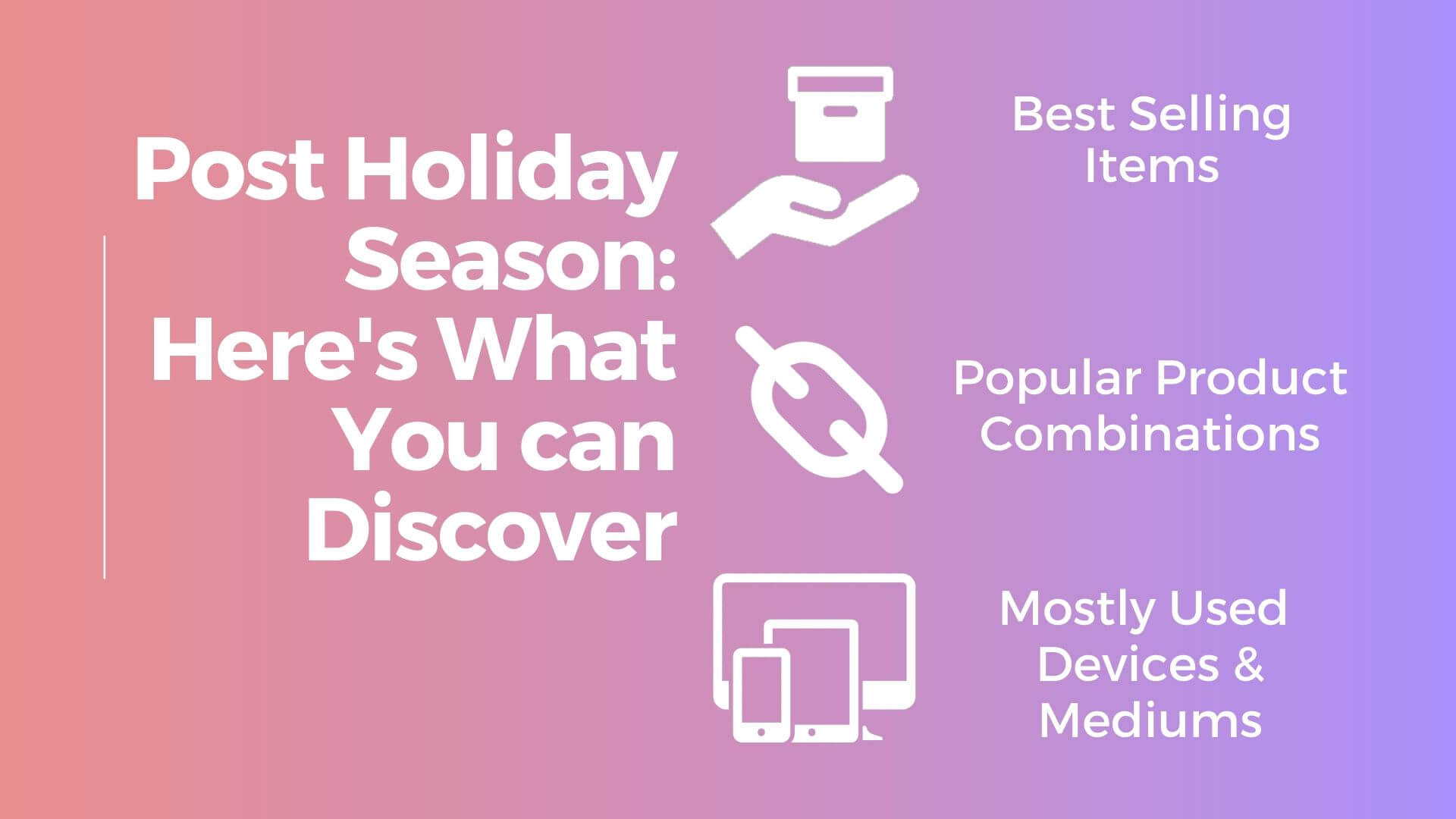 All this information can tell you where to direct your focus and effort in the upcoming year. You can identify if your store needs better catalog management, or your eCommerce sales strategy needs tweaks, etc.
4 Tips to Help You Spike Sales Beyond the Holiday Season
1. Go After the Abandoned Carts
A mere 5% hike in customer retention figures can lead to 25-95% higher profits. This figure imparts a simple lesson- no lead is worth ignoring, especially not the holiday website traffic.
Remarketing is a powerful tool that can help you nurture leads that didn't initially convert.
25% of online shoppers appreciate retargeted ads
Retargeting increasing the chances of conversion by 70%
A retargeted ad generates ten times higher Click-through rates than a typical display ad
Also, staying in touch with customers shows them that your brand cares.
Take out information on abandoned carts and retarget them with new and exciting offers and promotions. Reconnect with the uncultivated leads through creative emails and ads. Follow up with those customers, albeit to a reasonable extent. Try not to turn into a pestering brand breathing down their necks.
2. Start Another Sale or Pop Event
Discounts are a major driving force behind increased sales in the holiday season. Online shoppers tend to shop more because they are showered with a variety of promos, coupons, freebies, and discounts.
Being devoid of those special prices and free samples discourages people from making new purchases post-holiday season.
Starting a new sale is an excellent way to re-route the dispersing holiday crowd to your online store. It doesn't need to be just as grand as your holiday campaign. But it should be attractive enough.
For instance, you can-
Dispose of your winter inventory with a clearance sale
Promote loyalty programs
Offer perks for inviting new customers or subscribing to your mailing list
Offer coupons, an add-on, free shipping, secret coupons, etc.
Create urgency with flash sales
Pop up events have also surfaced as a raging trend in retail in the last few years. These temporary events are a unique way to promote your product while reaching a new audience. They carry an element of surprise, and hence easily catch shopper's eyes. Plus, pop up events are also a useful tool if you want to experiment with creative campaigns or try a different eCommerce sales strategy.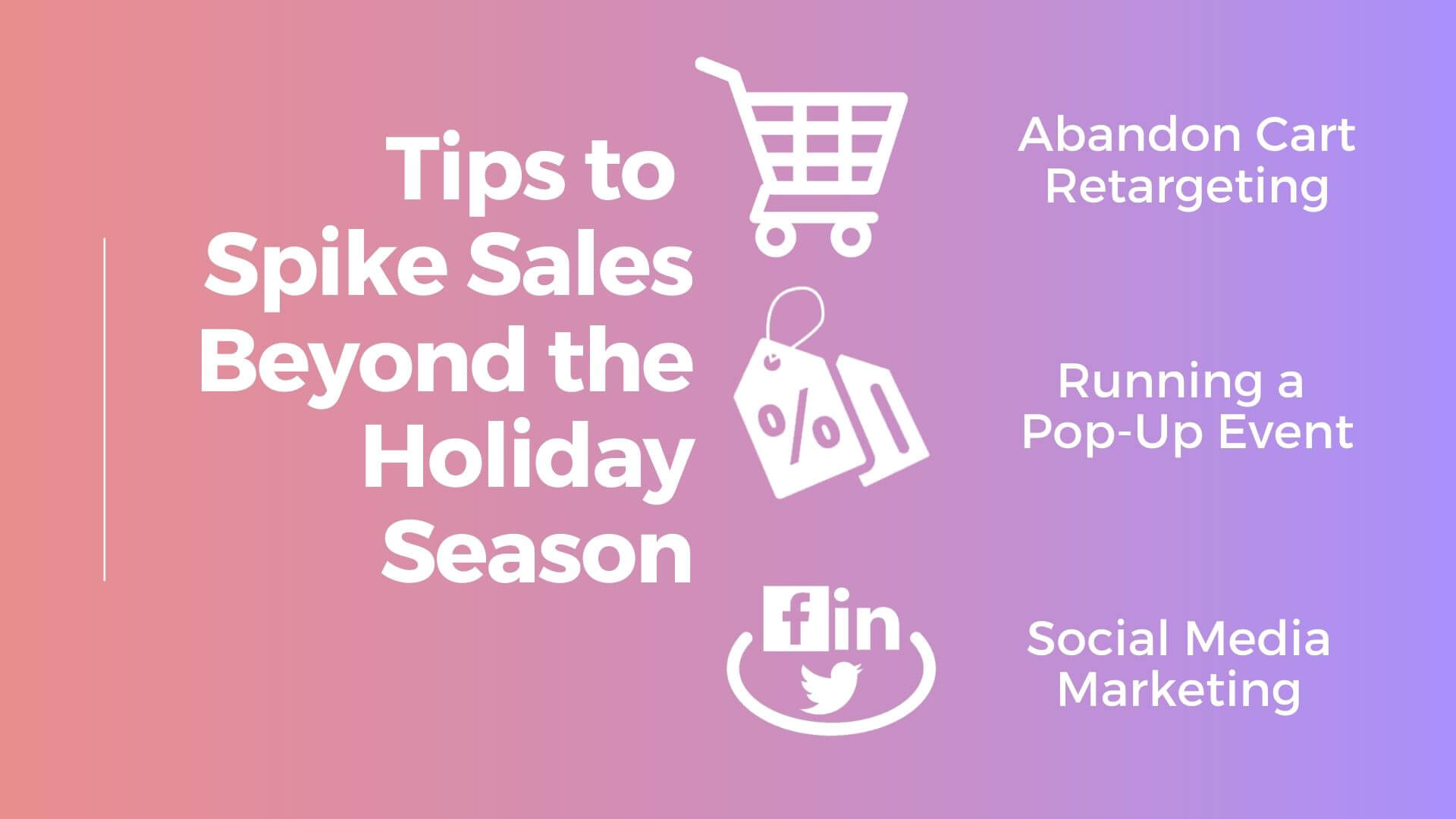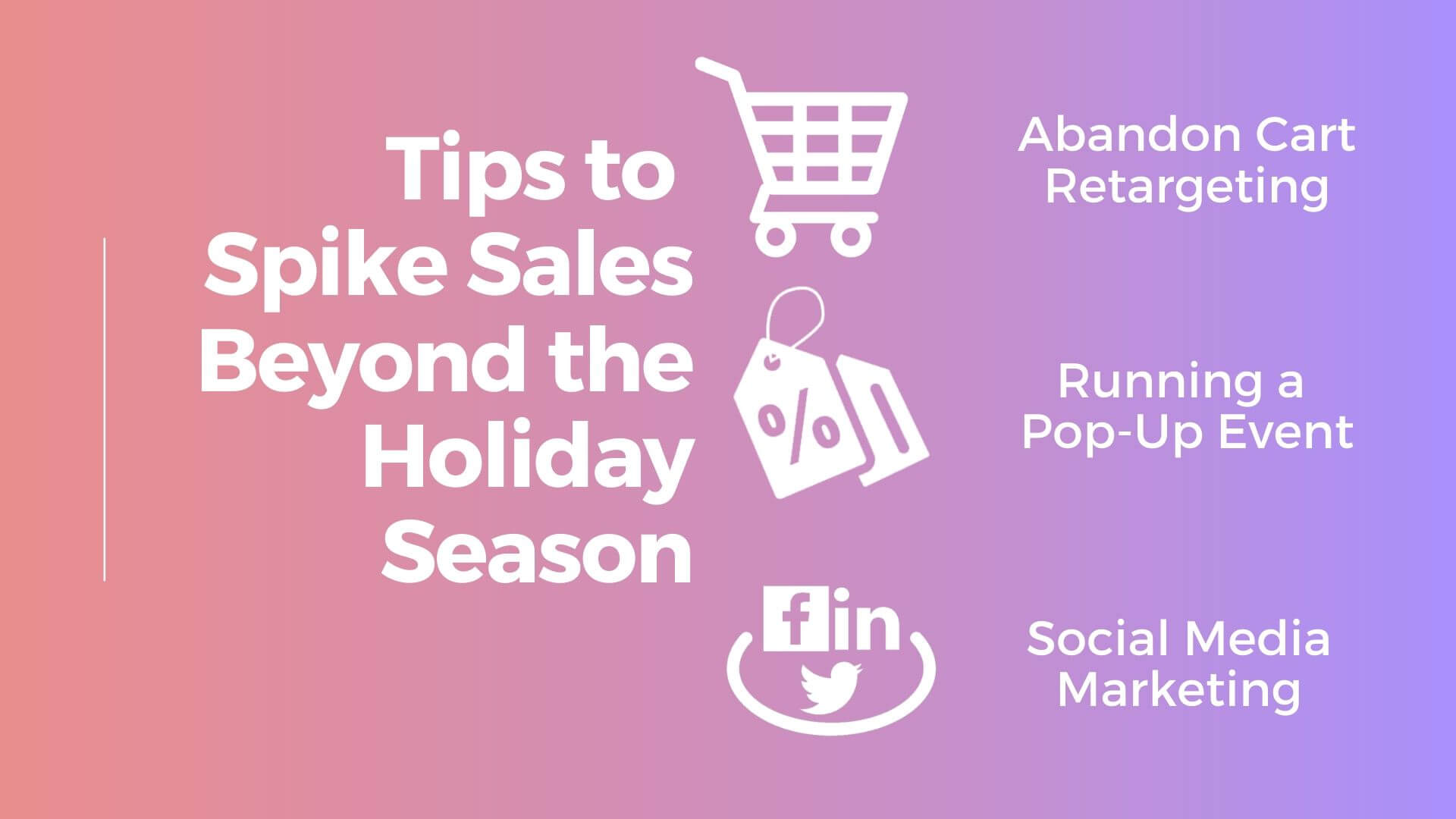 The best part about a pop up event is that you don't have to conduct them face-to-face. Announce a virtual or hybrid event with sale prices and watch people flock to your brand even after the holiday season.
3. Prepare an Inventory for the "New Year, New Me" Mindset
There are two aspects of a "New Year Attitude" that never change? optimism and energy.
People want to be better, do good, eat healthy, exercise, keep themselves happy, think positive-you get the vibe! Starting from January 1, there is an aura of determination and resolve that surrounds most people. Use it to your advantage.
Prepare an inventory that caters to that mindset. Store up on books, video games, and related items for fitness, stress management, lifestyle changes, positivity, healthy eating, etc. Market it to different consumer segments. Charge your store with things that people are likely to buy in the new year.
At the same time, pay attention to catalog management. eCommerce stores who create a new inventory but neglect store updation risk severe damage to their reputation.
Take help from good eCommerce catalog processing services if you find it challenging to manage everything solo. But, do pay attention to your inventory on every channel where your store resides.
4. Make A Lot of Noise on Social Media
Social media marketing can accomplish many things for your business. It can help you increase engagement, establish trust among buyers, and convert them. Social media channels can be used for several objectives-
Detect potential customers
Increase awareness about your products and brands
Promote offers & discounts
Quickly handle consumer queries and improve customer service
Run special ad campaigns
A majority of online sellers enthusiastically use social media for advertising during the holiday season.
However, in the dead season, most online sellers quiet down. They are exhausted from the holiday rush. They have to take note of what sold and what didn't. Reports, insights, outlooks, profits- there's a lot to do.
It's essential to observe that such radio silence hurts them more than you could imagine. A customer is always listening, holiday season or not.
So, make some noise. Advertise all your post-holiday campaigns on social media. Share every little offer. It's especially beneficial in the dead season because not many sellers adopt this eCommerce sales strategy.
Ergo, you could be the only voice. You would, by default, be the loudest.
Get Creative in the New Year & Watch Those Sales Figures Rise
Mountains of information will come your way once the holiday season is over. That means a lot of insights and a great deal of studying & reviewing. The post-holiday season is essentially a race to create better sales strategies. eCommerce stores participate in it without fail to come out as the champion in the next annual holiday season.
However, while doing so much, it's easier to go into a sales slump without realizing so.
If you made it this far, then you know how to keep the sales up, even in the dead season. Remember, you don't have to make a ton of revenue, just enough that your customers remember you in the new year.
Make the Most of Post-Holiday Season with SAMM Data
Our comprehensive eCommerce catalog processing services can help you prepare a perfect store for the new year. With a unique approach to catalog management & eCommerce sales strategy, we can help you boost sales post-holiday. Just send your requirements at info@sammdataservices.com and let us handle the rest.