Get Experienced Virtual Assistants For Amazon
Streamline business operations and efficiency while gearing your eStore towards growth & higher ROI with Amazon experts from SAMM Data Services. Our Amazon VAs can assist businesses of all sizes with complete support for Amazon marketplace management. Hire Amazon virtual assistant from our multidimensional resource pool and get the advantage of instant business value, fast scaling capabilities, and a competitive edge in the market.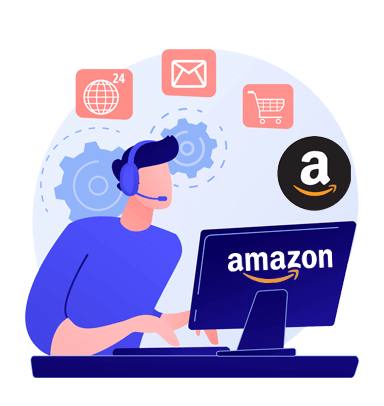 Increase Your Brand Presence With Our Amazon Virtual Assistants
Selling on Amazon can prove challenging unless managed appropriately. Since it is the largest online marketplace worldwide, it greets sellers with relentless competition from day one. An Amazon virtual assistant from SAMM Data Services can help you wade through that crowd of sellers and vendors while increasing product listing discoverability, reach, search engine rankings, traffic, sales, and conversions.
Hire our Amazon experts on a full-time, part-time, and hourly basis for all your requirements and get a lot done within your budget and time constraints without putting undue pressure on your team or yourself. Our Amazon virtual assistant services are designed to capture your processes, business technicalities, niche intricacies, and product capabilities before assigning a VA who can best impact your ROI while maintaining optimal operational efficiency.
Offload Time-Consuming Tasks To An Amazon VA
Get More Done In Less Time
Refocus On Core Operations
Save Up To 70% In Costs
Increase Overall Store Performance
Get a Free Quote
Hire Amazon VA For Complete Marketplace Management
Most Amazon account activities can be tagged as either iterative or specialized. We maintain a multidimensional team of Amazon virtual assistants for each of those categories. This includes experienced Amazon listing experts, customer support personnel, social media managers, Amazon seller virtual assistants, Amazon marketing professionals, and Amazon FBA virtual assistants.
Get An Amazon VA For Every Possible Requirement
Product Researchers
Audio/Video Editors
Listing Data Entry Operators
SEO Specialists
Web Marketers
Social Media Managers
Customer Support Staff
Listing Content Writers
Product Photo Editors
Graphic/Web Designers
Web Developers
Amazon PPC/Advertising Managers
Live Support Assistants
Admin Assistants
Additionally, our Amazon virtual assistant services encapsulate a wide range of offerings to cater to each and every aspect of your eCommerce store. You can hire Amazon VA for multiple requirements and give your seller account & Amazon listings a chance at higher search engine visibility, top SERPs, and improved sales.
What Can An Amazon VA Do For You?
Amazon SEO
Amazon Keyword Research
Amazon Keyword Optimization
Amazon Product Title Optimization
Product Image Optimization
Backend Keywords/Search Terms
Product Pricing Updates
Product Description and Bullets
Storefront Management
Amazon Brand Store Setup
Amazon Account Management
Product Listing Creation
Inventory Management
Amazon Store PPC
Store Sales Report
Store Optimization
Amazon Seller Management
Amazon seller Set-up and Configuration
Product Listing Updates
Listing Optimization
Competitive Monitoring
Display and Sponsored Ads
Amazon Web Services
Amazon PPC
Campaign Setup
Bid Adjustments
Ad Creation
Promotion & Coupon Management
Subscribe & Save Recommendations
Campaign Strategy Development
Targeted Keyword Research
Negative Keyword Research
Amazon Keyword Research
Comprehensive Keyword Research
Historical Search Volume
Keyword Placement Recommendations
Meta Tag Creation
Backend/Long-tail/Search Term Research
Manual Quality Analysis
Amazon FBA Management
FBA Set-up
Inventory Optimization
Excess Inventory Management
Inventory Performance Monitoring
Inventory Age Tracking and IPI Score Monitoring
Associate Active Listing
Restocking
Fulfillment By Amazon
Packing & Shipping Management
Warehouse Optimization
Logistics Coordination
Supplier/Vendor Coordination
Fulfillment Management
Product Procurement
Inventory Cost Accounting
Amazon Vendor Management
Amazon Marketing Services(AMS)
Amazon Advertising
Amazon DSP
Enhanced Content(A+, EBC)
New Item Setup
Invoice and Order Processing
Shipment Tracking
Account Management
Review & Feedback Management
Enhanced Content Management
Customer Support
KPI Analytics
Email Marketing
Conversion Tracking
Report Generation
Amazon Product Listing Optimization
Product Onboarding
Product Content Creation
Taxonomy & Categorization
Normalization
Standardization
Product Descriptions
A+ Content
Image Processing
Order Management
Order Validation
Order Fulfilment
Order Data Entry
Refund Tracking
Customer Query Resolution
Customer Database Management
Invoice Processing
Billing Record Creation
Shipping Tracking
Research Services
Social Listening
Concept Testing
Ad Testing
Segmentation Research
Product Development Research
Market Sizing
Opportunity Identification
Pricing Research
Brand Equity
Amazon Content Services
Amazon Product Listing Content
Amazon Enhanced Brand Content
SEO Metadata Writing
Product Review Writing
Multichannel Product Feed Content
Amazon PPC Ad Writing
Why Hire Amazon FBA Virtual Assistant from SAMM Data Services?
As a leading eCommerce support service provider, we have assisted numerous global enterprises with comprehensive Amazon management services for over a decade. Backed by a diverse team and multidimensional expertise, our Amazon specialists help businesses scale quickly with continuous support and insightful guidance.
We operate with a sense of accountability to our clients and customize our offerings accordingly. Any Amazon virtual assistant from our team is trained to conduct extensive research on a client's brand, products, competitors, existing strategies, and previous performance before determining an appropriate strategy for the task at hand. Our Amazon VAs work in tandem with your in-house team- in sync with your schedules -to deliver the quality, speed, and excellence you expect.
Hire Amazon virtual assistant from SAMM Data Services and witness a positive impact on your sales.
Access to experienced Amazon consultants
2X faster project turnaround
Cost-effective and competitive pricing
Complete control over VA operations
Round-the-clock availability
Dedicated manager
Flexible engagement models
Frequent performance tracking and reporting
Affordable Virtual Assistants For Amazon
Hire Professionals At An hourly, part-time, full-time, or project-based rate.
Scale the Amazon VA team up or down in a matter of minutes.
Track workflows and only pay for the tasks your Amazon VA performs.
Get Started
Would You Like A Free Demo?
Connect With Our Amazon Specialists
Leverage our specialized services to grow your business and brand presence. Hire virtual assistants for Amazon from SAMM Data Services and give your business access to a remote workforce striving to improve your bottom line.
To know more, reach out to us at info@sammdataservices.com. If you would like to assess the understanding and expertise of our Amazon VAs, we can also arrange for a sample.
Amazon Virtual Assistant Services: Frequently Asked Questions
How much does an Amazon virtual assistant cost?

The cost of hiring an Amazon virtual assistant varies by their responsibilities and skill sets. For instance, an Amazon VA for data entry will cost lower than Amazon specialists for listing optimization. However, the average cost of a virtual assistant is hard to calculate without knowing the intended use of these resources. We can offer a better cost estimate if you share your requirements with our team.
Where online can I hire virtual assistants?

You can freelance or hire Amazon virtual assistants from an outsourcing company. The former is cheaper but carries several challenges related to performance monitoring, accountability, reviews, and tracking progress. However, all these challenges can be solved quickly and cost-effectively with Amazon virtual assistant services.