Walmart Product Data Entry Services
The tide of eCommerce continues to swell as more customers and sellers shift online. Being on a popular platform like Walmart means you as a merchant must compete against a lot of your peers for a greater share of the revenue.
You will need a trusted Walmart Product Listing partner like SAMM Data Services to realize that success. With our services, you can give your customers the best shopping experience they can get while giving yourself the best chance at business growth.
Get a Free Sample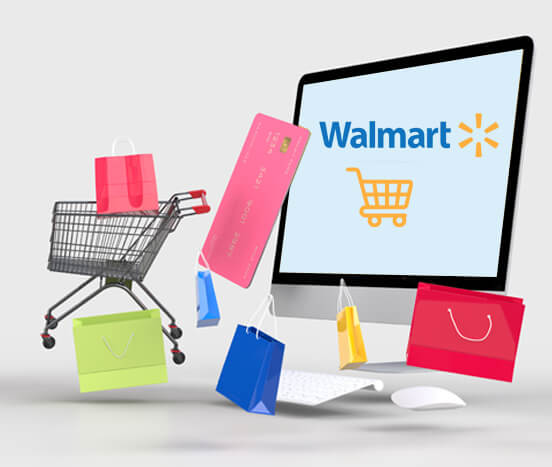 The One-Stop Solution For All Your Walmart Store Setup Needs
Managing a Walmart eCommerce store is no simple task. We can help you turn those challenges into your strong points with our comprehensive Walmart listing services package. With us at the helm of your Walmart seller page, your customers will have the best shopping experience they can get, improving your brand loyalty and revenue growth.
Our team consists of well-trained experts in the field and works related to it. They will peer over the various components of your Walmart eCommerce business and provide the support needed to help it flourish. We also have an up-to-date infrastructure to support them at that job. All of this ensures that you always get the best Walmart catalog processing services.
You can count on us for top-notch Walmart store management services like:
Walmart Data Entry

Data drives business in today's world, especially in the case of eCommerce. Incorrect product data entry throws customers and search algorithms off alike. Only the correct data will give the sales figures you're looking for.

Our Walmart data entry services approach every bit of your data with the utmost attention and ensure that only accurate and relevant data makes it to where it needs to be. Be it on the respective page or in eCommerce inventory management, we will manage it in a safe, secure, and timely manner.

Image Data Editing and Optimization

With eCommerce, what the customers see is what they will get. An accurate and clear product image is a must for any eCommerce business to have high conversion rates. Hence, we take care to give you the best eCommerce product image management as a part of our Walmart product upload services.

We will remove any blemish that could ruin a product image's impact using the latest photo editing tools and experienced personnel. The images will be optimized to highlight the product's best attributes and give the viewer the best visual information from every angle.

SKU Building and Tracking

SKU's may be small but are an integral part of any eCommerce business as they are key to inventory management. Walmart product listing is reliant on having error-free SKU management to succeed. One wrong line in the code and that sale is bound to fail the seller, Walmart, the customer, or all of them.

Our Walmart data entry services approach SKU management with utmost scrutiny at every stage. You needn't worry about wrong labeling or incorrect entries anymore.

Deep Data Mining

Walmart data entry involves vast quantities of data, especially when the operation is a large one with multiple types of products. It is highly likely that some crucial relevant data will be missed or mixed up in some other place it should be present.

Our services will seek out and mine such missing and hidden data to make sure that your product listing is accurate, relevant, and comprehensive to customers.

Listing Search Optimization

Search is one of the most common ways any product gets found on online shopping platforms. The search algorithms only seek out products with listings optimized for them.

Our Walmart product listing services come with search optimization built into them. We not only optimize the listing for the site but also for search engines like Google so that your products will show up on top no matter where the customer searches for them.

Product Categorization

An ordered product listing makes it easy for both customers and algorithms to find what they need. Categorizing the various types of products respectively is a proven way to achieve that.

Our Walmart catalog processing services will sort your product portfolio into their rightful categories for optimal search presence and visibility. Your customers will not face problems like finding apparels in the electronics section when we are managing the listing.
Benefits of Our Walmart Product Listing Services
eCommerce entrepreneurs can share the success of Walmart by selling on its Marketplace. But, they need to be quick on their feet and have every aspect of their online store sorted to stay ahead of the competition.
We help you to resolve these Walmart store setup common errors
Incorrect quantity listing
Wrong or no image
Incorrect or incomplete product description
Wrong pricing
No store/product brand logo
No or generalized seller and product page SEO
Shopping cart glitches
Product mislabelling during inventory
Lack of supply chain management
Poor data collection and analysis
Tax and other compliance issues
Bad marketing practices
A Walmart-based eCommerce business should overcome all of the above without exception to succeed. The solution is outsourcing Walmart listing services to an external agency like us.
We are well versed in handling these problems and will prevent them from affecting your business with our top-quality infrastructure and other crucial resources. Our services will be rendered quickly and efficiently to keep with your and the market's demands, leaving you with freed-up resources you can put to use on more important business operation tasks.
List Us Now For Your Walmart Store Setup Needs
Experience flawless Walmart product listing on your Walmart seller site alongside a host of other benefits via our services. We are always at your service when you reach out to us at info@sammdataservices.com, bringing in our over 12 years and 600 projects worth of experience working with some of the biggest names across industries to bring you the growth and support you need for successful sales and brand building.