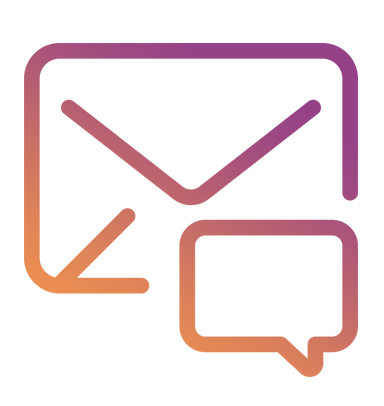 Email Chat Support
An eCommerce entrepreneur must quickly respond to customers' queries and concerns. Providing shoppers with online customer support services is the easiest and most efficient means of doing this. Nevertheless, the task requires some specialized training and is better not assigned to in-house staff. This is because engaging your in-house staff with an activity that demands constant attention and long hours is not feasible in the long run. Hence, many brands have chosen to outsource customer support services to reliable partners to offer the best help at affordable rates. At SAMM Data Services, we provide economical and effective Email chat support services to help you assuage customers' concerns and boost sales.
Avail excellent eCommerce chat support services only at SAMM Data Services
Samm Data Services has dominated the industry for 20+ years by offering superior quality online customer support services. We have served clients belonging to a wide group of industries by customizing our solutions according to their requirements. So, choose us to outsource customer support services and retain your customers like never before.
With us, you get exclusive benefits like:
We will address shoppers' queries comprehensively in a persuasive language. We will help you minimize shopping cart abandonment.
We gather a buyer's search data and support-chat history, also as a part of online customer support services. Knowing a buyer's choices thus helps you further refine your business strategies.
We help you gather data of customer expectations. You will form a better idea of market trends and know what products to offer on your eStore.
As we provide eCommerce chat support, we will build a database of frequently asked questions so that you develop a clearer understanding of customer concerns. This will help you further reduce shopping cart abandonment.
Pick us for your email chat support requirements and witness better customer engagement
With an experience of 20+ years, we have a fine understanding of the customer support service requirements. Hence, all our eCommerce back-office services offer solutions that help retain customers and make more sales. Outsource customer support service to us and let our experts help your customers click on that 'buy now' option.
At SAMM Data Services we provide email chat support services using the latest software. Our chat support systems can effortlessly support multiple simultaneous chats.
We will provide you with detailed transcripts of every interaction with the shoppers.
We are flexible. In case you want us to use the chat support software of your preference, we can do that too.
While providing eCommerce chat support to your customers, we will also look for up-selling and cross-selling opportunities.
We provide unqualified security. At SAMM Data Services, we use Secure Socket Layer (SSL) based chat systems and protect your information through server authentication and data encryption.
We provide online customer support services at the most economical rates.
Searching everywhere to outsource customer support services? Drop us a mail now!
Make customers out of every lead with our effective customer service solutions. Drop us a mail at infor@sammdataservices.com and request a free trial today!