SEO-Friendly Product Copywriting
Rank higher on search engines with unique product descriptions that match your brand tone, identity, and offerings. Establish a connection with your target customers and increase engagement with product description writing services from SAMM Data Services.
You might be doing everything right, but your eCommerce business is unlikely to be in profit unless your product descriptions are original. If your product descriptions are copied from the manufacturers' websites, the eStore page rank will suffer severely, and you'll risk a penalty from Google. A low page rank, in turn, will mean fewer people visiting your eStore site and reduced sales.
Our eCommerce Product Description Writing Services Can Come In Handy!
We provide our clients with direct access to dedicated eCommerce experts and eCommerce product description writers. Together, they create relevant and optimized copies that highlight your product's best features, put your listing page on the first Google search result page, and amplify traffic, leads, and conversions for your online business.
Lead The Web With Comprehensive Product Copywriting Services
Website

eStore

Amazon

eBay

Shopify

Etsy
Experts For Every Channel, Available At SAMM Data Services
Contact Us
Enjoy Exclusive Advantages With eCommerce Copywriting From SAMM Data Services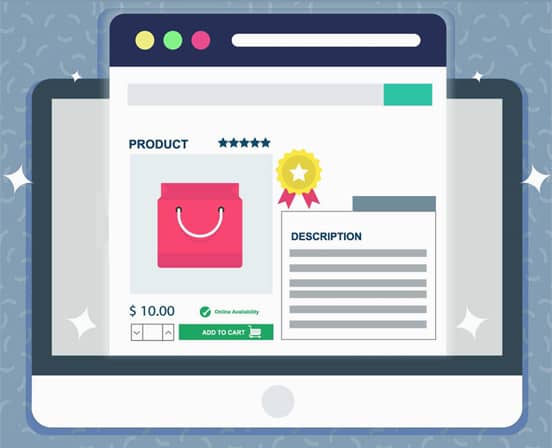 With 12 years in the eCommerce industry, 300+ projects, a wide spectrum of clientele, and specialized eCommerce support, we are uniquely positioned to answer all business requirements in this domain with ease.
Outsource product description writing services to our company and impress your prospects with ease.
Improved Search Result Rankings
Higher Click-Through-Rate
Lower Bounce Rate
Reduced Cart Abandonment
Better Feedback Response Rates
Higher Conversion Rates
Our eCommerce product description writers work towards strengthening the long-term performance of your online retail website and product listings. Through a well-laid-out strategy, appropriate customer profiles, segment-wise audience intent understanding, and market research, we craft copies that convert.
Descriptions That Deliver On Customer Expectations

We write product descriptions that focus on common user queries and provide solutions to every possible concern from a buyer's point of view. Our dedicated eCommerce experts craft copies that elaborate on all aspects of the product and settle customer doubts related to the product's features, usage, warranty, etc.

Complete Target Market and User Profile Analysis

Our dedicated eCommerce experts conduct thorough research and understand a product's features to encapsulate them in lucid, easily comprehensible language. Simultaneously, we try to grasp your audience segments and create content that is highly likely to appeal to that group.

Clear, Concise, & Readable Product Description Writing

Do away with manufacturer's jargon which often intimidates or irritates buyers. Our product description writers will replace all overly technical and convoluted terms with easy-to-understand, everyday language so that a shopper can evaluate a product and its features easily.

Catchy Headings That Invite More Clicks From Customers

We create engaging and attractive headings to go with the product descriptions. With a combination of the most important keyword, best product features, and its biggest utility factor, we write headers that evoke the shoppers' curiosity and hint at what to expect from the product.

Keyword-Integration & Search Engine Optimized Listings

Our product description writing services are designed to help your website and web pages rank higher on the targeted search engine (Google, Amazon, eBay, etc.) Therefore, we create keyword-rich, SEO-friendly descriptions and titles to improve your eStore's page rank and help you attract more business.

100% Unique & Authentic Product Descriptions

Our writers never use client briefs or manufacturer descriptions verbatim for product copywriting purposes. We always repurpose such content to give your listings a fresh look and feel. Additionally, we use the most reliable plagiarism checker tools to ensure complete uniqueness.
Start Driving ROI With Conversion-Boosting Product Description Writing Services
Get A Free Sample
Grow Your Online Presence With Ease
Hire Multiple Product Description Writers

Expedite the speed of work by using multiple product copywriting specialists to work on your listings in simultaneous batches.

Work On Several Projects At Once

Hire a team of product description writers on an hourly as well as a long-term basis to work on as many projects as you need.

Get the Results You Want Without Delay

Get on-time delivery and the assurance of results that match your expectations without fail with our unique product descriptions.
A Unique Approach To Product Description Writing
At SAMM Data Services, we provide product content writing services and offer direct access to a workforce of adroit and experienced writers. We create product descriptions that are unique, compelling, and simple and ensure an optimized eStore that constantly acquires high page ranks, improved traffic, and better conversions.
When you outsource product description writing services to us, our copywriters conduct in-depth research on your merchandise. This helps them to write unique, persuasive, and informative product descriptions that keep the visitors engaged. Hence, you can enjoy better conversion rates and improve the business's bottom line.
Our eCommerce copywriting professionals will help you address multiple market segments and audiences. We adapt our copywriting language according to the demographic preferences of your target audience. For instance, we understand very well that the language that serves to describe teenagers' or young adults' clothing will not do for business suits or formal gowns. Hence, you get product-appropriate descriptions framed using language and vocabulary that reflects the interest of the target audience.
Our eCommerce product description writers also provide content writing services at the most competitive rates. Our turnaround time is the best in the industry.
Get Qualified eCommerce Product Description Writers On Your Team In No Time

Need eCommerce Product Description Writers? Just Send An Email To Us!
Partner with SAMM Data Services for exceptional product description writing services, complete marketplace support, and better eStore performance. Our product description writers will make sure that your listings stand out from those of your competitors and perform better on all search engines and eCommerce platforms.
Drop an email to us at info@sammdataservices.com and ask for a demo trial, totally free of cost, to understand more about our offerings.