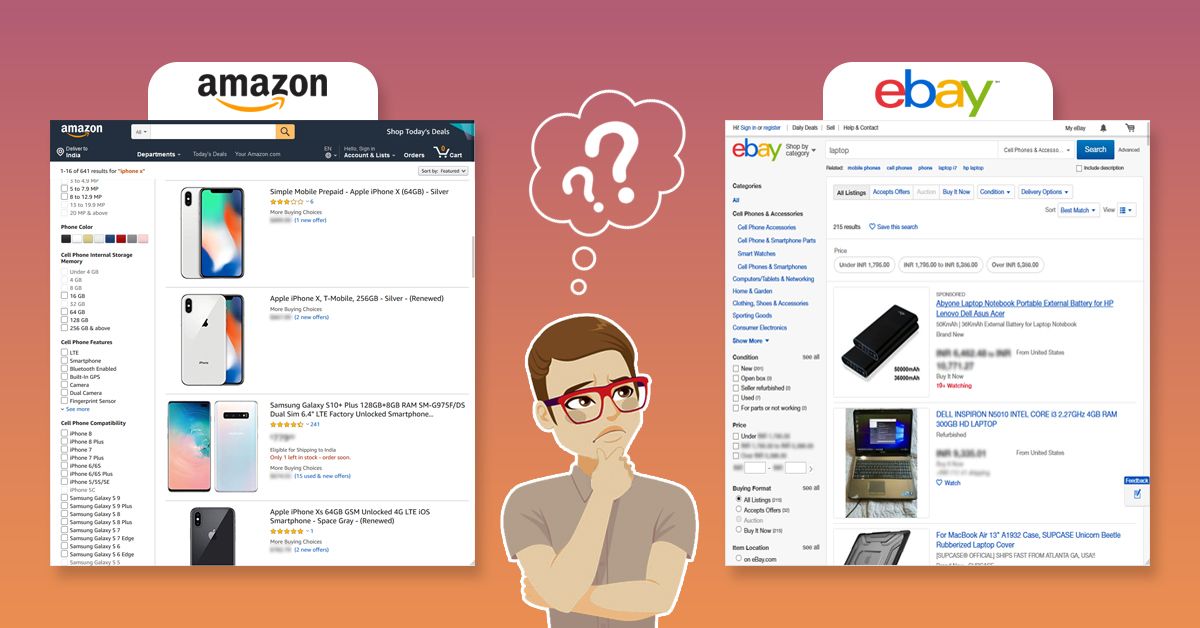 Amazon or eBay – Where should you sell and why? Is eBay still a thing or is it all about Amazon now? These hotly debated questions have been doing rounds on the internet for a while now. Therefore, we have decided to get down to the nitty-gritties involved and find out which online marketplace is better for you and all the other sellers out there.
Merits and Demerits of Selling on Amazon vs eBay

Merits
Great for selling brand new products
Global reach
Low marketing costs
Amazon FBA
Huge customer base
Built-in system for referrals

PayPal not required

Outstanding back-end infrastructure and customer support
Demerits
High competition
Strict regulations
Hefty commissions
Restricted brand ownership
No control over product reviews
A bit expensive compared to other marketplaces
Not that good for selling used or refurbished products
Can't collate customers' personal information besides a shipping address

Merits
Great for selling both new and used products
Lower fee
Multiple selling options (Auction and Buy It Now)
No competition from eBay itself, unlike Amazon
Seller protection
Global reach
Demerits
Limited control
PayPal required
Smaller customer base

No delivery fulfillment
Unstable fees
Stiff competition in some niches
Amazon vs eBay: Market Share
Before you think of selling on Amazon or eBay, it's wise to know more about the market share and the kind of customer base both these marketplaces boast of. In the United States alone, Amazon accounts for around 50% of all eCommerce sales. It had an active customer base of 310 million and 206.1 million visitors per month, as of December 2018. In a nutshell, Amazon's market share is ginormous, to say the least.
On the other hand, eBay had 182 million active customers, as of the second quarter of 2019. Last year, the company's annual net revenue was 10.7 billion USD, according to a Statista report.
Amazon vs eBay: Which Marketplace Has More Customers?

Stats Source: Similarweb
From the above stats, it's clear that Amazon and eBay are the leaders in the eCommerce segment. Both have an impressive number of visitors, bounce rate, and average session duration. A relatively low bounce rate means that over 60% of customers visit more than one page on these marketplaces. Moreover, the average visit duration for both Amazon and eBay is astounding (6 minutes, 23 seconds on Amazon and 6 minutes, 10 seconds on eBay). The primary reason for the outstanding amount of time spent by shoppers on eBay is that they are 'watching' the auctions they would like to win. In the case of Amazon, it might be because of the immersive shopping experience provided to customers.
As of the 4th quarter 2018, Amazon was the leading website in the U.S. with 56.1% of visitor market share, while eBay stood at the second position with 19.7% of the segment's traffic.
Why To Sell on Amazon?
Today, over 50% of Amazon's sales of come through third-party sellers. Founded in the year 1994, Amazon has evolved incessantly over the years to become everyone's favorite. In fact, it has surpassed the giant Walmart and is today worth more than Walmart, Macy's, Kohl's and Costco combined. What's more interesting about Amazon is that it has quite recently been named the most valuable public company.
Today, Amazon sells thousands of products in almost every category. Their mission is to become the world's most customer-centric company by allowing customers to find and buy everything online, which they might think of buying offline. If reports are to be believed, Amazon's valuation as of the 6th of August, 2019 was $901.88B and is now on the cusp of $ 1 trillion valuation. In plain English, Amazon is showing no signs of slowing down in 2019 and the upcoming years.
As a seller, you can get started on Amazon as a standalone merchant or you can choose its popular FBA program. Herein, you need not house inventory or fulfill your customers' orders all by yourself. All you have to do is send your inventory to an Amazon fulfillment center, and Amazon will take care of everything on your behalf. For handling everything, right from picking and packaging to shipping and returns, Amazon charges a fair amount for every order fulfilled. However, the only drawback of choosing Amazon's FBA is that you will lose control over the packaging and shipping of products. This will discourage you from ensuring a positive post-purchase experience.
Before you start selling on Amazon, it's important for you to note that it's a fiercely competitive marketplace. You'll have to compete with not only third-party sellers but with Amazon products as well.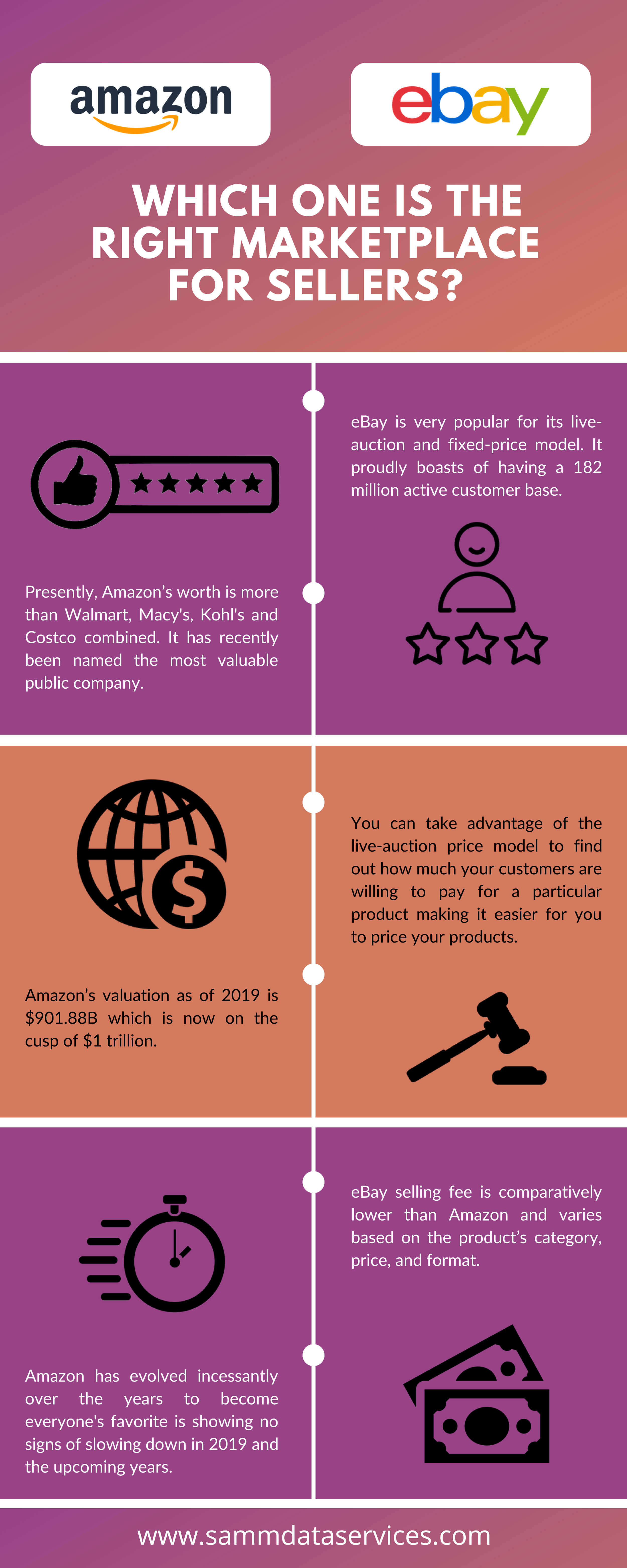 Why To Sell on eBay?
For years, eBay has been known for its live-auction and fixed-price model. It might seem that Amazon has outshined eBay but both the marketplaces are successful in their own ways. Today, eBay is still a strong player in the eCommerce world and it proudly boasts of having a 182 million active customer base.
As a seller, you can get started on eBay with antique, refurbished, used or brand new products of any category. The best part of selling on eBay is that if you are not sure about the selling price of antique items or any other product, you can take advantage of the eBay live-auction price model to find out how much your customers are willing to spend on that particular product. The only thing that needs to be noted here is that you can start the bidding amount at a value you find feasible both for you and your customers.
And as a seller, if you think eBay is the right marketplace for you to run a business, it's wise considering the frequently purchased items on eBay. For instance, sports trading cards are sold every 2 seconds, while a television or a home audio item is bought every 3 seconds. Smartphones, watches and fashion accessories are purchased every 5 seconds. Just like Amazon, eBay also charges a fee for letting you set up and run an eBay store. However, the eBay selling fee is comparatively low and varies based on the product's category, price, and format. Before onboarding, make sure you check out eBay selling fees.
Seller Fees: eBay vs Amazon
For every seller, it's important to consider Amazon vs eBay selling fees before they choose any one of the marketplaces. Both Amazon and eBay charge a fee every time you sell something. Do the math and figure out which platform can give you more bang for your buck.
Selling fees on eBay
As a seller on eBay, you'll have to pay: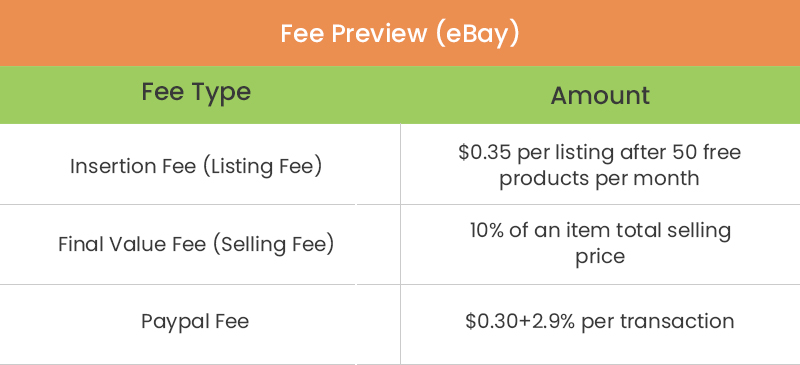 Optional listing upgrade fee – You have to pay this fee only if you want to make your product listings stand out by adding features like subtitles, bold font, etc. This fee depends on several factors such as your product price, duration of the listing and format. To determine the total fee, we suggest that you use the eBay fee calculator.
Selling fees on Amazon
For sellers, Amazon has two plans: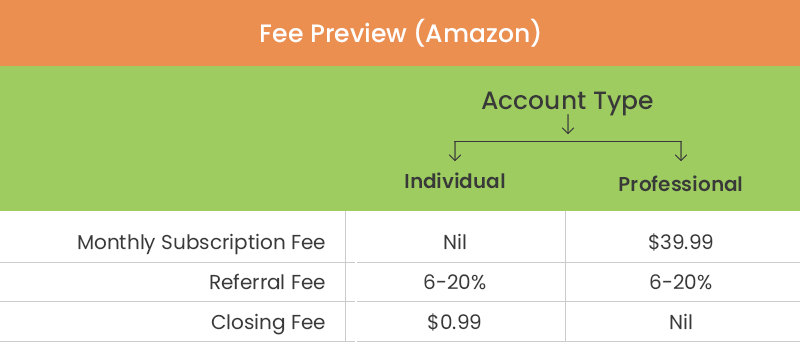 Additional fees will also apply if you choose Amazon's FBA service. To determine the total fee for using FBA service, we suggest you check out the Amazon's FBA calculator or visit the FBA pricing page.
Undoubtedly, Amazon's FBA service fees are higher than eBay but it is worth considering. Since Amazon takes the burden off the FBA seller and makes their lives easier by managing everything from storage, packaging and handling to the shipping of products. However, if you don't use Amazon's FBA services, you will end up paying more money in the packing and handling of products. The best part is that you have the option to use Amazon's FBA services anytime in the future.
Now, we can assume that you have a fair idea of eBay seller fees vs amazon seller fee. If you still have any confusion, let's look at the examples below.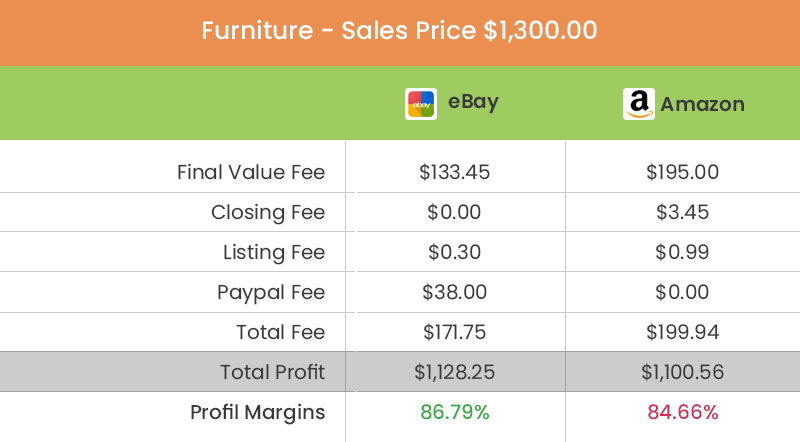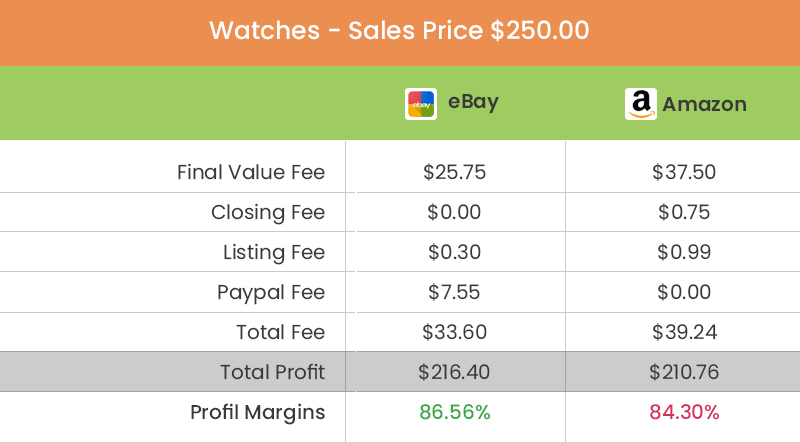 In the above examples, you can clearly see the total profit on furniture and watches is higher on eBay. However, if you look at the net profit margin, you will find the difference between them is quite small. You can also perform the same comparison for other products by yourself. We are confident that you will find both the marketplaces equally lucrative from a seller's perspective, especially, if you weigh the pros and cons of both the platforms.
Amazon vs eBay: Which Online Marketplace Has More Tools?
The additional selling tools provided by a marketplace can be a crucial factor in deciding which platform to choose. Alas! Both Amazon and eBay fall short in providing additional tools.
If we talk about eBay, it comes with shop analytics and seller success resources but only for those who are willing to pay for these additional tools. On the other hand, Amazon lacks in providing shop analytics, social media integration, and resources for seller success tips.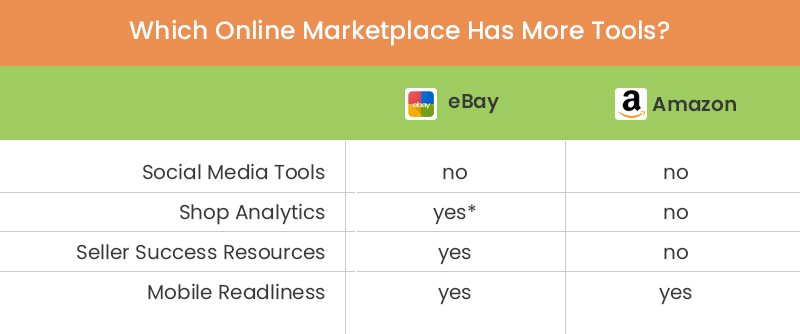 One reason for the lack of additional selling tools on Amazon could be that the company was originally incepted with an aim to provide online buyers a delightful shopping experience. However, the company started gaining traction after a few years and it started inviting third-party sellers to its platform. From this, one can say that seller tools were not a key part of the company's business model during the initial years. Though today, – provides some unparalleled services to sellers such as fulfillment by Amazon (FBA), detailed business reports, and more.
Restrictions Imposed by Amazon and eBay
Amazon
Amazon has a restriction policy, which instructs the sellers that the claims they make in their listings need to be accurate and conforms with all the trade regulations. Sellers can't sell any product that claims to treat or cure a health ailment. In simple words, sellers have to provide accurate information and can't make lofty claims.
There are also some additional restrictions on certain types of products, such as dietary supplements, alcohol, weapons, and even electronics. It is vital that you carefully read the restriction policy before you start listing the products. Otherwise, your account may be suspended by Amazon.
eBay
eBay has selling limits, which are never made public. These are in place to discourage unethical sellers from taking advantage of the marketplace. Generally, new merchants are capped at 10 items for selling and $500 of sales per month. Once you prove that you're a legitimate and reliable seller and can meet the demands of your customers with ease, eBay will increase your selling limit. This restriction is not imposed to put a cap on your trustworthy business, but is rather designed to thwart dishonest or deceitful sellers.
Besides this, eBay has drafted a list of restricted or prohibited items. If you are not sure which items are prohibited or completely banned for selling on eBay, make sure you check out the restricted items list. There are also some listing policies that every seller has to keep in mind. The listing policies revolve around links, text, images, and accuracy that you need to conform to in order to sell products on eBay.
Final Words
Is it worth selling on Amazon or eBay? Hopefully, you may have got the answer to this frequently asked question after reading this informative post. Now, you can also easily decide which online marketplace is the right choice for you. We've done extensive research and covered all the important factors that every online seller should consider before onboarding any online marketplace and start selling.
Remember, each marketplace has its own pros and cons, and comparing both the leading online selling platforms is like comparing apples to apples. For instance, Amazon does a great job by helping newbie sellers to boost their product sales. While choosing eBay gives you the freedom to customize your product listings and is cheaper than Amazon. You can create lively ads within the product listings, which are not only appealing to customers but also drive more sales than Amazon's neutral listings.
Still have any confusion in mind? Here's a bonus tip for you.
Bonus Tip
Both Amazon and eBay are equally lucrative, so why not try selling your products on both the marketplaces. This will help you to decide which platform is working for you. Many times, sellers generate tremendous sales from both platforms. Therefore, the key to success is to keep experimenting. If you need any sort of help in Amazon or eBay product data entry, product description writing, or any other store-related service, you can connect with our experienced professionals. Kindly, drop your message to info@sammdataservices.com