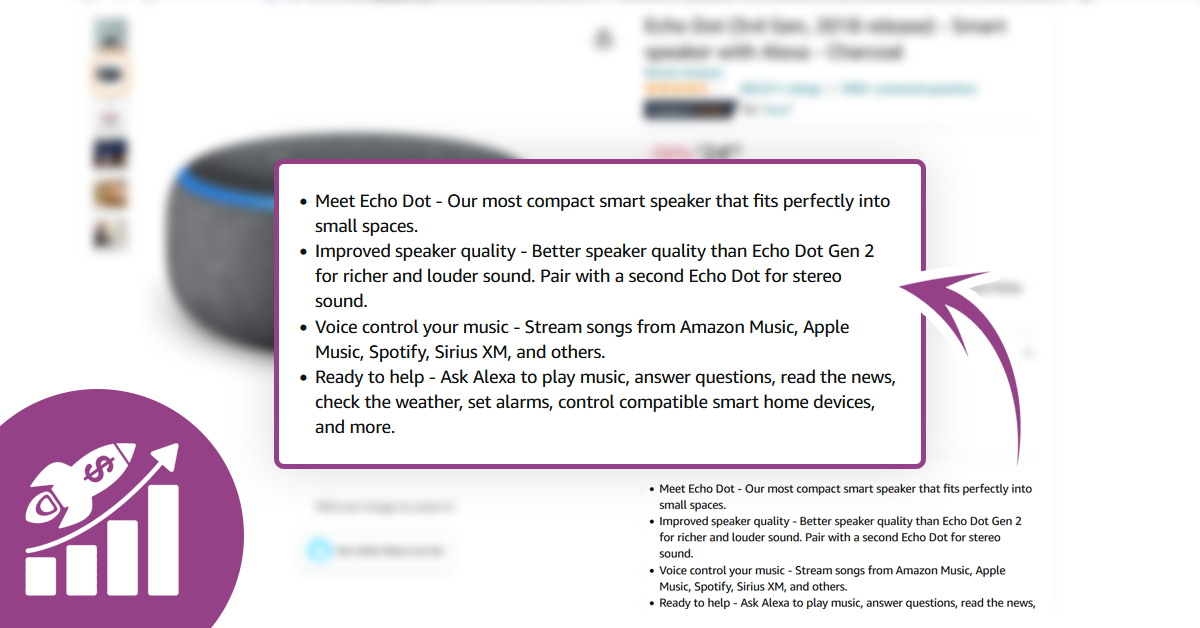 Product descriptions are crucial as they let your customers know about the key features, benefits, and highlights of your products. If you own an eStore, you should create high-quality product descriptions for your visitors. There are several ways to create informative product descriptions, and in this blog post, we will understand each of them. While creating product descriptions, ensure that they are engaging and informative to attract visitor attention.
Overview:
High-quality product descriptions are crucial to attract more customers to your store and boost your sales and conversions. Creating informative and engaging product descriptions is not easy, as there are various parameters that you need to keep in mind. Here, we have provided various factors that you can look upon and implement in your descriptions to create premium product descriptions for your customers.
What Is A Product Description?
A product description is a descriptive information about your products created using popular keywords. Product descriptions are considered one of the best ways to share product-related information including key features and benefits with your customers. Product descriptions help your customers get insights and make purchases.
Ways to Write Product Descriptions to Boost Your Sales
1. Understand Your Audience Well
Understand your target audience before writing product descriptions. Try getting insights into your customer's purchasing behaviors and requirements to ensure that you are creating a product description that can help you sell. Product descriptions created for a specific set of audience helps gain confidence and convince them to purchase the product.
2. Create Original Content for Product Descriptions
Earlier, sellers used to put manufacturer-created product descriptions on the product pages to attract customers. But now creating original product descriptions is mandatory to improve the visibility of your products. You can opt for eCommerce SEO Services to create informative and SEO-friendly productive descriptions for your customers.
Do You Want to Create High-Quality Product Descriptions for Your eCommerce Store?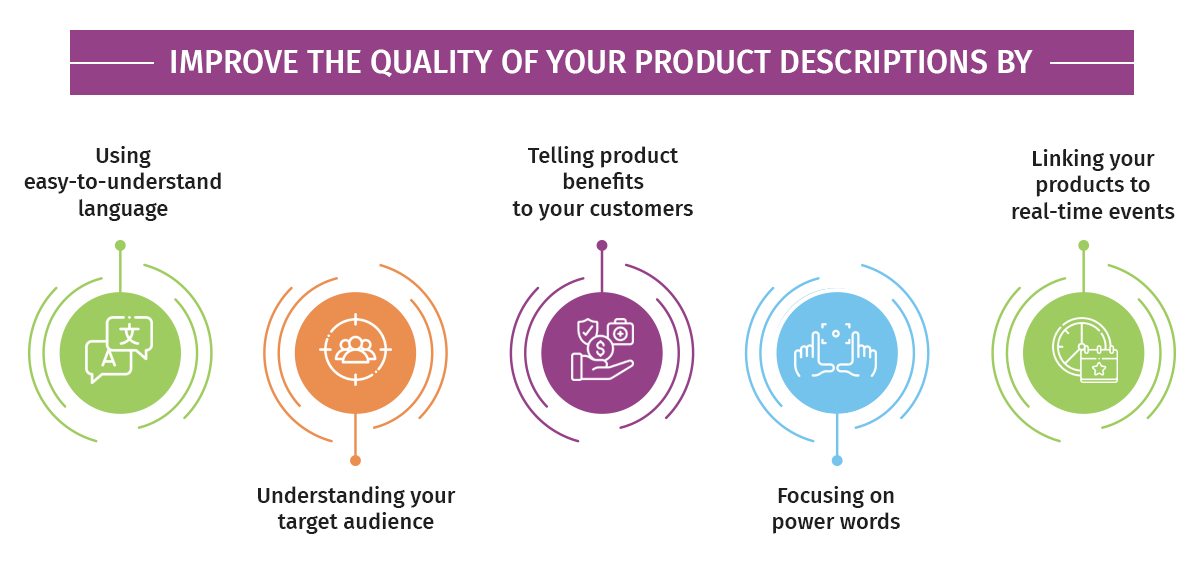 3. Create Easily Scannable Product Descriptions
Besides creating original content for your product descriptions, put efforts into making descriptions easily scannable. Structure your descriptions in a way that customers can fetch information from them without putting in an effort. Do not use long paragraphs in your product descriptions and rather include short paragraphs along with bullets to highlight the benefits and key features. Keeping your product descriptions crisp and easily scannable will help your customers make purchasing decisions quickly without wasting time.
4. Tell Everything About the Product
While creating product descriptions, it is important to mention every detail about your product as it helps your customers get better insights. The description may highlight specifications, features, benefits, and highlights of your products. Ensure that your product descriptions answer common queries your visitors might have about your product.
5. Focus More On The Language
While creating product descriptions, use a language that your target audience can understand. Fancy words are hard to scan, so avoid using them in your product descriptions. Improve product descriptions by choosing your words wisely. Remember, your goal here should be to deliver maximum information to the customers in the minimum possible time.
6. Use a Suitable Template
It is crucial to create an appropriate format for your product descriptions if you want them to be engaging and easy to understand. Visitors do not spend much time on your product pages, so you need to grab their attract quickly. For that, you have to set a format that works for your store. Try using bullets instead of paragraphs to convey important information about your product quickly.
Before finalizing a template for your product descriptions, do not miss to perform the split test at any cost. Split tests tools like Google Optimize are helpful to determine which product description template will be the best fit. You can test your template based on product descriptions length or word count, different formats, and more.
Never forget to use the power words wherever possible in your product descriptions. Power words can influence your customers to have a positive image of your product. Keep in mind that a visitor at your store needs assurance that you are selling good quality products and power words play quite smartly there. For eg: try to use words like amazing and outstanding instead of just using good or nice. If you choose power words wisely chances are that more customers will purchase your products.
7. Optimize your Product Descriptions Well
Optimizing your product descriptions is crucial to convert your leads into sales. Customers visiting your store will read product descriptions to know about your products. If your product descriptions have the key information about your product including important highlights and benefits, they can decide whether they need to purchase it or not. Also, well-optimized product descriptions attract relevant customers to your store to help you sell more.
Product Description for electronics eStore
8. Do Not Miss the Benefits
Mentioning benefits in your product descriptions is important as customers want to see them as the first thing on your product pages. You should present the benefits of your products smartly so that they are easily visible to your customers and are not hidden in long paragraphs. Try highlighting the benefits of your products in bold or using bullets to make them easily scannable.
To Conclude
To create good product descriptions you need to master its structure and understand what information it should include. Also, you need to ensure that your product descriptions answer the queries of your visitors and customers. A good product description must include the following:
Brief introduction about your product and the problems it can solve.
Benefits that your product can offer to the users.
How is your product different from others in the market?
If the product description that you are creating for your product detail pages contains all the above points, it will help you sell more products on your eStore. Also, if you can not create descriptions on your own, you can outsource eCommerce product descriptions work to professionals.
Connect With Us
We provide premium product description solutions that cater to all your needs.. If you want to know more about our services, reach out to our website. And if you want to make product description solutions enquiries, you can connect with our experts by writing to us at info@sammdataservices.com. We also provide online customer support services to assist our customers better.