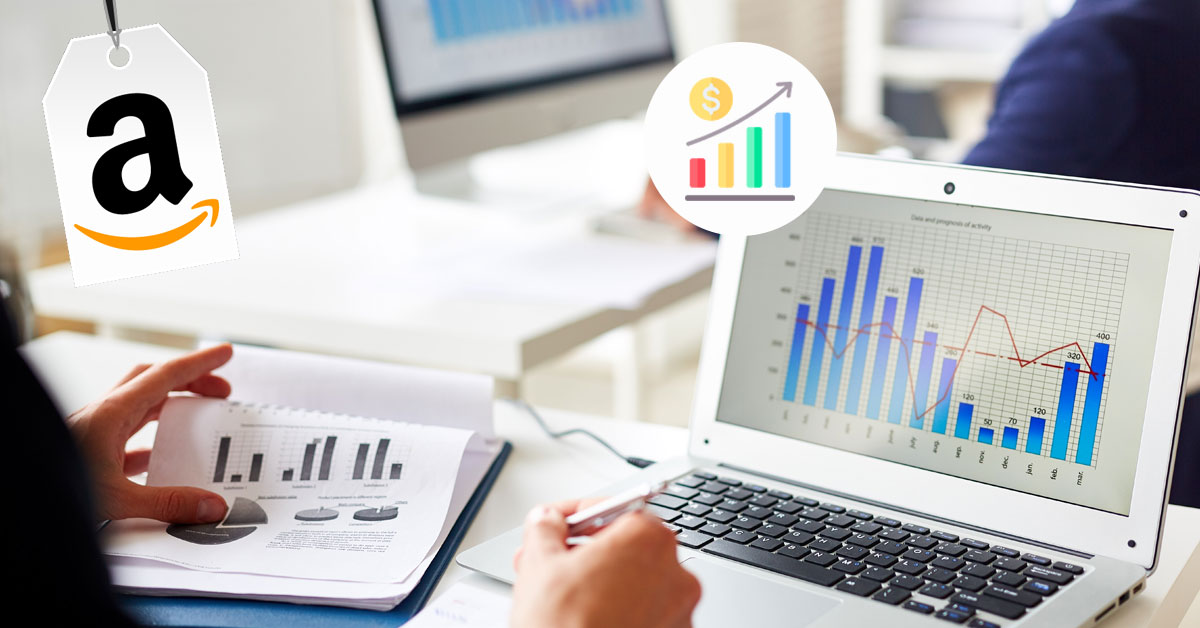 Selling products on Amazon can be challenging, especially with the highly competitive nature of the online marketplace. With Amazon inching close to a million sellers, it is not easy staying afloat. So how do you stay ahead of your competition? How do you still manage to sell your products and generate good revenue from Amazon sales?
Employing a combination of basics and out-of-the-box tactics should just do the trick for you. While many new online sellers consider availing eCommerce PPC services in a quest to promote their products to maximum buyers, you need not follow cliche tactics. There are lots of basic things you can work on first before investing in paid promotions. Paid promotions are useful, of course, but need to be combined with effective organic marketing.
Competitor analysis helps sellers know about other similar products and their USPs – helping the overall strategy. After conducting competitor analysis, sellers need to focus on the listing of each product. Sellers should choose appropriate categories for each of the products, and focus on getting the textual content, images, and videos right. eCommerce product image editing services can be availed to get highly enhanced images to attract customers.
eCommerce SEO is another important aspect of selling on Amazon, and involves performing keyword research and writing keyword-rich titles and descriptions. Competitor analysis also helps setting the right price and discounts to your products. While it is really important to know about your competitors, a lot of information can be obtained from first-hand insights as well.
Amazon Seller Central reports also provide sellers with enough insights to change their strategies in real time. These reports contain enough metrics to give them an idea about their strengths and weaknesses. Along with using a combination of the strategies mentioned below, Amazon sellers need to keep deriving the best ways to succeed in their endeavor.
Conduct a full-fledged eCommerce competitor analysis before you start
eCommerce competitor analysis is one of the most important aspects of online selling. Ideally, you should conduct a full-fledged online competitor analysis before starting and keep conducting analysis regularly once you begin selling on Amazon. eCommerce Competitor analysis helps you know all about the competitors in your domain and the things they are doing right.
For example, if you are into selling laptop bags, it is important to know about your competitors. Competitor analysis will help you get an idea of the material(s) of the bags of your top competitors or the bestselling laptop bag companies on Amazon, the colors they are using, styles of the bags, and the laptop models they are catering to. It also tells you about your product market value and the listings, descriptions, images, videos, and SEO strategies your competitors are using for Amazon.
Competitor analysis also gives you an idea of your competitor's marketing strategy outside Amazon. Their website, social media strategy, and offline marketing are also important – and that is exactly what competitor analysis helps you arrive at. Competitor analysis also helps you study your competitor's pricing strategy. While you would want to set a good price to drive profits, your price can't be too much more than your competitor's.
Pricing is one of the most crucial buying factors, and your price has to be perfect. If your product is too expensive, customers will look for a more cost-effective option, unless your product is established as 'better than the rest'.
You should also introduce regular discounts and offers to encourage sales and attract more customers. Amazon product listing services can also be availed after conducting competitor analysis to create the best listings while keeping competitor insights in mind.
Create effective Amazon product listings in a systematic way
Every aspect of your product listings is important. While uploading your products to Amazon, the most important thing is choosing the right product category. Amazon's Browse Tree Guide (BTG) enlists all the various types of products and their nodes – which you need to select properly. Amazon product listing services help you get expert assistance to create your listings.
Setting up your Amazon Seller Central account and store properly is key. If you sell multiple products of your own brand, you can also create an exclusive store – a page – to list all your products. Besides categories, your product title and descriptions are quite important. Availing Amazon product description writing services helps you get experts to write compelling descriptions for your products.
Consistency in your listings is another key factor to succeed on Amazon. The brand names, spellings, and content format must all be correct and consistent across all your listings – regardless of the number of products you have listed on the marketplace. Find out how SAMM Data Services created product descriptions for an eStore with 75,000 products.
Let your content speak highly of your brand
Amazon provides sellers with a great opportunity to express more about your brand and connect with buyers on Amazon. You can express a lot with content – by writing great product titles and descriptions. You can get expert help by availing Amazon product description writing service for attractive descriptions that speak highly of your products and help establish your brand on Amazon.
You should elaborate your product copies with the help of bullet points. If you are selling water heaters, include as much information as you can with your text. How much power do your heaters consume, what are their energy saving properties, how better are they than similar products of competitors, how good is the material, what is the warranty period, what tips do you suggest so that your heaters stay in great condition?
Your content should also be keyword friendly, so that it ranks on top of Amazon searches. While more is written about keywords and search engine optimization below, availing eCommerce SEO Services can be useful for first-timers on the platform. You can also write Amazon A+ content to create detailed pages that contain extensive information of your products as well as your brand.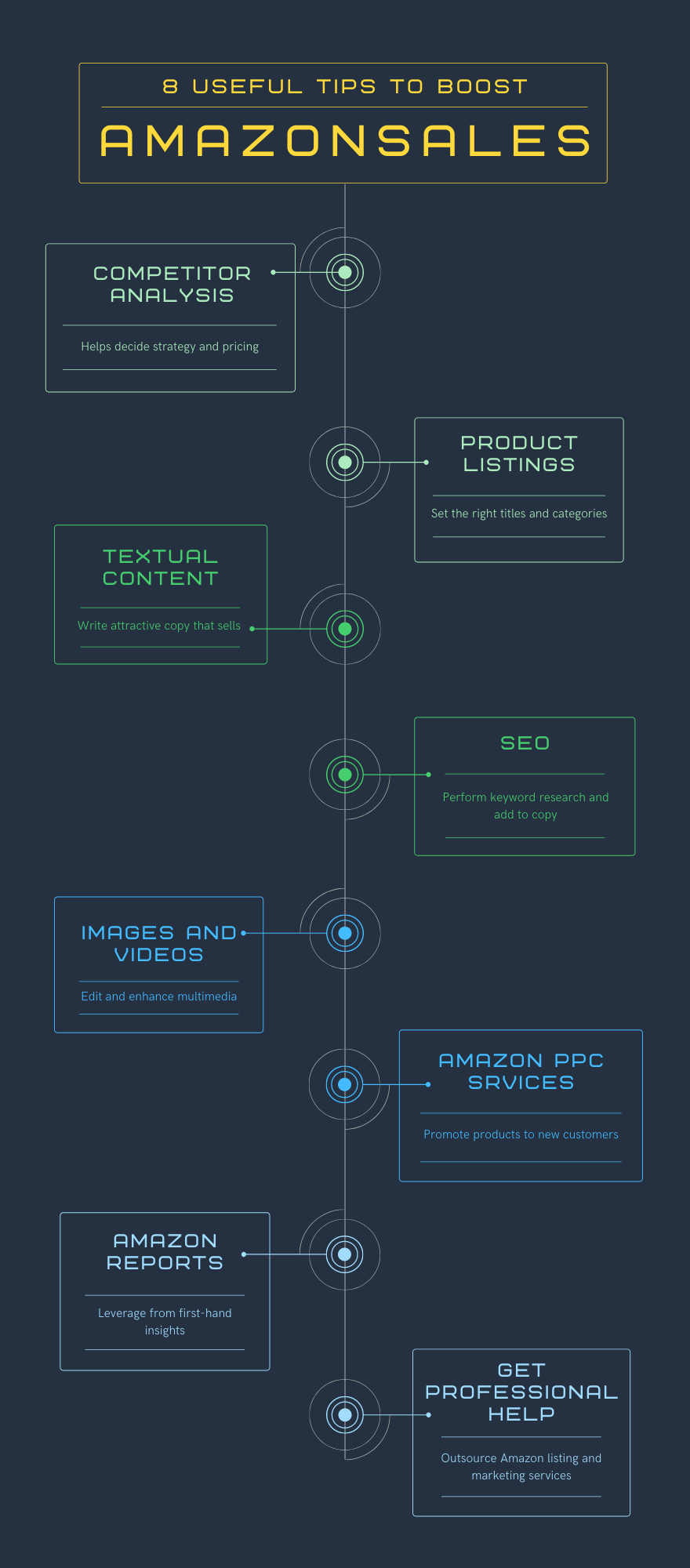 Work more on your eCommerce SEO to get organic leads to your store
Search engine optimization is essential to help customers find your products and store by entering relevant keywords on search. If your product pages and store page are correctly optimized, users can sometimes even find your products while searching them on search engines like Google outside Amazon. Amazon's eCommerce SEO Services help sellers optimize their pages with keyword-rich content.
Your pages can be optimized for search by using the correct keywords that users type to find your products or other similar products. The most important thing is to identify the correct keywords and then use them properly in the content. Keywords must be used to organically fit in the page content, such as the title and description.
Search engine optimization or SEO is also helped by the non-textual content such as images and videos on your page. As far as the textual content is concerned, reviews and user's questions also help in the SEO. You can add your own FAQs, and respond to user's questions and reviews. Responding to reviews and queries is also an important aspect of your SEO, as is the performance of your products.
Top-performing, top-rated, and well-reviewed products often find themselves at the top of Amazon search. Since customers set all kinds of filters for their search as well, a low price bracket can also help your product rank at the top when users are looking for cheap products. But don't set the price low enough to affect your profits. Availing Amazon product listing services also takes care of the SEO of your pages and listings.
Do more with your product images and videos to attract page visitors
Nothing can melt the heart of your page visitors more than what visual appeal can. Amazon users who might just visit your page for casual browsing might get hooked to your pages if your images and videos are attractive. Amazon provides sellers with the opportunity to include multiple images and videos to show how your product looks from multiple angles and how it should be used.
The quality of each image is more important than uploading multiple bad-quality images. Rather than taking photos of your products from all angles using a mobile camera in bad lighting, get your images professionally captured by expert photographers. Another important aspect of visual content is editing. eCommerce product image editing services help you upload images that are well edited, enhanced and enriched.
Professional image-editing involves the removal of unwanted elements, adding effects such as lights and shadows, path clipping, retouching, restoration, cropping, colorization, and detailed digital drawing. Your images must be clear enough and include all the necessary details even after zooming. You should read how an American seller benefited from product image editing services.
A white background is great, especially for highly detailed products such as machines and electrical appliances. You should also include at least one video to all your product pages to show how they look and feel in the real world. The video can contain good music, all details of your products, and the USPs. Hire expert editors to create short and crisp good-quality videos for your Amazon product pages.
Work on Amazon PPC services
eCommerce PPC services encourage Amazon Sellers to promote their products to buyers on the marketplace, who are not aware about their brand. Amazon allows sellers to use sponsored ads, to sponsor their product pages and store pages. PPC services can help users create display ads as well as video-based ads. Availing PPC services helps sellers hire experts to create effective campaigns for them.
The most important thing for Amazon Sellers is to create ads that help them generate leads without overspending. PPC experts help create, run and manage campaigns to suit seller's requirements. They first identify the target audience for your products and then create campaigns to suit their requirements. Campaigns must be customized according to the seller's goals as well as the potential buyer's requirements.
Benefit from Amazon Reports
Amazon reports are among the most underrated yet valuable resources available to sellers. Sellers can access Amazon reports from their Amazon Seller Central account. Various reports such as Advertising Reports, Business Reports, Return Reports, and Fulfillment Reports help sellers gain valuable insights to help improve their sales.
These reports contain useful and valuable metrics such as Page Views, Sessions, Order Session Percentage, Units Ordered, Total Sales, and Buy Box Percentage. Gaining insights using these metrics can help sellers understand their strengths and weaknesses.
For example, knowing the Order Session Percentage of specific pages would help you work on their descriptions, SEO, images, and pricing in the right manner. Avail eCommerce SEO Services to create keyword-rich content and optimize all your product and store pages on Amazon.
Conclusion
You can do a lot to increase the efficiency of your Amazon sales. Implementing the right strategies helps a lot, and you learn a lot as you continue to spend time on the eCommerce platform. New Amazon sellers can always benefit a lot from eCommerce PPC services to promote their Amazon product pages as well as store pages.
While getting your customers to your pages is really important, the way you present your pages is equally important. Visual appeal matters a lot, and good images and videos can result in great sales. Avail eCommerce product image editing services to get all your images edited and enhanced in a customized manner by experts.
SAMM Data Services helps Amazon sellers with end-to-end services, including store setup, listings management, eCommerce product description writing services, image editing, PPC, social media management, website management, and report management. The company has provided Amazon management services to hundreds of clients in over 30 countries – and offers all services at low prices. You can get a free quote by emailing all your requirements to info@sammdataservices.com.
FAQs
1. What are some unique tips for Amazon Sellers?
Amazon Sellers can succeed if they work on their unique strengths. Many sellers underrate the importance of competitor analysis, as it really helps them know about similar products – their strengths and gaps which can be capitalized on.
Amazon Reports provide first hand insights of your own performance. Attractive and helpful copy, SEO, images, and videos boost Amazon sales to a large extent as well.
2. How can I optimize my Amazon listings to full effect?
Amazon listings can be optimized by first getting basics right and then working on enhancements. Add as much metadata as you can while setting up your Amazon Seller Central account and your store. Choose the right category for each product and add the brand name to the titles. Use keywords in title and right informative, keyword-rich descriptions.
Edit and enhance images and videos to highlight the best details of your products. Respond to customer queries, complaints and grievances and provide them with quick customer service. Managing the inventory and updating stock availability also helps optimize listings.
3. How can Amazon competitor analysis services help sellers?
Amazon competitor analysis can help sellers in many ways. Sellers get to know about the types of products, prices and the strengths and gap areas of the products of their competitors. Sellers also get reports of recent sales, marketing strategies and season discounts of their competitors. All this information helps sellers create and modify their own strategies accordingly, helping their own sales in the long run.