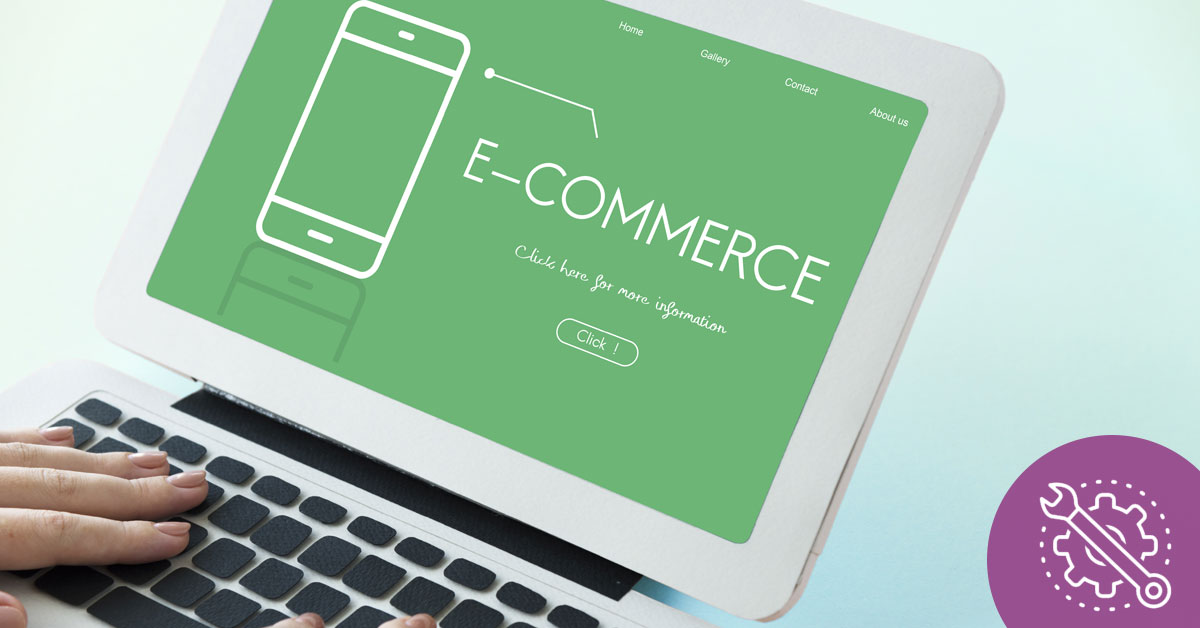 Building an eCommerce website is easy in today's digital age. But maintaining and sustaining your eCommerce business can be quite an ask. With so many eCommerce websites available these days, your users have multiple options for all kinds of products. Each website has its own features, pricing strategies, and add-on services that help them create new customers and retain existing ones.
Getting a few basics right certainly helps all eCommerce sellers. Regardless of the types of products one sells, each eCommerce business has a market and it is important to target the users effectively. You can capture a huge proportion of your target audience, if you get a few things right as far as your eCommerce website is concerned. Working on these aspects would ensure you don't miss out on anything important and also grow your sales with time.
There is a lot you can do to grow your eCommerce business. You should certainly go through the services and tips mentioned below, but it is important to have your own strategy depending on the nature of your business and the latest market trends. Along with some of the most important services mentioned below, let us know about some useful tips that could help you succeed in the eCommerce space.
Some Important eCommerce Services You Need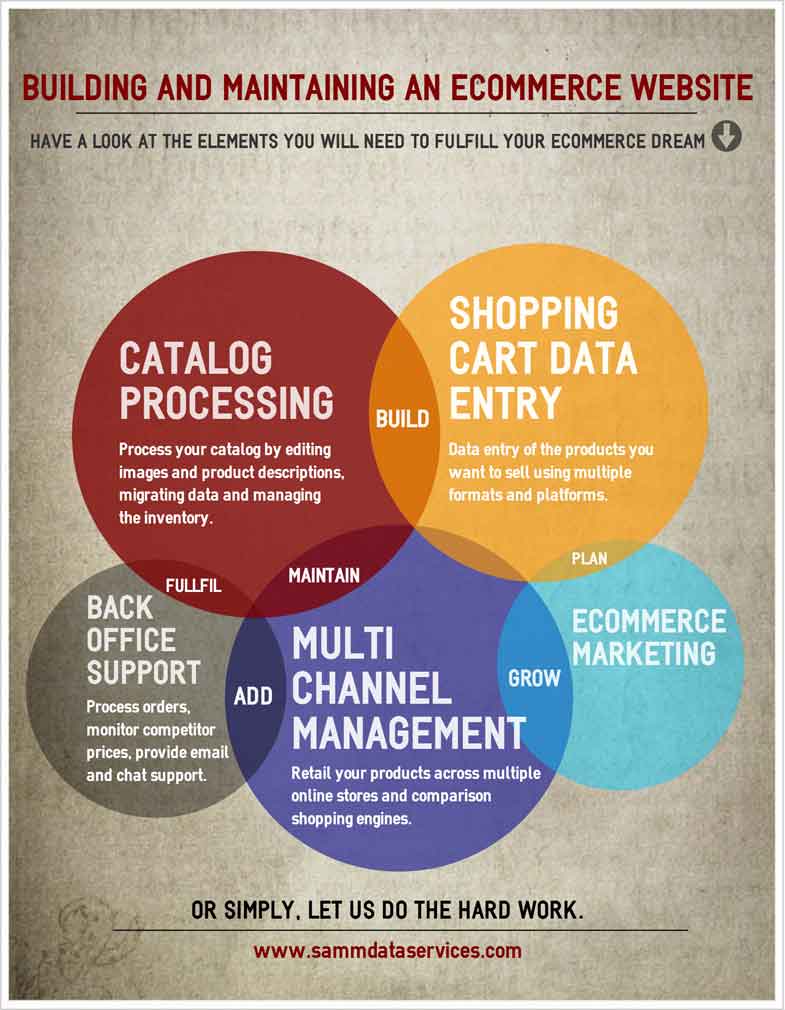 While you can do a lot to build and maintain your own eCommerce website, there are a few services that would help you regardless of your business type. Some of these services are catalog processing services, shopping cart data entry, multichannel listing management, and eCommerce store marketing services. Read on to know about these services and some essential add on services that would help your eCommerce business.
Catalog processing services are indeed among the most important processes while building an eCommerce website. Content plays an important role – whether it is in the form of text, images, or video. Your website's visitors decide whether they want to buy a product or not on the basis of what they see – and that is why data plays such an important role.
Most good eCommerce websites utilize high quality images. Images influence buying decisions a lot, so ensuring high quality and detailing is really important. You can also edit images using product photo editing services to remove unnecessary elements and add important effects by editing the background, shadows, shine, etc to make them look good. Images should also be optimized for search by adding appropriate alt tags.
You can also add a carousel or slideshow to your eCommerce website's homepage. The first thing users notice while visiting your eCommerce website whether through a computer or a mobile device is the top section. You can add the best products, discounts and deals, festive offers, and the most important updates you want to display to your users with the help of this carousel or slideshow.
Another really important aspect of catalog management is inventory management. Proper inventory management helps eCommerce sellers stay ahead of their competition. Whether it is managing your stocks, ensuring availability, order fulfillment, timely delivery, subsidized shipping, or order closure – the level of inventory management helps establish the credibility of an eCommerce seller to its users. Always opt for quality product photo editing services, rather than editing them in an amateur manner.
Detailed entry of all the product information on your website is extremely essential. If you sell products of different brands or different types, it is important to mention the brand name along with every product to help users distinguish between brands. It is equally important to mention detailed information about all the models and variations of the products listed on your eCommerce website.
Mentioning detailed information about the available colors and sizes (along with size charts) of different product variants has to be ensured. Product descriptions can include a lot of information, such as their USPs, bullet points, how to use, how they are better than their competitors, warranty information, size dimensions, quality information, and manufacturing information – all this comes under product content writing.
Prices and discounts should also be properly mentioned. As mentioned above, the brand name, as well as the seller's name, should be mentioned – especially if you are distributing your products to multiple sellers. If any details of your products, such as the availability, pricing, seller information, warranty information, etc change – you need to change your shopping cart data accordingly.
If you are looking to sell your products across various eCommerce platforms and websites, data consistency is important. Yes, you can have different data types according to the variations between platforms – but common information has to be consistent across the formats. All the data must be properly entered, proofread, monitored, and updated from time to time to ensure seamless operability.
Product content writing makes a huge impact on website visitors, and you should hire professionals to contribute engaging content and product copy. You would love to know how SAMM Data helped an Australian dealer of recycled books with quality data entry services.
Multichannel listing management is important and has become a necessity for sellers in today's date. As your users are available on different platforms, it is important to be omnipresent on all the channels for all sellers. A user might have a particular eCommerce application pre-installed on their mobile phone, and might not feel the necessity to use any other application. Just ignoring this platform might cost you tons of profit. Hence, multichannel listing management is key.
You also need to install and integrate a few features to make your own eCommerce website secure and easy to use. One of these features is an HTTPS certificate. HTTPS certificates are proof of the security of payments on your website. You can request for HTTPS certificates or ask your eCommerce website developer to apply for one.
Integrated payment gateways are equally important. With many payment gateways such as Citrus, CCAvenue, and PayUBizz available these days, it is important to have all of them available on your eCommerce website as well. Besides, your hosting should have enough bandwidth to handle website traffic and multiple payments at once – so that payments don't get stuck and you can process maximum orders at any given time.
Yet another important feature of an eCommerce website is its ease of navigation. No matter how many products and product categories a specific eCommerce website contains, users should be able to find the products of their choice easily. Your eCommerce website should have a search box and top menu where all categories and subcategories can be easily found. The website should be mobile-friendly to help users who want to scan your website using mobile devices.
Back office support is essential to create loyal customers and generate new leads to create a chain of customers. Features such as email and chat support help your customers feel at home, providing them with a sense of security. It is important for you to answer all your customer's queries within the shortest turnaround time, so that they don't get frustrated and all their issues are resolved without any unnecessary delays.
You can embed a live chatbox on your eCommerce website so that customers can enter all their genuine queries and get instant replies for the same. Having 24*7 live support is great, but another thing you can do is to add the most common questions for all product and query types – so that most of the customers' doubts can be resolved without waiting for support executives.
Having a robust feedback management system also helps sellers manage their business and make future decisions in a better way. You should have a backend dashboard that contains details of your orders, shipments, stores, inventory, and report generation systems to retrieve essential data in the form of graphs, charts, and detailed Excel sheets.
Competitor price monitoring is an important service that needs to be handled by experts. Setting the right prices and seasonal discounts can help your sales skyrocket, and each dime closer to the right price makes a huge difference. Get experts to conduct competitor price monitoring to study historical prices, current prices, discount seasons, and other market trends to come up with a robust pricing strategy.
eCommerce store marketing services involve marketing of your website using SEO as well as marketing your store using external websites and applications. Search engine optimization helps users discover your website by entering relevant keywords on search engines. To properly optimize your website for search, you can use eCommerce SEO service tools to optimize on page search and work on off page SEO as well.
External eCommerce SEO Services involve getting enough backlinks to make your eCommerce website rank. Blogging, social media, advertising, paid marketing, etc help you create enough backlinks to point towards your eCommerce website if done properly. Video marketing is another great strategy and helps your website get organic views with the help of well recorded and edited videos.
Regularly publishing newsletters also help you market your website and products by including all the relevant information. You can also add subscription buttons and forms to your websites so that they receive all the latest product updates and discount information, as well as newsletters on their emails. You should also include other important features and buttons on your website to help your users.
You should have dedicated pages on your eCommerce websites for the 'about' information, contact information, privacy policy, terms and conditions, and sitemap. Adding social media widgets and links of your partner websites also adds credibility and help your users know all they want about your business. This helps build trust and creates a sense of belonging among your website users.
Conclusion
eCommerce website and store management is a continuous process, and eCommerce success requires constant efforts and out-of-the-box thinking. If you want to focus more on your area of expertise, you can always outsource eCommerce management services to experienced experts to manage multiple marketplaces and all aspects of your eCommerce business.
SAMM Data Services offers end-to-end eCommerce services including catalog processing services, shopping cart data entry, multichannel management, eCommerce store marketing services as well as back office support. With over 20 years of experience and 1000+ clients in over 30 countries, SAMM Data Services offers quality services at affordable rates and minimum turnaround time. You can get a free quote by emailing all your requirements to info@sammdataservices.com.
FAQs
1. What are the different areas I should focus on to build and maintain my eCommerce website?
The five basic areas all sellers should focus on are catalog processing services, shopping cart data entry, multichannel management, back office support, and eCommerce marketing. Sellers need to work on all these areas consistently and change their marketing strategies from time to time depending on the latest market trends and user's requirements.
2. What are some features I should add to my eCommerce website to succeed online?
There are various useful features you can add to your eCommerce website to succeed in the online space. Some of them are adding a carousel/slideshow to your home page, inventory management software, HTTPS certificate, integrated payment gateways, live chat box, 'about' information, contact information, privacy policy, terms and conditions, social media widgets, links, and sitemap.
3. How can outsourcing services help my eCommerce business?
Outsourcing eCommerce services to experts helps you avail quality 360-degree services for your eCommerce website at affordable prices. The work gets done in the shortest amount of time and you get to choose packages customized to your needs. With outsourcing, you can opt for individual services as well as end-to-end services for your eCommerce store.