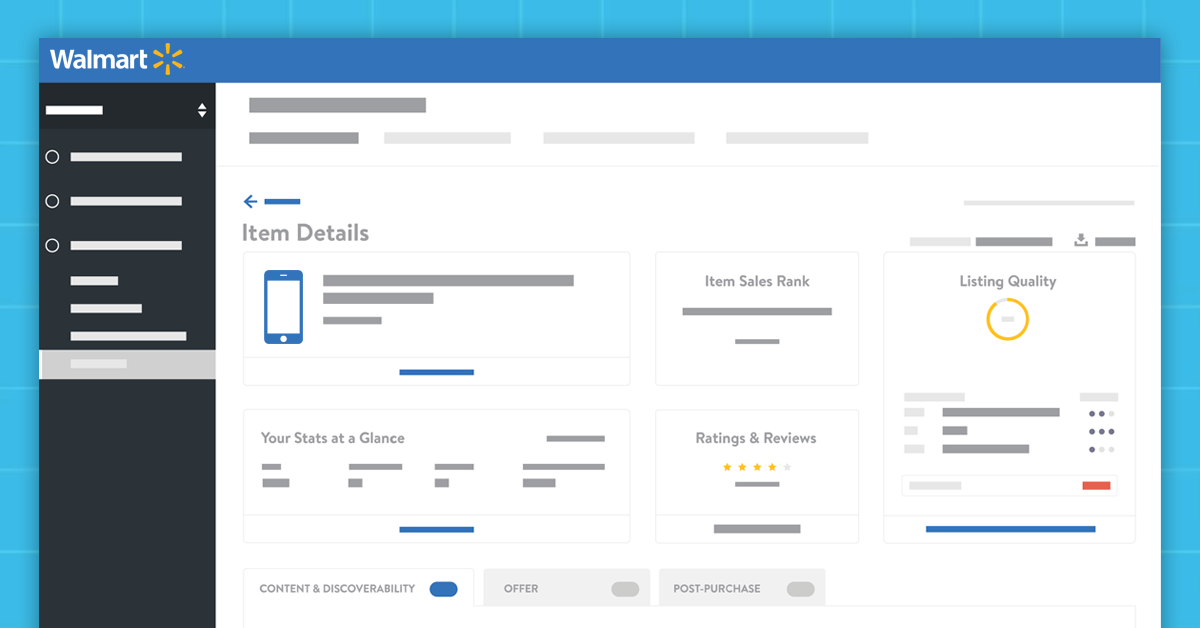 Sellers can easily conduct their business on Walmart's marketplace due to the option to customize their listings and storefronts. There's now a dashboard that provides information about all relevant metrics, including Post-purchase quality and listing quality scores. This blog details them all.
Table of Content
Introduction
With informative and attractive Walmart product listings, sellers can grow their online business well. If you're a seller there, it helps to quantify your performance using many relevant Key Performance Indicators (KPIs). It is also very convenient to have all of them in a single place in an easy-to-read manner.
Walmart's Listing Quality Dashboard helps sellers accurately track the various metrics of their Walmart store. It helps gain insights into your product listings visually by employing charts, graphs, and numbers. These, in turn, help with optimizing your Walmart Marketplace Listing.
While the dashboard reports on your performance, it's your product listing that gets the actual sales. You need to stand out from the competition and draw customers to your store with quality Walmart listings. Both newcomers and established sellers could always use the help of a professional for it.
They will get your traditional listings sorted, along with the addition of new features as applicable. You will get professional-looking product listings that compel visitors to convert.
You'll save resources while driving your sales up, often repeatedly with recurring customers. Your brand value and visibility go up when you professionally improve Walmart quality listing.
Make your cash registry a big-box store of your online business revenue
Get SAMM Data Services professional Walmart product listing services
The Essentials Of Walmart eCommerce Product Description Writing Services
Walmart's online store offers a plethora of features for product listing. You can create exhaustive and visually-indulging product descriptions using themes and logos on your seller pages. It also has spaces for you to market your products by utilizing ads to bring in more traffic.
An impeccable Walmart quality listing helps these aspects perform at their best and get you conversions. Professional listing agencies provide the following services to accomplish that goal:
Product Title Writing
Walmart's online marketplace also uses product titles for search results purposes. A title that is creative, informative, and filled with the appropriate keywords is bound to attract the algorithm's attention. With that comes greater visibility, trust, and ultimately, sales.
Product Description Writing
The product description is where you inform your prospects about the product in all its glory. The platform lets you post creative descriptions that make you stand out from the crowd.
You can add the right keywords to further help with optimizing your Walmart marketplace listing. You can list multiple variants of a product on one page to help sell them all easily.
SEO
The description writing experts embed high-performing keywords and phrases relevant to the product in question. Your product listing is further segmented into different sections that describe specific aspects of the product.
Bulleted points further add to the clarity. Appropriate images of the product also entice customers and search algorithms. Together they help place your product high on Search Engine Results Pages (SERPs).
Product Image Editing and Inclusion
A product's images improve Walmart's quality listing by leaps and bounds when the right type and number of them are used. Listing services select the most suitable ones for the purpose by scouting various sources.
The latest editing software is used to enhance their characteristics. Their dimensions are cropped according to the platform's requirements. A series of images that showcase the best views of the product from multiple angles are then uploaded.
Infographic-laden images are also made available to give an overview of the product. A 360 deg. rotating graphic image makes a great addition to your Walmart quality listing.
Ad Campaign Content
Paid marketing in the form of Pay Per Click (PPC) and other digital ads is necessary for your Walmart store brand recognition. Professional listing services can provide the right content to realize their potential.
Whether it's for long-form ads like banners and social media posts, or short-form ones like block ads, they've got it covered. They'll add the necessary keywords, short descriptions, pricing details, positive reviews, and enhanced product images in the ads.
Additional eCommerce SEO services by them can develop an ad strategy and run the campaign too.
Competitor Analysis
Your Walmart listings serve the purpose of attracting customers against the competition. Your competitors may have listings and listing practices that are working well for them.
Professional listing experts glean the finer points of their listings that are making them successful. They incorporate it into your listings to better your chances too.
Competitors' product descriptions can also give hints about their product and advertisement strategies. You can use that information to get ahead of them by working on your respective strategies. Thus, they can help improve Walmart quality listing for you immensely.
Pricing Strategy
Professional eCommerce marketers develop a winning strategy for your product pricing. They will scrutinize the prevalent market conditions and decide on the product type and pricing accordingly. The ideal duration of any sales and the discount to be offered will also be decided by them simultaneously.
They will also be optimizing your Walmart marketplace listing to work with the pricing strategy. Timely product placement at the right price will get you the profits you seek from the sales period. An example is a product introductory price discount.
Review and Regulatory Compliance
Walmart product description writing experts are well-versed with all the regulations applicable on the platform. They provide content that works for your business and with those regulations.
They review the present descriptions for improvement. Flaws or shortcomings will be identified and rectified with a revamped listing strategy. This occurs while remaining compliant with established local and platform-specific regulations.
Thus, your Walmart quality listing will become true to its name with assistance from professional listing services.
Give your storefront and product listing a complete makeover
Get SAMM Data Services affordable and bespoke product listing services
How The Dashboard Helps Understand Walmart Quality Listing
Walmart's Listing Quality Dashboard has been introduced to uplift sellers' performance across every metric. It also helps achieve better brand and product visibility.
The dashboard is an all-in-one tool that visualizes the various business metrics of a Walmart store. It gives an insight into your services' Post-Purchase quality by providing a Listing Quality Score based on customer satisfaction. It helps with optimizing your Walmart marketplace listing to improve its effectiveness and efficiency.
It tells you how SEO-friendly your listing is, helps analyze its overall quality, and shows a comprehensive view of its various aspects. You can then devise a unique approach to solving your problems.
Navigation
The dashboard is designed to be user-friendly, with important information found in the main section. You can easily navigate to the other sections by simply clicking on the respective tabs and options.
Steps to get to the dashboard:
Log into your Walmart Seller Center
Go to the Analytics and Reports heading. Click on it and select the Growth Opportunities option.
Click on the Listing Quality Tab and you will see your Dashboard
Walmart Listing Quality Dashboard Displays
The five most prominent items displayed on the Walmart dashboard display are:
The Overall Listing Quality Score (Average)
The Walmart Quality Listing's Components Breakdown
Post-Purchase Quality
Any Pro Seller Badges
Scoring of your publishing items on an item-level
There is the provision to view the trending items or all published ones. Those enrolled in WFS can also filter their WFS items with the respective option.
How PPQ and LQ Scores Help Improve Walmart Quality Listing
Post-Purchase Quality (PPQ)
The post-purchase quality is a metric that measures customer experience after their purchase from your store. It is based on various factors that influence customer experience and your Walmart listing quality. However, it doesn't directly affect your LQ score.
Keeping your number of Walmart quality listing items with fewer problems will keep the quality high. The flagged items match the reporting dates of the seller scorecard. The period is 90 days, measured between 120 days ago to 30 days ago, excluding the present items' return period.
The Post-Purchase Quality Tab helps you explore the orders causing the low score in-depth. A no defect score will show up as N/A, which is the aim of this feature. The factors determining it are:
Delivery defects: Orders delivered post expected delivery date.
Cancellation rate: Orders canceled after receiving the order
Return rate: Problematic orders that have been returned after delivery
Listing Quality Score (LQ)
This metric is a number that encompasses every aspect of your listing. It applies on a catalog and item level. It helps with optimizing your Walmart marketplace listing by fortifying your store's various aspects.
The score represents customers' interactions with items overall, from searching for them to purchasing them. It also measures their shipping and returns experience. This is accomplished by applying differentiated weightage to the many influential factors.
The four main components that make up the LQ Score are:
Content and Discoverability: An item's description content helps influence its search discoverability.
Offer: Competitive offers entice the algorithm to select your listing.
Reviews and Ratings: The LQ score increases with positive feedback
Post-Purchase Quality: Post-purchase experience of customers like product quality, shipping time, and returns.
These are summed up to give the LQ score. The score is category-dependent and may prioritize one over another. Higher scores mean greater chances of getting your Walmart product listing noticed, increasing sales.
Profiling
Products have various qualifications such as category, variant, optional, and recommended attributes. When these are collected into a set based on certain rules, you create a profile. These details are sent to Walmart with the products to help a seller with the listing.
These profiles assist them with putting products in the correct category. Profiles also help with better SERP ranking; the more elaborate they are, the better the SEO.
In Conclusion
Walmart's online marketplace offers opportunities for sellers of all sizes. You get to have a Walmart quality listing for your products with assistance from a professional service provider. And you can track and review your sales and marketing strategies with the help of its Listing Quality score and others on the Dashboard.
Using these facilities and other eCommerce support services, you can race ahead of your competition on the platform. The unique brand store creation and listings will attract conversions and market your brand value far and wide.
Outsourced eCommerce Product Description Writing Services By Samm Data Services
We are the recommended Walmart eCommerce Store Marketing Service providers for all Walmart store types. We come with industry-best experience and ISO certifications for it. Partner with us, and your Walmart listings will start raining the cash flow you desire.
We provide all the necessary services to make your Walmart store thrive. And we do it at affordable costs and on schedule. We work according to your needs so that you can have a partnership that works for you.
Contact Us today for a free trial. You can also email us at info@sammdataservices.com.
FAQ
1. What are the fees associated with selling on the Walmart marketplace?
The good thing about listing your products on Walmart is that there are no account subscription fees associated with it. This is in contrast to amazon which charges such a fee. What the two do have in common is the referral fee that can range from 6% to 20% depending on the category. It is important to note that the categories mentioned are those listed in the Walmart Marketplace Retailer Agreement. The ones you use for item setup don't count.
2. Are product auctions similar to eBay allowed on Walmart Marketplace?
The answer is Yes and No. Walmart doesn't allow the auctioning of products like eBay for in-stock or new items. These have to be sold the old-fashioned way. Walmart does have what it calls Liquidation Auctions on its marketplace. In these auctions, sellers can put returned items up for bulk bidding. Products of all categories can be found here and will be sold on an "as is" basis. The items can only be bid on by approved Walmart Liquidation Auction buyers by going to the auction page of choice and offering the highest amount for it.
3. What types of visualizations can be found in the Walmart Listing Quality Dashboard?
The Walmart Dashboard is a treasure trove of store data. It contains KPIs presented in a variety of visualizations for easy comprehension and assessment. The most common types of visualizations found are bar graphs, line curves, pie charts, dotted graphs, and shaded graphs. Besides these, you also have statistics presented in plain text like numbers and percentages. These can be color-coded for easy discerning based on the metric being noted. These graphs change according to the metric and period of measurement opted for.
4. How can feedback management help with Listing Quality score improvement?
As noted, ratings and reviews have a direct bearing on the listing quality score. Thus, you must reduce the number of negative ones to keep it high. Feedback management services help with it immensely. They will provide the responses that can pacify dissatisfied customers from rating you badly and leaving negative comments. They can push satisfied customers to compulsorily leave positive feedback via email and notification reminders. They will coordinate with customer service executives and understand the reasons for negative feedback. They will then respond accordingly to help the customer and build a good brand impression. These together will push your LQ up.