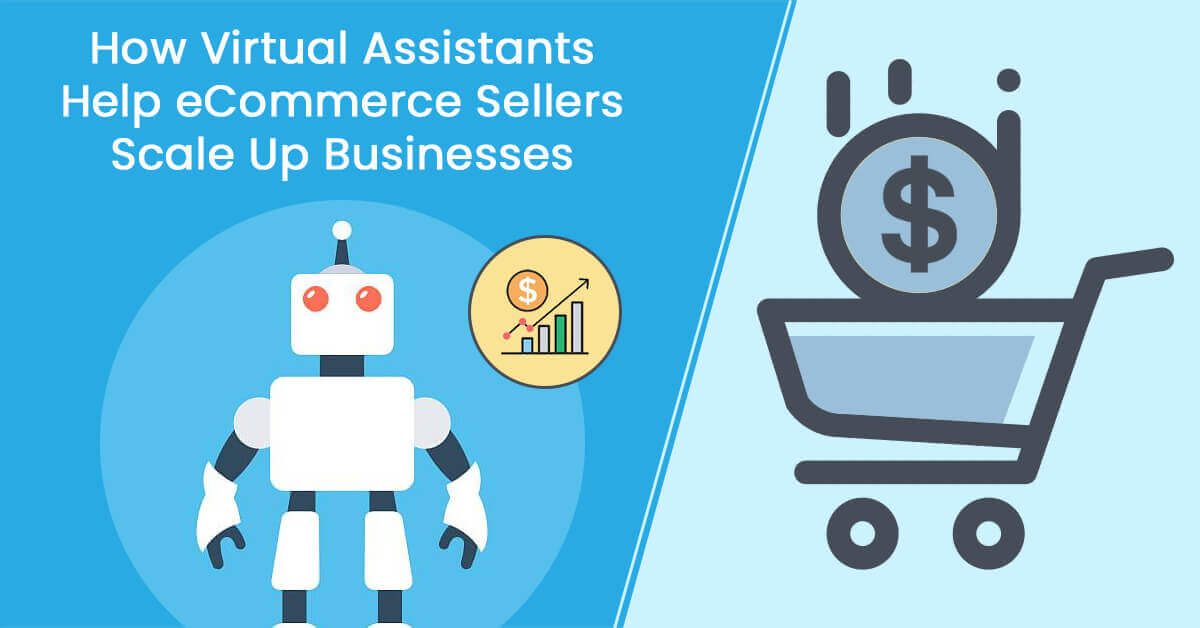 Being an eCommerce seller in the present time is certainly not easy, thanks to the growing competition. It gets even tougher if you own a small or medium online business, and especially if you have to do it all alone. How many times have you thought about implementing strategies and growing your sales, only to find yourself short of time and too busy with routine eStore management activities? In such a scenario, taking your business to the next level and putting your plans into action seems like an impossible task. Hiring an eCommerce virtual assistant is a smart way to get out of this tricky situation.
What is a Virtual Assistant?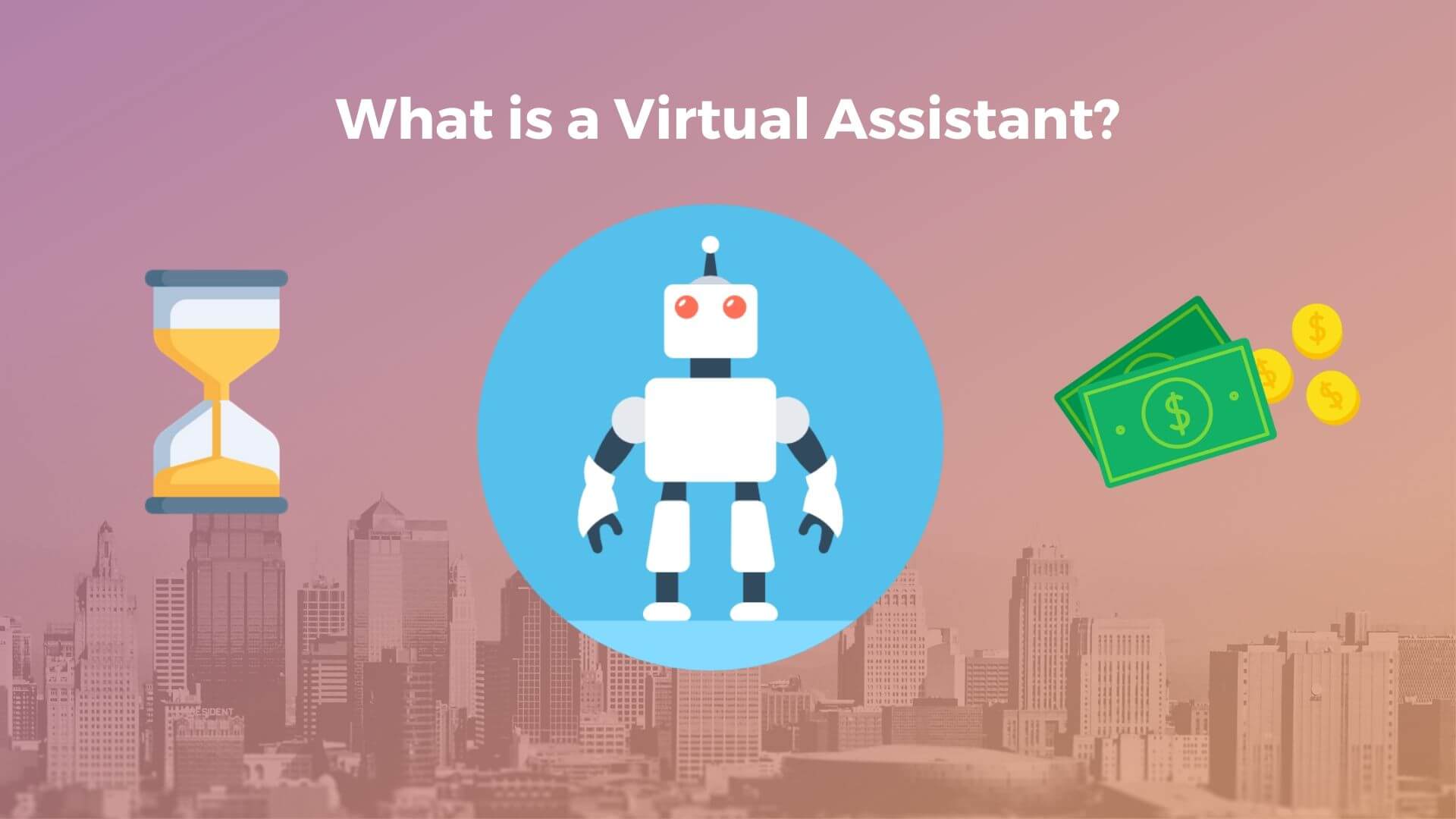 A virtual assistant is a remote resource who can manage your eCommerce store, provide reliable customer support, and improve the overall user experience of your website. What's best is that having a virtual assistant for eCommerce store is much more cost-effective than hiring a full-time in house team. And you definitely will need one if you wish you scale up your business by investing your time in core business activities like devising marketing strategies , discovering new audiences, testing new optimization techniques, etc. 
Why Do you Need a Virtual Assistant?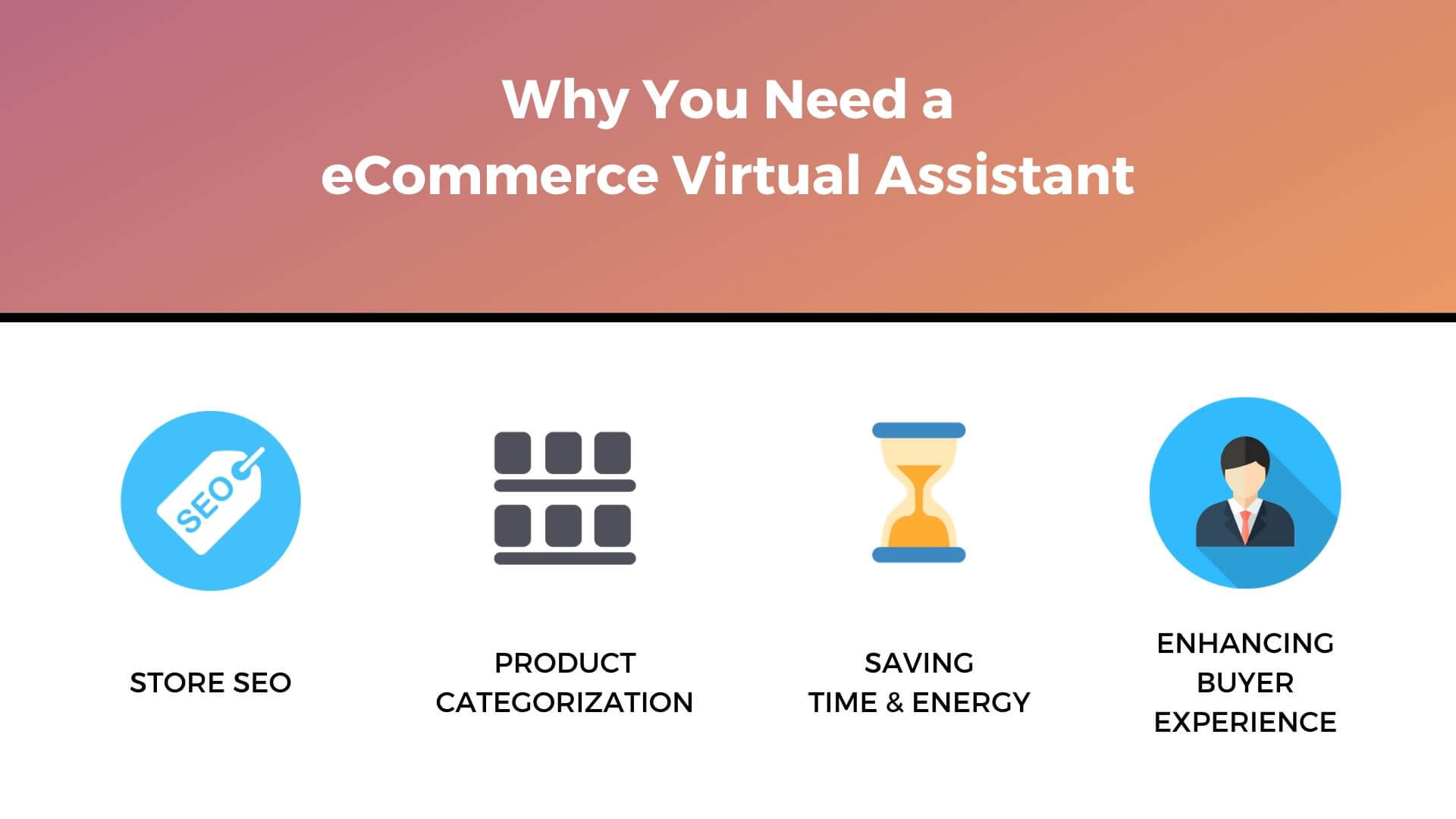 Starting an eCommerce store is one thing, but running and managing it successfully is a different ball game altogether. There are way too many routine tasks involved in managing an eCommerce store. To run an eStore, you need to come up with  an effective marketing strategy that attracts more customers. And you'll only be able to do that if you have time to focus on the same. Since the non-core activities, too, are equally important, letting a virtual assistant handle them can actually be a wise choice. 
However, if you're still skeptical, here are some reasons why you must go for an eCommerce virtual assistant:
Time and Energy to Focus on the Business
As mentioned above, you need time to plan your eStore expansion. Hiring a virtual assistant will help you with everyday store activities and much more, thus leaving you with the time and energy you need to focus on more important business activities. 
Enhancing Buyer Engagement and Shopping Experience
Your eCommerce listings must be complete and well-managed at all times if you want them to grab the customers' attention. Basic details like product title, description, images, reviews, etc. must be filled in so that more buyers can engage and make an informed decision while purchasing an item. This is where a virtual assistant steps in. Completing the product listings on you own will take time. Plus, you'll need to make changes to them regularly in order to keep them updated. While you may have other things to worry about, hiring a dedicated data entry expert or a VA for the task could solve the issue for you. A VA will not only keep your listings complete and updated, he/she will also help you build a large customer base for your eStore. When your listings are updated, your customers will have a rich shopping experience. Your website's interface and design will also be optimized to make it user-friendly and easy to understand. Not to forget, the VA will also organize the checkout process and make it as simple as possible.
Correct Product Categorization

Your products need to be visible in order for your customers to notice them and buy them. And they will be if they're categorized properly. Grouping a large number of products and placing each of them in the correct category demands precision and time, which again calls for an eCommerce virtual assistant. 
Store SEO
You want customers to discover your eCommerce website and purchase your products, right? Well, they'll only be able to do that if your website is visible in the search results. And it will be if it is properly optimized for the search engines. Now, search engine optimization demands product data optimization using the latest SEO techniques, which you'll be able to discover after thorough competitor research. A virtual assistant can help you with all the research and SEO implementation to make your eStore SEO-friendly and discoverable.
What Tasks can a Virtual Assistant Handle?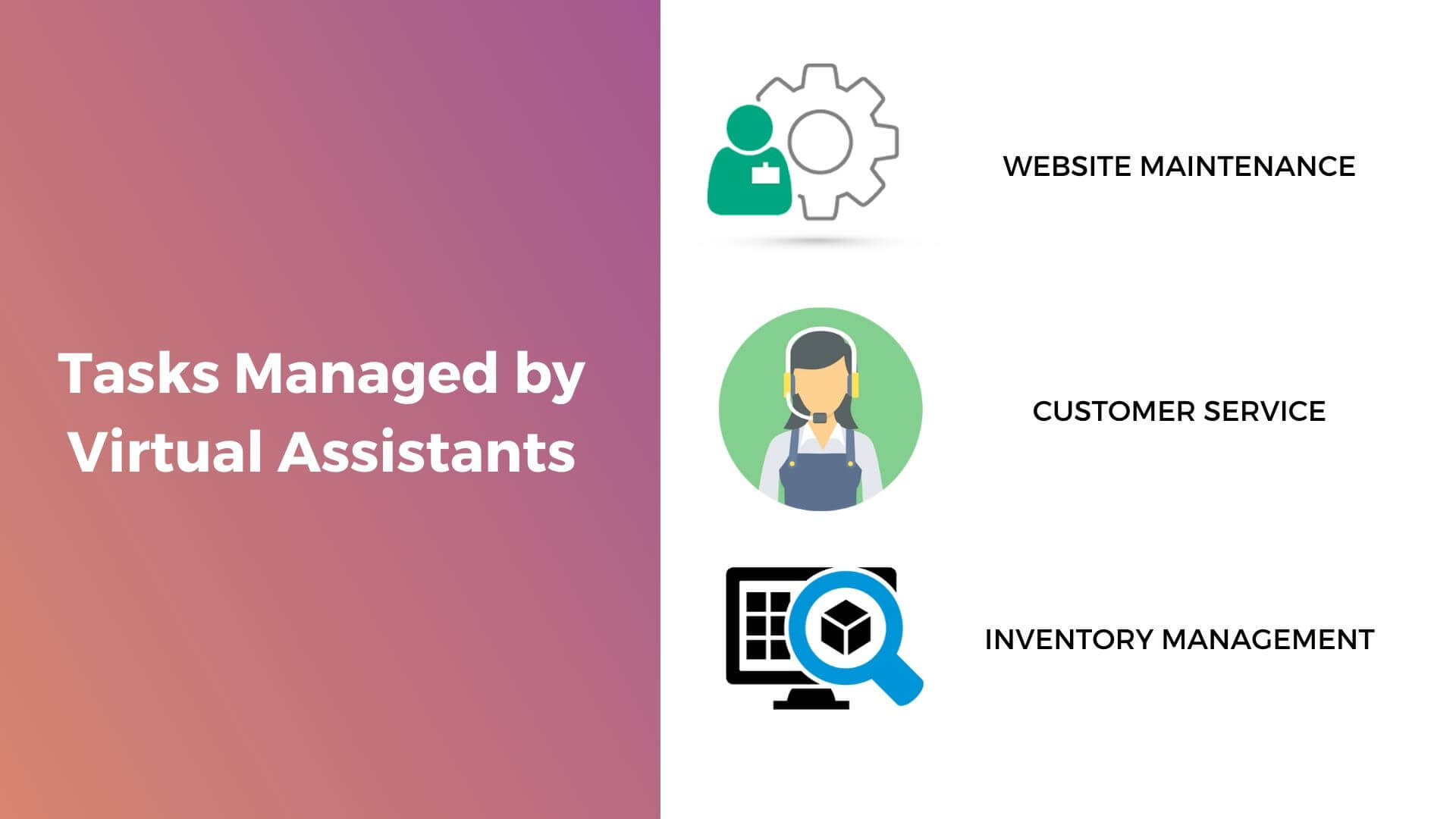 An eCommerce virtual assistant is someone with a skill set for managing varied tasks related to online business. Here are some of the major ones that you can delegate to your virtual assistant: 
Inventory Management
Sellers often run into situations like overselling or underselling certain items, which eventually lead to order cancellations or delayed deliveries. Clearly, such issues can harm your seller's reputation as well as your conversions. Timely management of inventory is crucial to identify what items you need to re-stock and what to let go of. A virtual assistant will keep track of everything related to inventory management including restocking/replenishing inventory, labeling, and bar-coding the products, etc. 
Customer Service
Providing quality customer service is the key to providing a good customer experience. eCommerce virtual assistants can address buyers' concerns regarding purchased products and assist them with the buying process on phone, email, or chats. They can single-handedly take care of replying to customer emails, collating feedback, and dealing with complaints. 
Website Maintenance
As, website design trends evolve, your website needs to buckle up and upgrade to avoid missing out on the competition. This means, your website needs to be updated regularly and your product data must be analyzed at intervals to make sure it is always complete and reliable. A virtual assistant will do all the required research and make sure your website design and your product data are up-to-date at all times. 
Product Listing Optimization
Your eCommerce product listings must be optimized for the search engines in order to rank high and convert. Now, that calls for extensive optimization using targeted keywords that must be strategically placed all over your product copy. Outsourcing eCommerce product listing optimization to a virtual assistant will not only save you time but will also make your listings look more professional.
Back-end Operations
Back-end eCommerce activities like order processing, shipments, product delivery, etc. demand attention, skill and ample amount of time. Plus, backend operations like these must be carefully handled as they very much decide how strong your eCommerce business stands. Being a business owner, it is actually impossible for you to attend to all such tasks all by yourself. A virtual assistant has the required skill set to maintain all the backend operations and make sure that they run glitch-free so as not to affect your customer experience but only lift your sales rate. 
Handling Returns and Exchanges
Unhappy or dissatisfied customers often return or demand the exchange of items. Issues like these need a dedicated resource who can attend to all the customer queries, order return processing, updating the order status, communicating with the customer, etc. A virtual assistant handles all the product returns and updating inventory, while you're free to attend to your core business activities. 
Do you see how important an eCommerce virtual assistant is? Well, very, if you want your eCommerce business to head towards expansion and growth! 
Let SAMM Data Services Help You With Your Venture

Looking for a virtual assistant for your eCommerce store? Well, look no further. Hire one from SAMM Data Services, a specialized company that provides dedicated resources who know eStore management inside out and can help you with all the non-core business activities. Write to us at info@sammdataservices.com to get started.