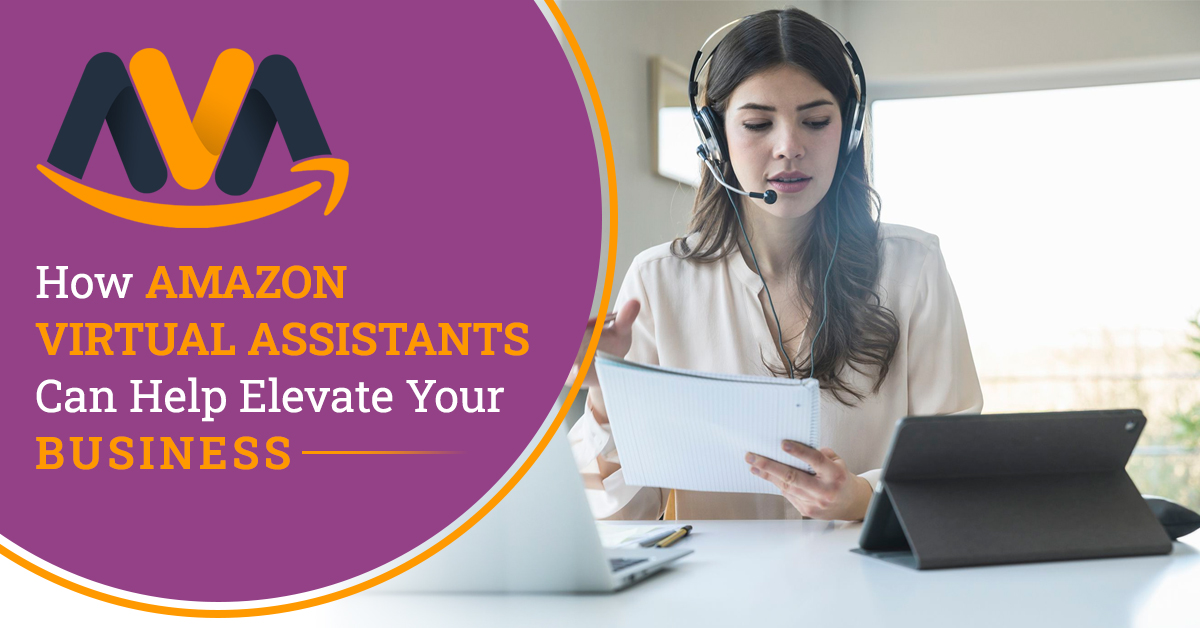 Setting up an online store on Amazon is quite easy but maintaining it might be a challenging job for a majority of sellers. However, once you get hold of it, it can be rewarding too! As a seller on the Amazon marketplace, you must know that doing business on Amazon requires a great deal of time and effort. You have to carry out different activities on a regular basis even if you have a small venture. Due to the time-consuming nature of the job, most sellers prefer hiring an Amazon Virtual Assistant to get things done in the limited time frame and focus their attention on other crucial aspects of the business to boost the growth potential of their business. An Amazon Virtual Assistant can take care of all your tasks pertaining to your Amazon store.
Table of Content
The eCommerce industry is growing at a fast pace making it difficult for businesses however big or small to survive the dynamism. This is the go-to guide that will walk you through the various facets including what an Amazon VA is, various roles, etc. Let us first throw some light on what an Amazon Virtual Assistant actually is.
Who Is An Amazon Virtual Assistant?
An Amazon Virtual Assistant (VA) is someone who can work on a full-time, part-time, or on an hourly basis even if it means being available for only a couple of hours per week. The work assigned to them is generally carried out distantly from a remote location. Amazon VAs can be employed to perform a variety of tasks related to your Amazon store. By hiring an Amazon VA you get to save a great deal of your valuable time for carrying out other critical business activities that need your attention. Infact, by hiring an Amazon VA, you can fill up the skills gap and focus on the non-trivial aspects of a business.
Moving forward, let us discover what an Amazon Virtual Assistant can actually do for your business.
What Can An Amazon Virtual Assistant Do For Your Business?
An Amazon Virtual Assistant can be of great help for a business seeking professional assistance for all kinds of activities pertaining to setting up an online store on the Amazon marketplace and performing various tasks including inventory management, Amazon product listing optimization, content optimization, and order processing.
An Amazon VA takes care of the selling of products online through an eStore on Amazon. He/she offers administrative support to offsite and onsite business owners and carries out the assigned jobs faster and more efficiently due to their expertise and exposure to working across diverse verticals, be it business, technical, support, or academic division. With the requisite skills and abilities, Amazon VAs can help you accomplish a plethora of tasks within the stipulated time frame and that too, with sheer speed, accuracy, and efficiency. You only have to select a particular pricing model or an hourly rate to take things forward based on your distinct business requirements.
If you are still wondering what activities an Amazon Virtual Assistant performs, then here's a list of some vitally important tasks you must take note of: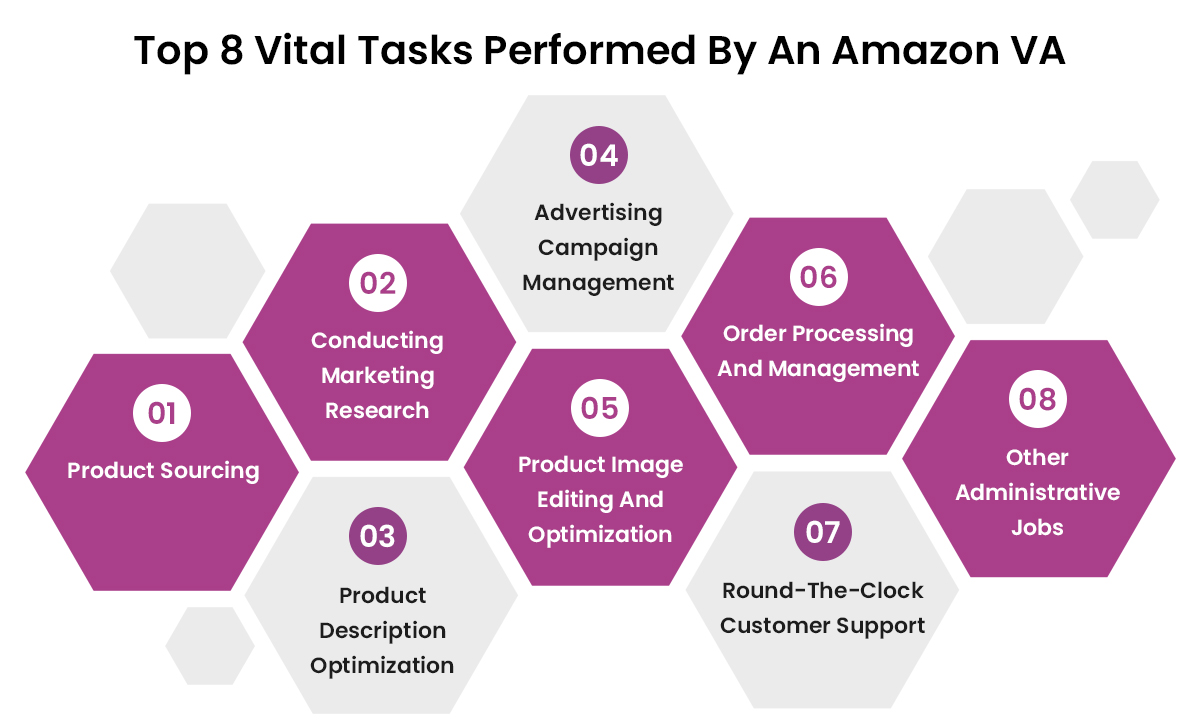 1. Product Sourcing
Product sourcing is one of the vital tasks performed by an Amazon VA. An Amazon VA helps increase the range of products offered and also minimizing the buying costs.
2. Conducting Marketing Research
An Amazon VA can help you evaluate and keep a closer watch over your competing counterparts and research the prevailing market trends. This will help your business grow by gaining insight into how you can optimize your product listings and bring in more sales to your kitty.
3. Product Description Optimization
An Amazon Virtual Assistant offers a professional Amazon product description writing service to boost relevant traffic and help grow the online business. Amazon VAs have a sound understanding of keywords and their usage and are adept at writing compelling product descriptions that make you sell faster than ever. By optimizing product descriptions, an Amazon VA promotes the visibility of your products and can also help expand your business in other countries with their knowledge of different languages.
4. Advertising Campaign Management
Amazon VAs can also help you reach out to a wider audience. Infact, with adequate analysis of the marketing campaigns running currently, the Amazon VA can monitor the performance and take necessary action thereafter. With an Amazon VA at your service, you get to make all the requisite changes in your Amazon store and market your brand across all the relevant social media platforms for better reach. Amazon VAs also help in analyzing as well as optimizing the campaign performance for capturing leads effectively.
5. Product Image Editing And Optimization
Product images play an extremely vital role in creating a lasting impact and close more sales. So, optimizing the product images is a pivotal task undertaken by an Amazon VA. An Amazon VA can help you capture high-quality, striking product photos by utilizing some of his/her remarkable product photography skills. He/she can lend a helping hand in bringing out the best in the product photos and making a mark in the minds of the potential audience. Apart from this, an Amazon VA also renders exceptional Amazon photo editing service to improve the quality and appearance of photos by employing advanced editing tools and techniques.
6. Order Processing And Management
Hire an Amazon Virtual Assistant to look after the processing of your orders and also in tracking the orders. He/she will help you fulfill the customer orders with an efficient inventory management system mostly through Fulfillment By Amazon (FBA).
7. Round-The-Clock Customer Support
Hire Amazon VAs to get round-the-clock customer support and assistance. They can help you in giving quick responses to customer queries and reviews in real-time on behalf of your brand and deal with refunds and returns as well. You can choose a pricing model as per your requirement and go ahead by collaborating with them on an hourly, weekly, or monthly basis. All kinds of customer management services are undertaken by an Amazon VA.
8. Other Administrative Jobs
There are several other administrative tasks that are efficiently handled by an Amazon VA. These include inventory management, listing creation, product listing optimization, to name a few.
Apart from the crucial tasks undertaken by an Amazon Virtual Assistant, there are a lot of other questions you might have. Let us try to answer them here.
Top FAQs Answered!
Q
1. How should I hire an Amazon Virtual Assistant?
A
You need to decide the tasks for which you intend to hire. Further, shortlist those Amazon VAs who have the expertise to carry out those tasks. And finally, choose the one that best suits your requirement, including your specific requirement, your budgetary constraint, deadline, etc.
Q
2. What skills does an Amazon Virtual Assistant possess?
A
There are a plethora of tasks handled by an Amazon VA. These include:
Product sourcing
Content Writing
Search Engine Optimization
Order Management
Product Listing Creation & Optimization
Sponsored Ads Optimizer
Customer Service Management
Social Media Management
Q
3. What services does an Amazon VA provide?
A
Some of the prominent services rendered by an Amazon VA include keyword research, inventory management, customer service support, order processing, product data entry, bulk product upload, Amazon SEO, product listing creation & optimization, and a lot more.
Q
4. What makes Amazon VAs an obvious choice?
A
Hiring an Amazon VA would save a lot of your valuable time enabling you to utilize it for carrying out other critical business operations. It is also a cost-effective solution for businesses.
Q
5. What is the average turnaround time?
A
It entirely depends on the specific business requirements.
Q
6. What will an Amazon VA need from me?
A
Provide a precise list of tasks to be accomplished, stipulate a time period to complete the job and the budget.
Conclusion
SAMM Data Services offer exceptional Amazon virtual assistant services. Our Amazon specialists are well-trained to handle all kinds of tasks pertaining to your Amazon store, that too from any remote location worldwide. If you intend to hire an Amazon Virtual Assistant from us, simply get in touch with us at info@sammdataservices.com and take things forward.