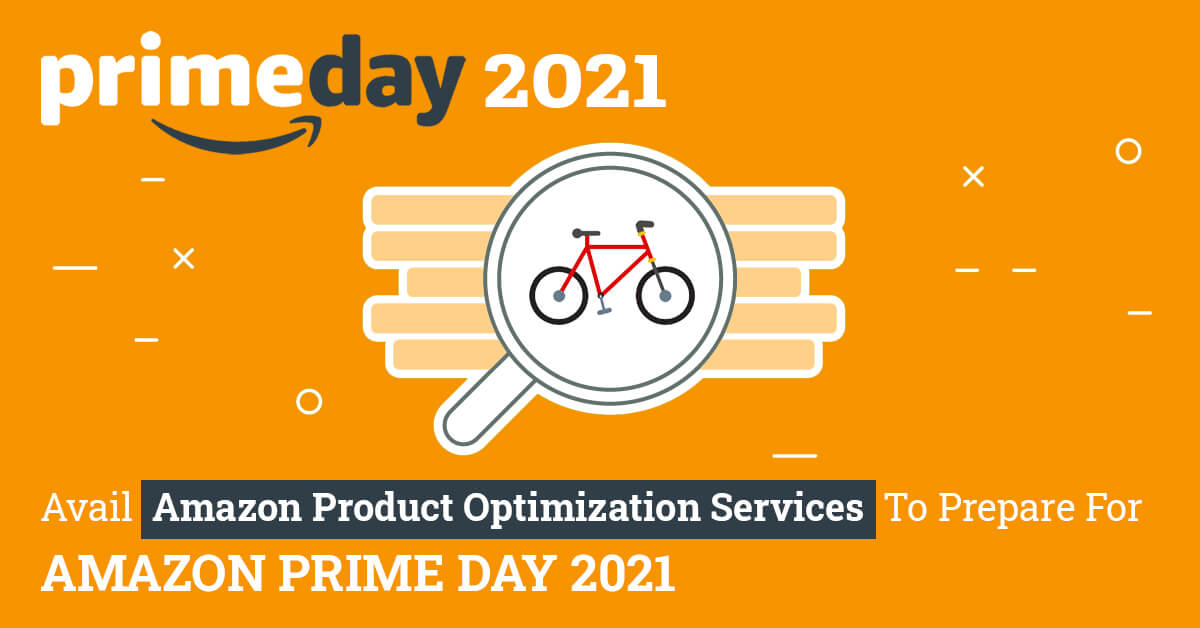 Do you also think that Amazon Prime Day is celebrated as the second Christmas across the world? Of course, and why not? After all, it is the biggest event for retailers to get maximum traffic and consumers to get maximum discounts. Are you a retailer who wants to participate in Amazon Prime Day 2021 and not aware of its competition and procedure? The competition is indeed tough and hence, it becomes more challenging to stand up to the expectations.
That's why we bring this guide to you. Go through this blog from A to Z and learn how you can take utmost advantage of the upcoming Amazon Prime Day event. In addition, you will also learn how Amazon product listing optimization helps you and why you must get your store optimized before the event arrives.
Table of Content
About Amazon Prime Day 2021
Amazon Prime Day 2021 is knocking on your door. Unlike last year, the event will be organized in its usual season – Summers!
The year 2020 has shown all of us a big economic downturn and sellers have also lost chances to boost their sales because of the delayed Prime Day event. But, this time, you will get all the opportunities to upscale your business. After monitoring the pandemic's impact, Amazon is giving immense support and safety to its sellers and buyers. Hence, the sellers and customers can sell and buy products respectively with safety and precautions.
When is Amazon Prime Day 2021?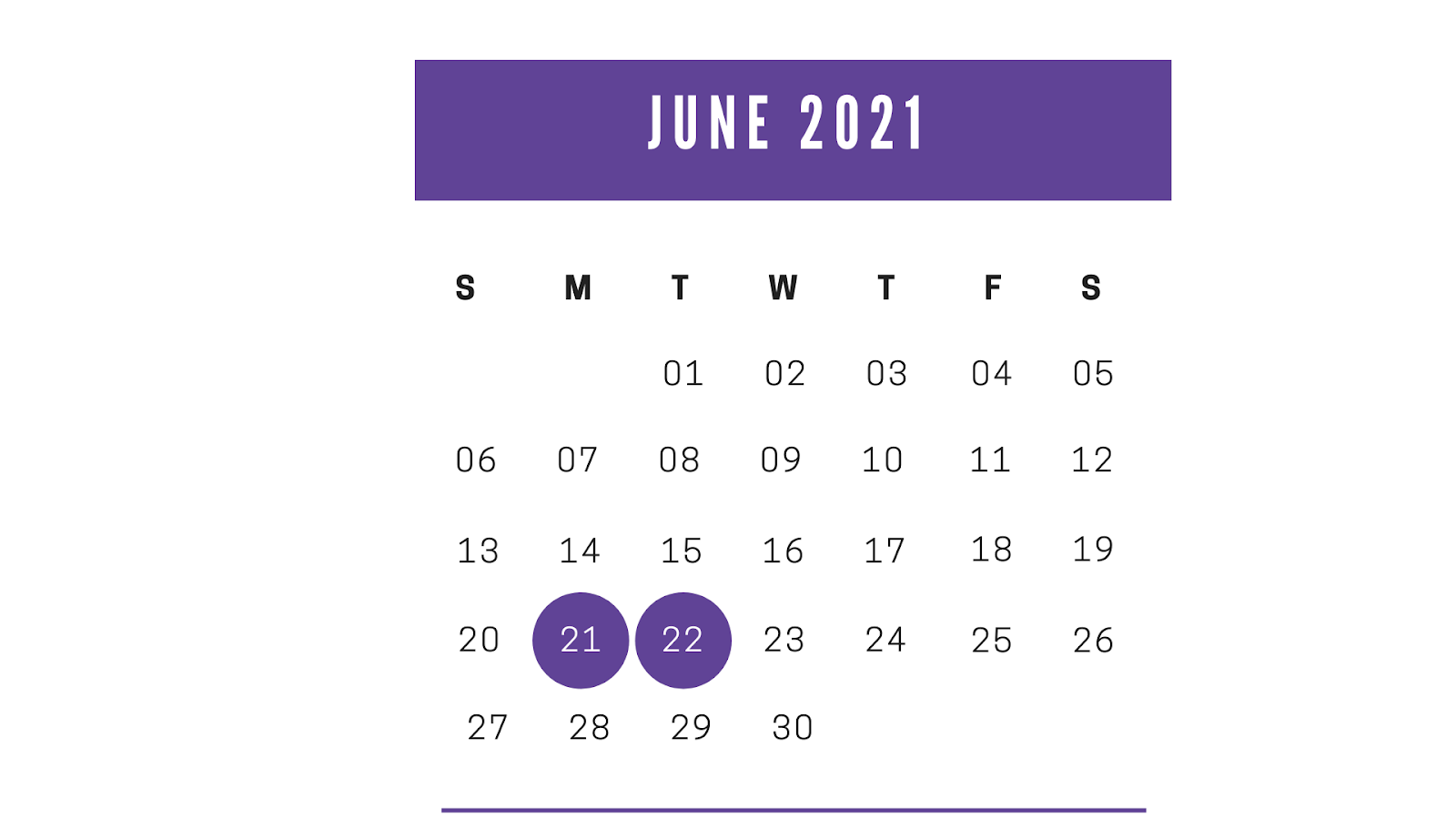 What are Amazon Prime Day's promotional opportunities?
Along with customers, even the sellers are excited and waiting for Amazon Prime Day 2021 as uncountable businesses try to leverage a maximum number of buyers on Amazon Prime Day. So, keeping up with the competition is a challenge for every seller.
After you hired an Amazon VA, your eCommerce business must have already been taken to a higher level. But, there are few opportunities that only events like Amazon Prime Day can give. Going through the below-mentioned key terms will help you to map your promotional opportunities:
Especially for Prime members: You can offer discounts across all your products for Prime members. Address the offers to them in the following way: 'Prime Deals', 'Today's Deals', etc.
Prime Coupons: Amazon coupons or Vouchers that customers can apply while buying products.
Prime Day deals: A discount for buyers all across the world irrespective of their location and Prime membership.
Lightning deals: Throw a limited number of discounts on an hourly and daily basis. Promote the sales and discounts on the different social networking platforms by the name of 'Deal of the Day' and 'Lightning Deals'.
Why is Amazon Prime Day 2021 important for sellers?
If Amazon Prime was a country, almost 150 million citizens (in 2021) would have been living in it. With that number of potential customers, Amazon Prime Day is beyond a sales boost. For sellers, it is the biggest opportunity to improve their brand impression.
In the year 2018, on Amazon Prime Day, more than 100 million products were delivered to Prime members. Not only this, as per the survey done by Amazon itself, many small and large-sized brands have crossed $ 1 Billion in revenue in just thirty-six hours of Prime Day.
If you are new in the eCommerce industry or thinking of launching a new product, the upcoming Amazon Prime Day is the best event for it. Watch for yourself what Brandon Straub has to say from his past experiences.
"Prime Day has been our most successful day ever when launching new products. We released 10 new times, and all 10 are up more than 300 percent over our previous launches."
Brandon Straub
Why must you participate in Amazon Prime Day?
As a seller, you must have been waiting for an opportunity like Amazon Prime Day to get the advantages mentioned below.

1. Get loyal customers
With the help of Seller Fulfilled Prime (SFP) you will be able to sell as many products as you can to a maximum number of customers across the world. You can display your best and newly arrived products as a Prime listing and the potential customers will keen to buy the products at heavy discounts. This will increase your brand's visibility and you will get loyal customers.
2. Compete effectively
Amazon product listing optimization services and SEO services help you to compete with the marketers at your best. But, by participating in Amazon Prime Day 2021, you will get to compete effectively. Amazon offers 'Win Buy Box' to the customers. By adding multiple products on Prime Day, customers will win Buy Box and that can happen to be one of your products.
3. Increase sales
One of the best advantages of shopping on Prime Day is customers will get their order delivered within two days and sellers get the liberty to deliver directly. So, offering your customers a guaranteed delivery date will increase their excitement about buying your products. Your sales will be multiplied simply and you will see a huge hike in your overall revenue.
Now, before you enroll for Amazon Prime Day 2021, ask yourself – are you prepared? Wondering what and how to prepare? Read the next section.
Step-by-step guide & tips to prepare for Amazon Prime Day 2021?
Amazon Prime Day undoubtedly can maximize your income, whether you are a new seller or an old player in the eCommerce industry. But, there are millions like you, competing with them is more difficult than it seems. To solve your problem we jotted down a few Amazon Prime Day preparation tips or strategies to help you get ready for the main day.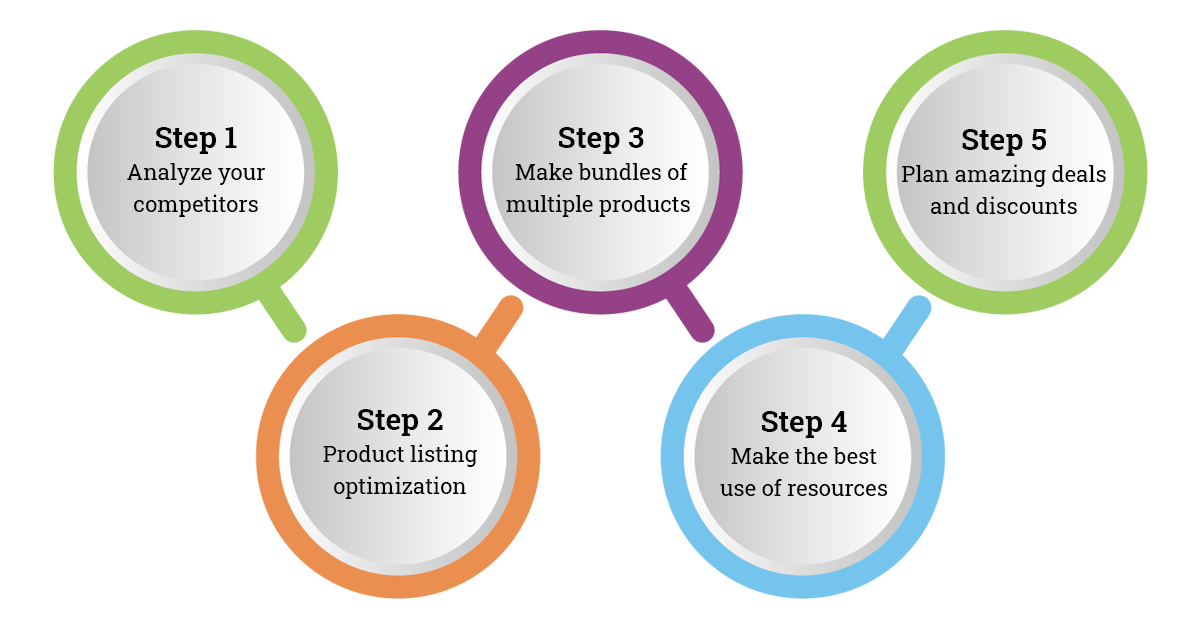 Step 1: Analyze your competitors
Competitor analysis is very important. Attempting an Amazon Prime Day event to increase sales is no less than fighting a war against Spartans. Knowing your competitor's strength and strategy is important.
Research about the retailers who are selling similar products.
Also, those who are selling alternate products.
Compare the Amazon product description writing between your products and theirs.
Fill the gap to justify the quality of your products.
Do thorough keyword research and pick out the keywords of the highest volume and more relevance.
Step 2: Product listing optimization
Optimizing product listings is an important and difficult step for vendors. Make sure you implement optimization of the below-mentioned things:
Product Images: Upload authentic and high-quality product images with white background only.
Product Title & Description: Ensure that the product title and description fit the screen size of mobile, laptop, and PC.
Keywords: Use trendy keywords that would go with Prime Day and are relevant to your products. Keep buyer's requirements for the product and create new keywords.
Step 3: Make bundles of multiple products
You must already have shortlisted your best and trendy products for selling on Amazon Prime Day but, customers are here for more. Create product bundles: pick up combo products and put them in a group. At last, you are participating in the event to increase sales. Products in a bundle must complement each other or may come in handy for users.
For example, A customer is ordering a Blood Pressure checking machine, you can offer a thermometer and Blog Sugar checking machine at a discounted price.
Note: Make sure Amazon product description writing is done perfectly to elaborate on the benefit of buying the bundle.
Step 4: Make the best use of resources
Hire an Amazon VA for best SEO and marketing strategies and implement the below-mentioned tips:
Post on Social media accounts: Display your product bundles on Facebook, Instagram, Twitter, and more like social media platforms. Use eye-catchy graphics and post your products with an appealing caption.
Do Amazon live: Before a couple of days of Amazon Prime Day, run a 'Live' session and boost the traffic in advance.
Step 5: Plan amazing deals and discounts
Now that the groups of your products are prepared, price listing is done, Amazon product description writing is done, you must divide the items into different types of deals and discounts.
The types of deals and discounts can be Lightning deals, Prime Day Deals, Amazon Coupons, Deals for Prime members, etc.
Wondering how to take care of all that alone? Don't fret out. Follow the next section and learn how and why to optimize your products before launching them on Amazon Prime Day.
How can Amazon product listing optimization services help?
Amazon Prime Day comes once a year, you get a chance to build your brand impression, bounce your sales, and become a successful retailer once in a year. Of course, you do not want to implement the Do It Yourself (DIY) tricks to get prepared for the big day, would you? This is where you need Amazon product listing optimization services.
The research and analysis of experts will generate more relevant keywords and get you the highest traffic on Amazon Prime Day.
The Amazon VAs will make product titles that will help the products to appear on the top of the search results and influence the customer's buying decision.

Note: You can hire Amazon VA on your requirement basis. Whether you have a VA or an entire team beside you, you will see maximum conversion.

Informative Amazon product description writings by experts will help you to convey the right details of your products to the customers. So, no chance of missing sales because of wrong information.
You will get additional assistance that is Amazon's photo editing services to rectify your product images. For the Prime Day sale, you will have fresh and full-of-life product images to display.
Product optimization will be done keeping the product, keywords, and market in mind. So, your strategies come out to be more sales-triggering.
Why get your store optimized before Amazon Prime Day?
The Amazon product listing optimization services will definitely assist you in achieving success and generating profits. Go through a quick case study regarding how greatly you can expand your business with such services.
About Client:
Australian second-hand books seller
Requirement of Project:
Increase sales
Reach to a wide range of book lovers
Sell a large collection of 1800 books on Amazon Prime Day
Challenges:
To concise the catalog data into a crisp one.
To sort a large number of books into the correct category (As the client did not want to eliminate any book from the list).
To do deep research for writing proper descriptions and the author's bio.
Solutions: Tasks and requirements were divided into 4 dedicated Amazon product listing optimization services providing teams. Each team had 3 experts.
Entered and uploaded the catalog data with accurate ISBNs.
Placed each book under the right category.
Authentic and effective information was included in the product details such as basic outlines, the title of the book, year of publication, author's bio, and more.
Correcting the images of the cover book and uploading them on the Amazon store.
Optimizing keywords and listing them in the Amazon store.
Results:
More than half of the books were sold.
Huge hike in overall revenue.
Hundreds of loyal customers were gained.
Approached by many publishers to collaborate for selling books.
So, hurry up and contact the best Amazon product listing optimization services provider and get ready for Amazon Prime Day 2021.
Conclusion
We hope this complete guide provides all the answers to the 'what is Amazon Prime Day', 'why it is important for you, and how you can prepare for the event' questions. If you have more queries or are looking out for information regarding the upcoming Prime Day, reach out to our representative. Leave an email at info@sammdataservices.com.