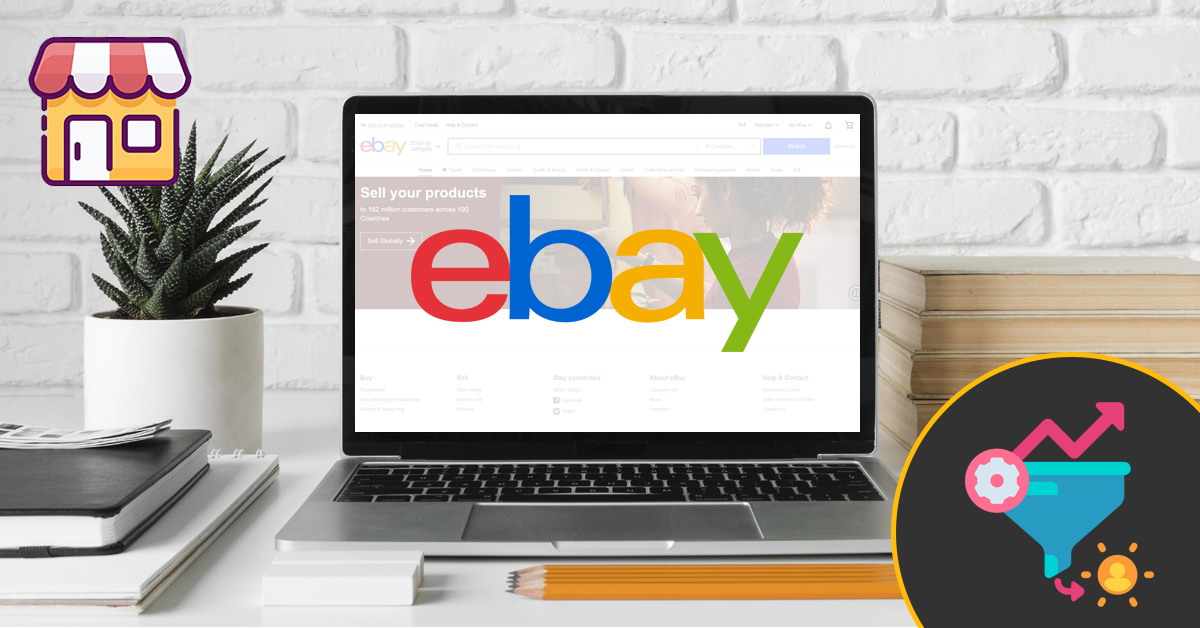 New seller or an old player, every retailer on eBay looks for short-cuts to increase their sales. Well, eBay is no small river but as big as the pacific ocean. So, handling sales, customers, and competitors can be complicated. Some will recommend you to be competitor-focused and some can ask you to stay customer-focused. But, the timeless truth is both go hand in hand.
To convert more sales, you have to think out of the box. In this detailed blog, we will discuss some golden rules and strategies to increase sales. Besides, you will also learn how outsourcing eCommerce image editing, product listings, and PPC management requirements can help you convert rates.
Let's begin!
How to become the Best Match on eBay?

When a consumer attempts to buy something on eBay, it shows a list of search results to the consumers. The list of results is known as Best Match. To sell more, you have to rank among the top three results. Below are the factors on which the eBay algorithm decides their Best Match.
How relevantly are your product listings matching with consumers' search phrases?
How popular is your product?
How genuine is the price of the product?
If your product listing is of good quality such as product descriptions, product images, and product titles.
If your product listing is filled with complete information.
Whether your Terms and Conditions, Return Policy, and Order Management are genuine or not.
Reviews on you as a seller and your products.
Except for the above-mentioned factors, there is no other way to improve your ranking. Working on each of the factors at its best will automatically increase your ranking position. Let's discuss the best practices of increasing sales in detail in the next section.
10 best ways to increase your eBay sales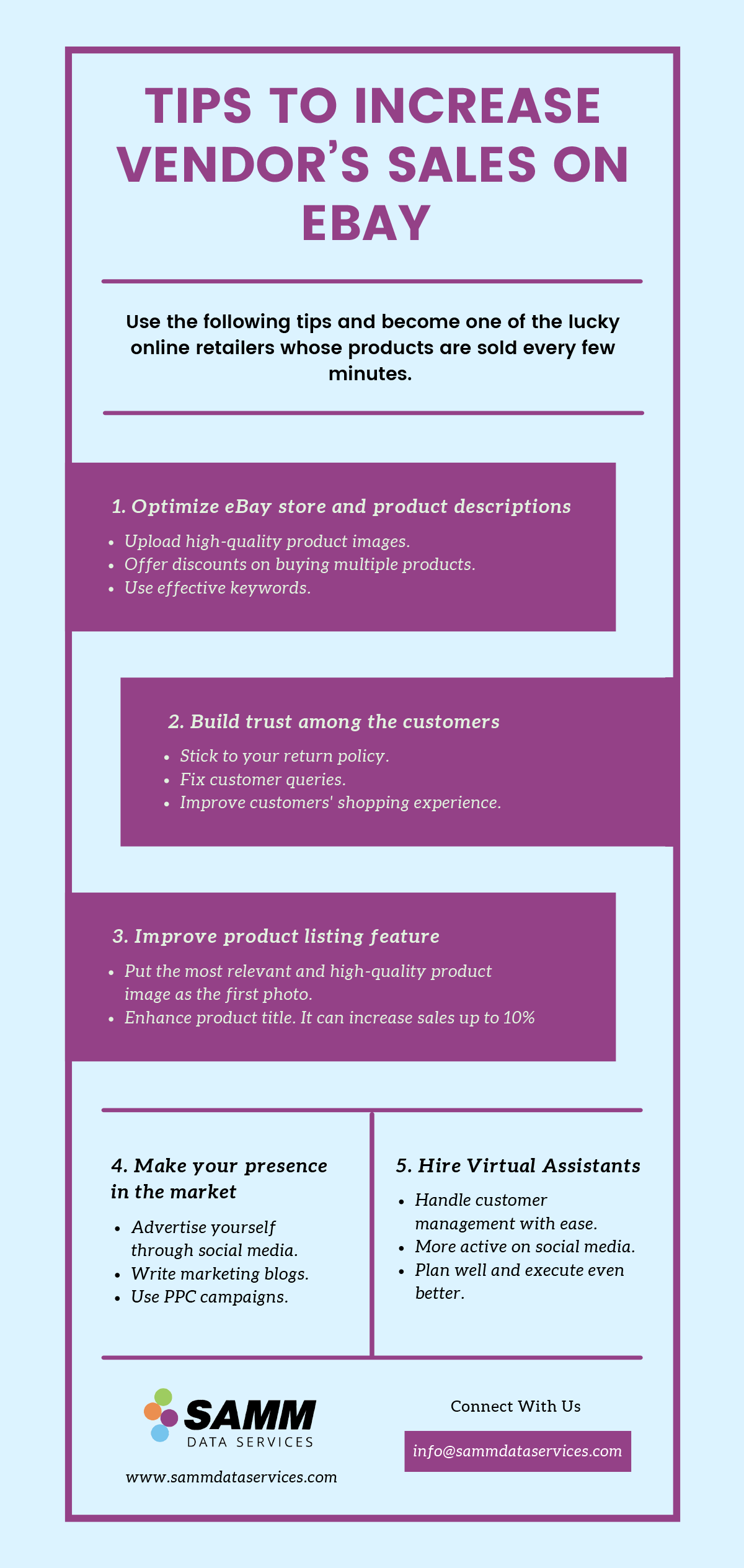 Whether you are a new seller on eBay or a successful retailer who is facing a crisis in a pandemic, these 10 tips will help you increase eBay sales.
1. Optimize your eBay product image
Your product can be rejected right at the moment a customer sees your product image. Moreover, there can be a big downfall in your sales. Product images play a big role in deciding whether the customer would buy your product or not. Optimizing your eBay product images will help you to improve the content you deliver through the image. eCommerce image editing specialists can fix and edit your product images into the right size, color, contrast, etc. Let us take through a quick case study briefing how image editing services can help vendors to increase sales.
CASE STUDY
About Client: The United States-based online vendor sells furniture, apparel, and kitchenware products. The products are manufactured by multiple well-known American manufacturers.
Client's requirements: The client wanted to communicate to the customers through the product images. So basically, they wanted elegant and impressive product images on their eBay store. Since their products deal with kitchen and furniture wares, customers must get a 3D feel from the images.
Challenges:
The furniture ware product images given by the clients were uneven and of bad quality.
Approx 150,000 product images were given to edit.
Products were clicked with non-relevant and cluttered backgrounds.
Solution: There were three teams of dedicated and highly skilled photo editors assigned to edit kitchenware, furniture, and apparel product images.
Experts removed the irrelevant background of the product image so that customers can focus on the product only.
The consistency of the lightning in the product images was kept so that customers can clearly see the features of the products.
Product images were not just images, specialists brought life into the images for customers to provide the real-life vibe.
Learn about the success story of this vendor and how our eCommerce image editing services helped them to increase conversion rates in detail.
So, get sharp and relevant product images on eBay stores and increase sales graphs. Help customers visualize the products in their real life and sell products in maximum numbers.
2. Optimize your eBay product descriptions
In the online retail business, you know you cannot describe every product feature to your customer in person, there is value in every word you include in the product description. The chance of higher sales is only possible when your product ranks higher in the eBay search list. eCommerce listing services providing experts can perhaps assist you with writing good product descriptions. From their in-depth research methods, they can include the keywords of high volume and exactly what consumers want to know about the product.
3. Categorize your eBay products correctly
eBay has thousands of categories of products, make sure the products you are selling are listed in the right category. Categorizing your eBay products correctly is a very essential step. Because of the wrong categorization, the customers will not find your product on the search list. And, the effort of uploading products in bulk will get wasted. With eBay data upload services, experts will do a thorough research of the categories. They will identify the competitors' category of products, analyze product features and types, and find customers' opinions to decide the category. So before you upload your products, do not forget to categorize them.
4. Customize your eBay store
To increase your sales you need to retain your customers for a longer period. By personalizing the eBay store you can make your potential customers stay for more time and browse your products. Hire eCommerce website developers to create an engaging shopping store. Use advanced and user-friendly features so that visitors wish to continue shopping even after ordering preferable items. Create attractive banner images, use newsletters, and provide a memorable shopping experience to customers. The chances of elevation in sales automatically increase when a maximum number of customers spend maximum time shopping from your eBay store.
5. Invest in PPC campaigns
Now, you must be wondering how investing money in PPC campaigns helps you in generating leads? Well, PPC campaigns help in generating leads and sales as well. As half of the customer visits start from Google searches. Search engines may show your products to the customers in the form of solutions to their problems or answer their queries. Use the opportunity and advertise yourself using PPC to generate more leads. Unlike print media, you don't have to wait for months to get your advertisement. Get effective eCommerce PPC management services and see an immediate rise in sales.
6. Monitor competitors price listing
As a retailer, knowing how to increase eCommerce sales using competitor price monitoring is a must. In the online retail business, the competition in the market is as big as the market itself. Once you compare your competitors' product prices, you will know why your sales are down. Then, by improvising your price listing and providing the same products in better deals, you can retain your customers. Once you are already high on the customer's priority list, you can again increase your product prices to increase revenue.
7. Upload enough product details
Insufficient product details can misguide customers and hence, they will not buy your products. To provide enough and the right information to your customers, you need to correctly upload data on the eBay store. Having difficulty in uploading too many products at a time? Get eBay data upload services at an affordable price and get your product data uploaded to your eBay store without fail. Experts will upload product data such as product images and details in bulk. So, before the customer jumps into your store, they find a complete catalog of all your products with enough and accurate details.
8. Improve your marketing content
If you wait for customers to visit the site themselves and buy your product, it will be too late. Instead of this, you must entice your customers with interactive blogs and articles that talk about your collection of products, the benefits of using them, and how they add value to customer's lives. Hire content writers and eBay SEO experts to generate leads. When a maximum number of potential customers visit your store and browse your amazing products, at least some of the products will be sold.
9. Standardize order processing
The easier your order processing method will be, the more customers will be more likely to buy from you. Your order management has to be so well managed that no single customer clicks on the 'Cancel' button while ordering your product. When you make the order processing method smoother, customers will come back to you for their convenience. Get order management services from experts and increase sales in no time.
10. Offer fair deals and discounts
When there is a sale going on in online stores, there is no reason to not buy the products. Customers will buy your products even if they don't need them. Before decreasing the prices of the product or putting it on sale, perform a competitor analysis. Set your best collection of products at unbelievable prices and see how customers are adding your products to the cart one by one.
If you pledge to stick by all the aforementioned tips, the graph of sales will definitely increase. Not only this, your brand will be recognized like never before.
Wondering how to implement all the tips alone within a small span of time? Hiring experts for every requirement is not a wise idea. Perhaps, you can hire eBay Virtual Assistants instead.
What does eBay Virtual Assistant do?
An eBay Virtual Assistant can help you remotely to look after every aspect of your eCommerce business run on eBay. A VA will assist you in the following tasks without a fail without a pause.
eCommerce image editing
eBay data upload in bulk
eCommerce PPC management
eCommerce product listing
Competitor price monitoring
eBay SEO research
Content writing for blogs
Handle customer support
eBay order management
Create effective marketing strategies
By hiring one assistant, you can take all these time-taking and important tasks off your plate. Not only will your time and money be saved but traffic on your eBay store will increase, conversions will be encouraged, and brand value will be improved.
So, run your eBay business smoothly with permanent companions like eBay Virtual Assistants. They will assist you with very small tasks like eCommerce image editing to every big eBay store-related task such as PPC management and improve your performance as an online seller on eBay.
Conclusion
We hope you are not wondering how to increase your eBay sales anymore. Because now, you know how to improve conversion, brand impression, and every aspect of running an eBay business. Hence, avail eBay data upload services, eCommerce PPC management services, and more or just hire an eBay Virtual Assistants to get all in one. In case you are looking for more information on selling products on eBay, write to us at info@sammdataservices.com and help us to transform the content into a more informative one.
Take all confusion off your plate by going through the FAQ section
Ques 1: How do I do a bulk update on eBay?
Ans: You can upload product data in bulk by using the bulk edit tool. Although uploading product images and details in bulk on eBay may take a lot of time. The process also requires professional skills and in-depth research to classify the product's right category and sub-category. You can hire an eBay data upload services provider to get the products uploaded properly.
Ques 2: How do I edit a photo on eCommerce?
Ans: There are multiple photo editing applications found in interest such as Canva, Photoshop, Pixlr, and more to edit your product images. Whereas, to use any of such applications you must have the basic and advanced knowledge of photo editing. Over-editing or not editing the pictures may transform your product images into more pathetic. Hence, outsource eCommerce image editing requirements to experts and get professional and high-quality edited images.
Ques 3: What does PPC in eBay mean?
Ans: PPC stands for Pay Per Click and it is an advertising campaign that is done digitally. If you use PPC campaigns in order to advertise yourself, you will have to pay the advertiser for each click. If you hire specialists, PPC management experts, they will oversee and manage the money you are spending on each advertisement. They will analyze whether the ad is helping you to generate sales or not and help the ads to perform better.
Ques 4: How do I find competitors' prices?
Ans: You must do a competitive analysis to know the ranking of your product and competitor's product. You can gather the information of the competitor's products such as price easily by searching manually on eBay. To save time and get the correct competitive analysis, you can hire experts. Experts will help you in monitoring the competitor's price listing and increase your sales.
Ques 5: How many photos are you allowed on eBay?
Ans: You can upload 12 product images on the eBay store. You can either create a long product listing or create a new listing for a similar product. eCommerce listing services provider will take care of your eBay product listing very well and do listings as per eBay's rules and regulations.