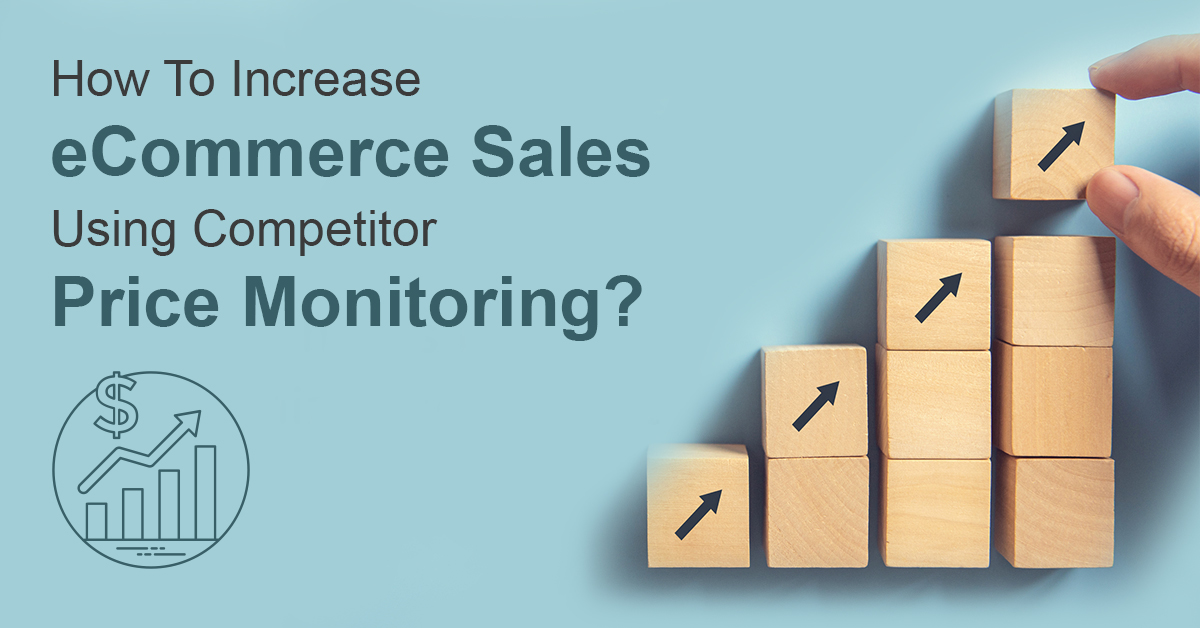 Today, competitor price monitoring has become the hottest trend to follow as the eCommerce industry has touched the new skies of development. From traditional selling to online selling via websites and applications, this sector has come far along. As per the market reports, The global e-commerce market size was valued at USD 9.09 trillion in 2019 and is expected to grow at a compound annual growth rate (CAGR) of 14.7% from 2020 to 2027.
The competition in the eCommerce industry has become vast and immense with every passing year, which makes this industry a prospective sector to invest in. In the United States alone, eCommerce sales are expected to surpass $740 billion by 2023.
Retailers, eCommerce business owners, and brands try their best to keep their business outperforming in this fierce competition. One of the significant factors that mark a great difference between the companies is the "Pricing". It is the leading factor that plays a vital role in the eCommerce business; it acts as a primary key that grabs the users' attention quickly.
According to Baymard Institute: 49% of online shoppers left carts because of unexpected extra costs.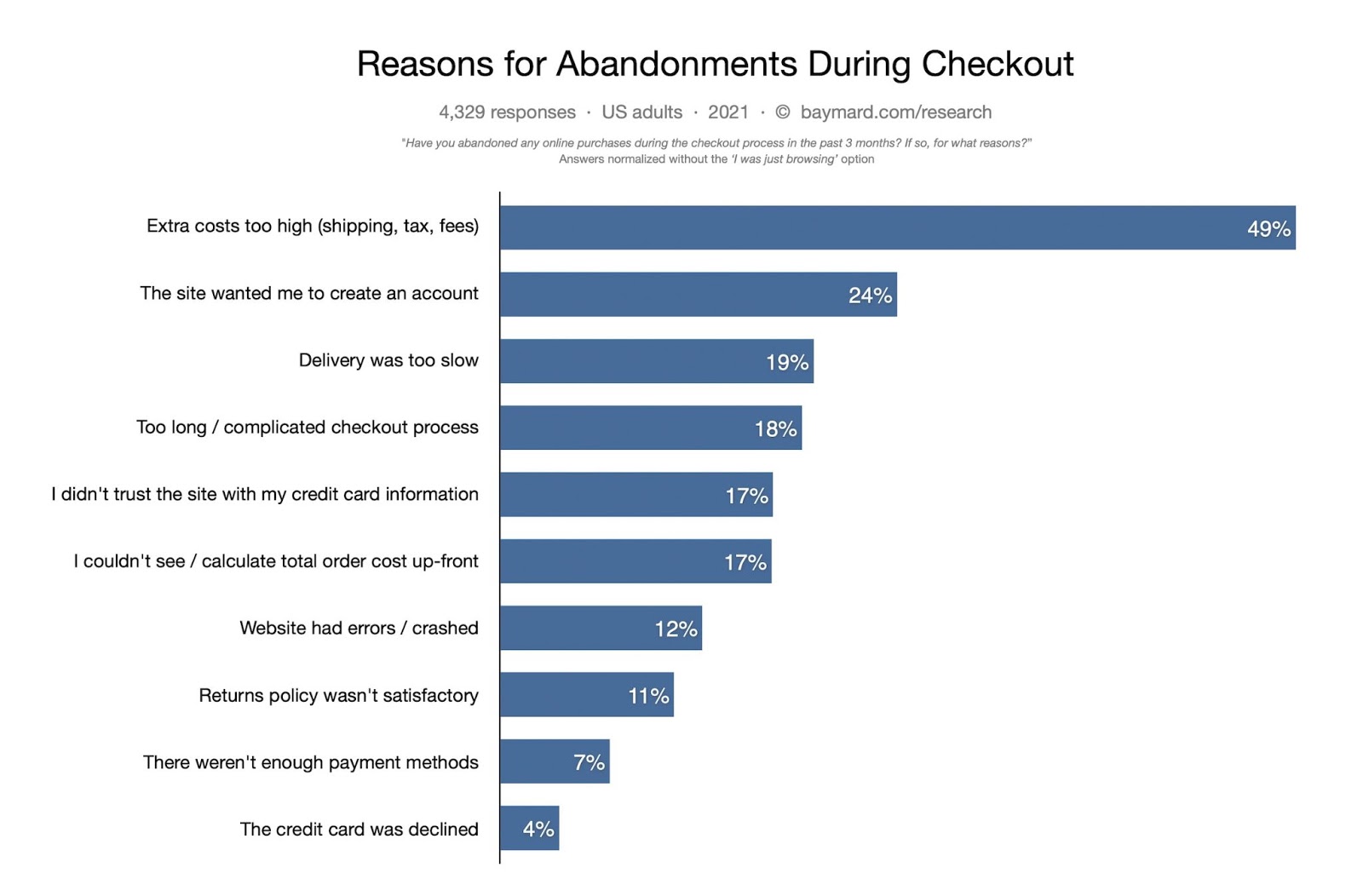 In fact, 94% of online shoppers invest time to find the lowest price for commodity products.
With the advancements in technologies and platforms, consumers also started smart purchasing. Now, before purchasing any item, they prefer to check the product pricing on several other sites, social media platforms, and more. The point is, shoppers are becoming smart today, so businesses also have to be.
To enhance the customer retention rates, companies require to adopt the ways that help to grow their eCommerce business. Dynamic prices are the most fundamental factor that attracts customers more broadly and increases the business's profitability. But how to decide these dynamic prices is a big question for many eCommerce entrepreneurs out there? Here, eCommerce competitor price monitoring comes into the picture.
If you are new to the market or a traditional retailer, you might wonder what eCommerce competitor price monitoring is? Don't worry; this blog will cover the fundamentals that will help you understand the concept and assist you with how you will increase your eCommerce sales by using Competitor price monitoring services.
Let's begin.
But before going into the depth, let's take a look at the basics-
What is eCommerce Competitor Price Monitoring?
As an eCommerce business owner or seller, it is essential to keep an eye on the competitor's activities. This is because eCommerce is a vast industry that is full of solid competition. Building an influential position in this sector is not an easy task; it takes a lot of research, analysis, robust strategies, and an effective execution plan.
Prices in the eCommerce sector always play a crucial role in attracting your potential customers and bringing sales to the business. Therefore, keeping an eagle eye on competitors' pricing is becoming more critical for the retailers. Here price monitoring tools help businesses by tracking the competitor prices in-depth and get detailed insights of the market situations that result in making the right price adjustments. It is an effective tool that always aids in forecasting future revenue and inventory management.
What Benefits Do Competitor Price Monitoring Tools Offer?
Competitor price monitoring tools come up with ample benefits; let's take a look at a few of them-
Keep your business updated with the latest price trends- Competitor price monitoring tools keep you updated with real-time prices. Prices keep fluctuating in the market, and as a brand, you need to be aware of the changing costs. If you fail to keep pace with the changing prices, you will surely lose your potential users and business sales. When you keep track of your competitor's pricing, you will get an idea about how your opponents have set their product prices as per the changing market trends. This will give you an understanding of adjusting your current pricing model and keeping you matched with the market situations.
Upsurge in sales- To keep sales figures in positive digits is the ultimate goal of every business. By keeping an eye on competitor pricing, you can achieve this target quickly. To make you understand this, let's take an example, suppose your competitor puts a product on sale with a discount of 10%, it will definitely attract the customers. Now, if you will also put a slightly high discount on your product compared to your opponent, visitors will move to your platform. Hence, to keep moving the sales, you need to track your competitor's pricing activities, and here, price monitoring tools will help you with the best results.
Empower brand name and growth- When you successfully attract and sell your products to potential users, your business starts converting into a rising brand. This will only happen when you continuously do wonders in the market. Monitoring the other side's prices also allows your business to showcase its worth and offer amazing deals that turn your visitors into prospective buyers.
Accurate price data- Another best benefit of using Competitor price monitoring tools is its accuracy. This tool offers an in-depth analysis of your potential competitors incorporating their strategies and pricing models. These tools are effective as they perform detailed comparisons between the prices based on the categories of competitors. It comes up with automation solutions that define the data parameters and reduce the percentage of errors.
Increase in conversion rates- The end goal of every eCommerce business is to get more and more customers on the platform. Monitoring a competitor's price adds an additional advantage like; if your competitor puts a specific price on a product, you can also tweak and modify that price on your product. So whenever a visitor visits your platform, compares both prices, and finds your costs more suitable, it will turn into your prospective buyer. This strategy will help you to expand your customer base.

What strategies will help businesses to boost eCommerce sales?

This section will discuss the top strategies to help you take your eCommerce business to the next level.

1. Know Your Right Competition

eCommerce industry is already over-occupied with the businesses; hence before starting competitor price monitoring, you need to determine your competition clearly. You will find some direct and indirect competitors in this sector, but you need to understand that not every business is your fierce competition. You would be required to spot that intense competition that affects your business to a great extent. You can identify them with the help of several platforms, including search engines like Google, Yahoo, Bing, social media platforms like Facebook, Instagram, LinkedIn. To know your competition well, follow the significant steps-

Make a list of the top-ranking companies appearing on search engine pages
Filter them based on their pricing models
Categorize the companies having similar prices
Categorize them based on products, locations, and niches.

Also, to find your competitors over the internet, you can use eCommerce SEO services, SEO will help you to get the results you are expecting. eCommerce SEO is a cost-effective marketing strategy that helps you to tap your competitors easily. You only need to put the right keywords and you will get the site architecture based on your keyword research.

2. Identify the critical factors

After getting an idea about the competitors, the next step is determining the crucial factors that create competition between you two. Here the product pricing is the vital aspect that motivates you to outperform your competitors. To make an exceptional presence in the market, you would require to focus on setting suitable pricing models for your business.

3. Identify Right Pricing Tools

Once you've completed the very first two steps, you'll need to put your theory into practice. The only way to make that possible is to have adequate resources or solutions in place. Undertake studies and invest in the suitable approaches or resources that can assist you in conducting better competitive analysis tracking to develop and shape your brand effectively. You can use tools like:

Sellics
Minderest
Price2Spy
Price Manager
Skuuudle

4. Evaluate the Information

You can easily detect patterns, make informed forecasts, equate, compare, and analyze your price levels against the "competitor" if you run your information via an analytics solution or something similar. You can use automated scheduling to keep track of many companies at once, or you can have much more than price ranges like analyses, ratings, specifications, product information, and more are available.

5. Choose the Best Pricing Model

Regardless of how many relevant methods you collect, if the pricing plans aren't in order, you won't be able to compete in the eCommerce sector. As a company, pricing decisions must be transparent and clear to all.

The most successful pricing strategies for eCommerce are:

Target Return – For small and medium businesses, target return pricing is a potentially risky approach. It's a tactic in which an eCommerce store sets a price that only makes money if a certain number of units are sold. To sell a certain number of items, you'll need to do some serious math and have a lot of faith. This is why e-commerce juggernauts like Amazon use a target return pricing policy.
Competitive – In every market, competitive pricing is the most popular technique. It can be seen everywhere, from roadside vendors to big corporations. Take a look at the closest competitors' pricing strategies. Once you've gathered all of the information, set your prices equivalent to or less than theirs. Your competitor may be working on a large scale, therefore lowering their prices while you're just getting started. In such situations, it is preferable to differentiate yourself from your competitors by using a value-based pricing approach.
Value-Based – Customers believe they are getting good value for their money when paying for your goods using value-based pricing. Some companies are worth paying for, and others are not. In this case, maintaining the brand image is crucial. The worth of a brand is determined by how it makes its consumers feel. This approach necessitates extensive research to assess consumer demographics, personas, and product demand analysis.

What are the top eCommerce competitor price monitoring tools?

Apart from the tools mentioned above, we have added more competitor price monitoring tools that help keep an eye on your opponents.

Price Rest
PriceFy
Price Grid
Dealavo
Skulogy
Boardfy

Wrapping up

In the end, one thing that matters most- Is your product pricing brings profit margins in the business? If yes, then congrats! You are on the profitable side, but if not, then it's high time for you to evaluate your pricing models and make necessary changes. To keep your pricing strategies functional, it is essential to keep an eye on your competitor's activities, which you can do via different mediums like social media, websites, applications, and more. But to get an accurate and result-oriented solution, investing in competitor price monitoring services is a fruitful idea.

We at SAMM Data Services help you with the best price monitoring services; we have a team of highly skilled professionals that hold expertise in product price monitoring. We are a leading eCommerce SEO company, providing a wide range of SEO marketing services to diverse businesses.

We also hold experience in eCommerce PPC management services, helping our clients expand their business reach worldwide. We can assist you to promote your online store and its products through PPC ads. Get in touch with us and start your project today.