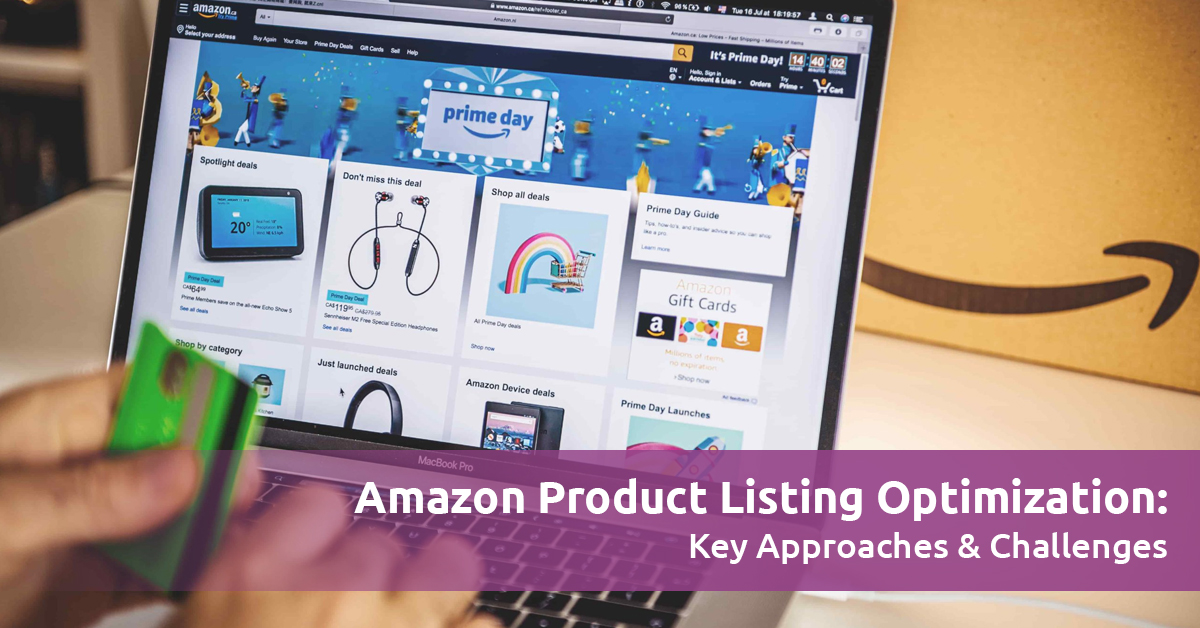 Selling on Amazon is not only time-taking but also very challenging; especially for the new sellers. Although with the right key approaches, well planning, and help from experts, you can achieve huge success on Amazon. If you are one of the beginners on Amazon and facing difficulties in the Amazon product listing optimization and eCommerce management, this guide will come in handy. In this article, we have comprised the most important key approaches for product listing, challenges, and their solutions.
Stay tuned!
Table of Content
Introduction To Amazon Listing Optimization
In order to improve the search visibility of your product on Amazon, retailers use the listing optimization process. With the help of this process, the click-through rate (CTR) and conversion rate (CR) of your product also get improved. The optimization process goes through three phases: discovery of keywords, optimizing listing image and text, and increasing the number of reviews.
As per the Amazon – Statistics and Facts by statista.com, Amazon leads the top US eCommerce retailers with 386 billion dollars in 2020 net sales. Because of its global scope and reach, selling on the Amazon website has become very competitive. Moreover, it is challenging to get your product to appear first in the Amazon search engine and that is why you must optimize Amazon product listings. Whether we talk about the newbie or veteran retailers, all of them have a hard time attracting and retaining customers. But with the right approaches to optimization, you can improve product pages.
Key Approaches Of Amazon Listing Optimization
As per Web visitor traffic to Amazon by statista.com, every month approximately 2.65 billion people visit www.amazon.com to purchase products remotely. 75% of these 2.65 billion people use the 'search bar' to make sure they find exactly what they are looking for. To make your product appear on the top of the list, you will have to manage the Amazon listing optimization very well.
Below are the important components of the Amazon product listing optimization that help the customers to decide whether your product is useful or not and if they should buy the product.
Key product features
Search terms fields
Product title
Product reviews
Product description
Product images
Product rating
Keywords
Let's read about each of the components in detail and understand how these can improve your listing to increase the net amount of selling on Amazon.
1. Key product features
While selling on Amazon, the features description of the product ensures the customers that your product is better and superior to competitive products. You get 1000 characteristics to write about the product's features and benefits. That means you will have to write an attractive description in concise sentences.
To be able to write the best key product features, you will have to understand a customer's requirement. Hence, by putting yourself in the shoes of the buyer you can assist them to visualize the usage of the product at its best. But how do you make it all work on your own? Amazon listing optimization services providers write the product features and conjure visions of buyers using your products. They strategically include real-life examples in demonstrating how the product can solve their problems.
Some of the important do's and don'ts of Amazon listing optimization are tabulated below:
Do's
Don'ts
Choose important features only
When experts go through all the features of your product, they choose only very important ones for including in key product description. Few but more important features will focus on the benefits of the product.
Using weaker key product features
The feature descriptions of your product hold more value than the number of features. Mentioning all the features irrespective of their importance can repel potential buyers.
Highlight 5 features of your product
As you have only 1000 characters to describe the key product features, experts will choose the best 5. Using 200 characteristics for each feature will help them in covering all the important features within the word limit.
Using promotional comments and special characters
You are given only 1000 characters to write the key product features. Hence, no single character should be wasted by using special characters, promotional comments, delivery details, or any other useless information.
Grammatically correct sentences
Making spelling and grammatical mistakes in the product features is one of the major mistakes retailers make. Hiring an expert will help you fix this as well. They will make your product features look even more professional.
Writing in long paragraphs
Customers will get attracted and retained by the features of your product. The key features should be written in a way that buyers do not get tired of reading them. Long paragraphs will make them feel lazy to read.
2. Search terms fields
The search terms field of your product can be written in 249 bytes. In case you write more than that, they will be ignored and not shown on the front end.
Note: One byte is equal to one numeric or alphabetic character.
All the prioritized keywords are written in the title of the product and in its descriptions. The rest of the keywords that are less important can be written in the Search Terms fields. The 'intended use' and 'target audience' fields can also be used for the less important keywords.
Do's
Don'ts
Try to cover all the keywords but make sure you are not repeating.
Usage of high-priority keywords in the search terms fields.
Think from the buyer's perspective and their requirement for the product and then write the relevant search terms.
Usage of brand names or product names, even the UPC codes.
Use space between the keywords instead of commas. Commas can break the keyword.
Usage of offensive vocabulary or false comparisons with competitive brands.
Exceed the limit of 250 bytes.
3. Product title
Amazon allows the retailers to write the title of their product within 250 characteristics. This rule applies to you irrespective of your product category. Your product title should include enough informational content in a concise way. Imagine if you were a customer and looking for the same product, what factors you would have been considering? Quantity, Quality, color, size, brand, and more. Include the same in the product title. For example, the product is a facial cleanser.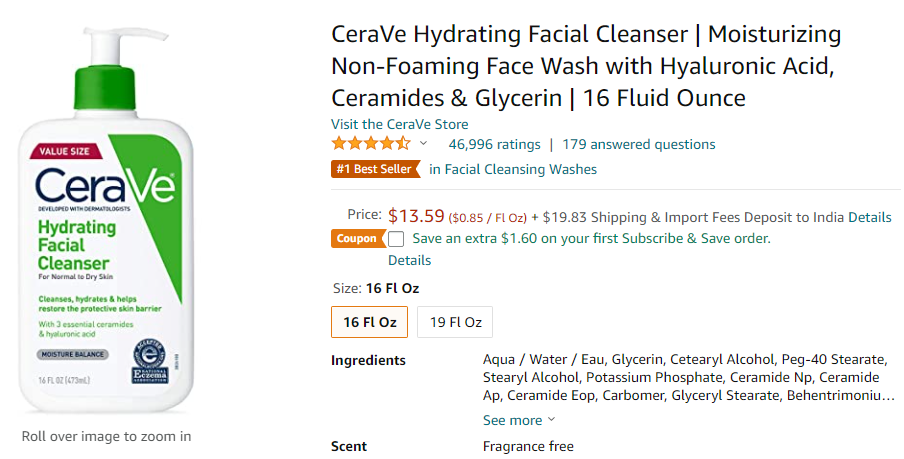 A customer looking for a facial cleanser would consider what skin type it is for, its fragrance, quantity, brand, and what it is made of. Thinking about the concerns of customers will always help to write a better product title. Let's look into the do's and don'ts you must keep in mind while framing your product title.
Do's
Don'ts
Mention the benefits and features of the product in the title:
Apart from the top priority keyword, add the benefits and features in the title. Write the benefit in one or two words like oil-control, for all skin-type, and 100% soap-free. Use words like premium quality in the title to convince the buyers.
Stuffing too many keywords
If you are thinking by stuffing all the keywords with the highest volume will help your product appear on the top then you are wrong. Stuffing too many keywords creates high irrelevant traffic and hence, potential buyers will not be attracted. Irrelevant buyers will visit your product but will not purchase it.
Usage of relevant and top keyword title:
If you insert top priority keywords in the product title, the chances of your product appearing on the top of the search list increases.
Putting too much information in the title:
By writing too many features, benefits, and keywords in the title you will confuse the buyers. It will be difficult for buyers to identify the item.
Write product title within 200 – 250 characters:
Although you have 250 characters to write the title of your product yet try to write a descriptive title within 200 to 249 characters.
Adding promotional content
Amazon has prohibited the usage of HTML tags and special characters in the title. The title of the product must not contain any promotional information.
4. Product reviews
Product reviews are extremely significant for selling on Amazon. They are considered as social evidence that your product is of good quality. Getting good product reviews, on the other hand, is difficult, particularly for new sellers and products.
Requesting every buyer to give reviews on your product can be difficult. eCommerce catalog management services also include automated feedback systems that are preferable for retailers. The automated good review will take you above the competition and you will see an increase in buyer's engagement. You can also run a promotional campaign to get more product feedback on the Amazon website. Let's go through the Do's and Don'ts of managing product reviews, which we must keep in mind.
Do's
Don'ts
As a retailer, provide the best customer service and quality products to receive good reviews.
Compromising on the quality of the products:
No matter if you sell products at cheaper rates, if the quality of the products is not good. No buyers will be interested in buying your products next time.
Retain your customers by introducing new sales.
Not responding to the customer's queries:
Even if you are selling average products, you will be remembered for your humility. Not responding to your customer's queries regarding the product and shipment will piss them off.
Provide your buyers a better experience by securely packaging their orders.
Allow your buyers to exchange the products, introduce some easy return policies, and refund sometimes.
5. Product description
The product description is the most important part of Amazon product listing optimization. It builds the first impression of your product on the potential buyer. The best opportunity to prove that your product is better than others in the same category.
While setting up your catalog on Amazon, you get 2,000 characters to describe your product. So, you can include a lot of things such as relevant information about the product, your brand, benefits of products, and also the sale and discount if any. But, you will have to make it smoother for potential buyers to read.
Below is the perfect example of how you can utilize the 2000 characters limit to write a perfect product description of Echo Dot – Smart Speaker with Alexa.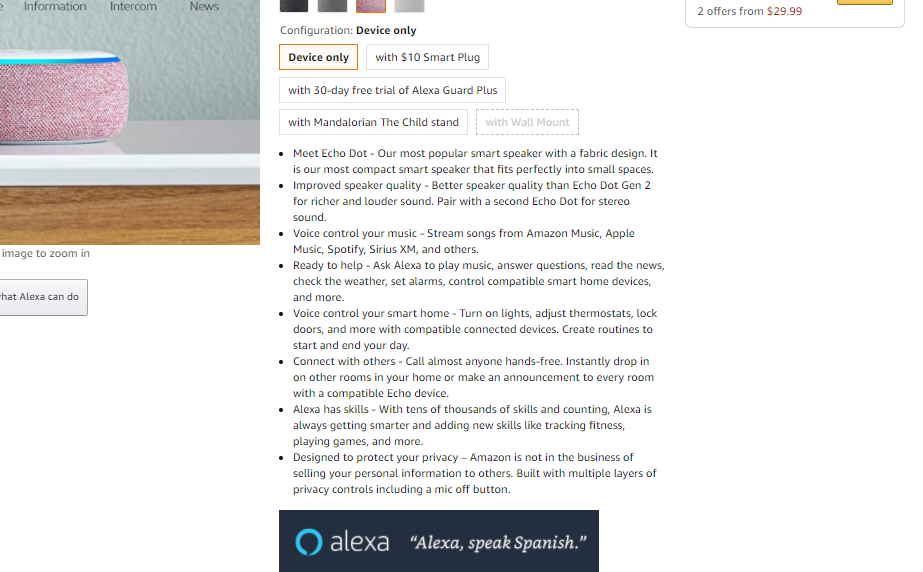 Let's see what are the do's and don'ts you must keep in mind while writing your product description.
Do's
Don'ts
Provide unique and factual information:
Mention some unique features of your product that make it different and better from others.
Don't use direct comparison with competitor's product
Even if you know your product is better than others in the same category with respect to its price, features, and sustainability, don't mention any direct comparison. In case, potential buyers have any confusion, they ask for a comparison from Amazon itself.
Make them imagine the experience of using the product
Visuals cannot be included in the product description. Paint a picture of a lovely experience of using the product and its impact on the customer's mind.
Don't use promotional content
Writing any subjective messages that portray that you are desperately selling your products. The product description is to show your product at its best and about only factual information. The decision of buying remains with buyers.
Usage of proper correct grammar
Even if you run a small business on Amazon, you won't want to look unprofessional or casual, would you? Make sure you use no grammatical mistakes in the product description.
6. Product images
You can upload 9 images for a product for selling on Amazon. One of them will be your lead image. Pictures can be uploaded in their highest quality but with a maximum of 1000 pixels wide and 500 pixels high. It is always preferred to use as many images as you can keeping the limiting in mind. More than one image can give broader perspectives to potential buyers. Hence, they will be more convinced about the physical features of the product.
Products such as clothes, earphones, smartwatches, shoes, and more must-have multiple images. Let's take an example of Bluetooth wireless earphones. Put yourself in the buyer's shoes and think what are the important factors for you while buying Bluetooth earphones online such as:
How does it fit into your ears?
What is the overall size of an earbud?
How attractive does it look?
3-D effect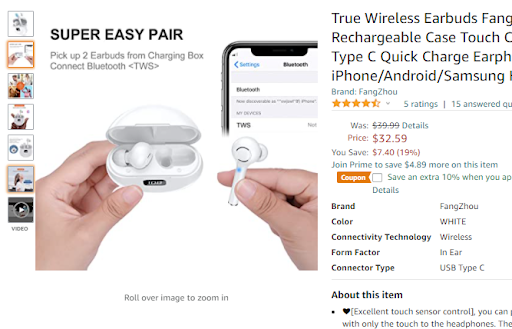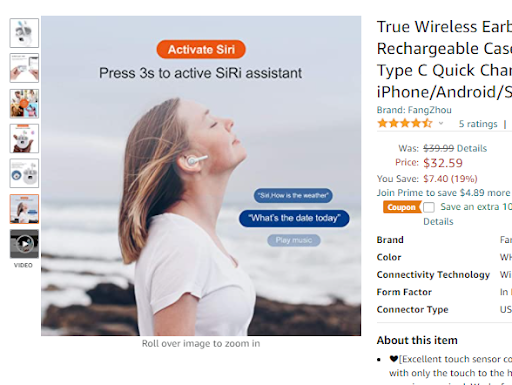 Several points need multiple images to be justified. Uploading multiple images of your product from different angles will help the buyers to understand your product well. Let's take you through the Do's and Don'ts of uploading product images that will make your eCommerce product catalog more professional.
Do's
Don'ts
Click eye-catchy product images:
Probably the only drawback of shopping for products online is not being able to feel it physically. That is why eye-catchy images are required. Use a blank and white background so that eyes focus on the product only.
Showing irrelevant images
If your one image is different from another image for the same product, then the customers will get confused. They might not even prefer your brand for any other product.
Keep the dimensions in mind:
The product images have to be within 1500 x 1500 pixels. Follow the requirements of primary and secondary images.
Uploading blurry images
Your images should be clear and not blurry. Not only this, but the alignment of the product in the image should also be correct.
Use correct image titles:
Google cannot read images, it only reads text. So, it is important to use correct image titles and tags. Use top priority keywords and or most searched questions. So, that your product ranks top in the Google or Amazon search.
Portraying the wrong size
If you are portraying an image's size larger than the actual size then you will get negative feedback and can also be banned for displaying wrong information.
7. Product rating
If you provide the best quality product, a better purchasing experience, and deliver products in good packaging, you can get 4 or 5-star ratings easily. Whereas, not doing the mentioned things and not following Amazon's guidelines can make you land with low ratings.
Amazon has an appreciating feature that if a retailer receives a negative rating, you can ask Amazon to delete it. When you will receive positive feedback, the average rating will automatically increase. To appear on the top, a rating of 4-5 will go. By keeping the tabulated dos and don'ts in mind, you can stop the product ratings from falling down.
Do's
Don'ts
Customers prefer products that have ratings from 5 to 4. Your product will automatically get scrapped out if you have low ratings so consider negative feedback and work towards fixing it.
Missing your low product ratings and negative feedback.
Check out the competitor's product listing and analyze which part needs a better approach.
Not giving a better customer service experience.
Use email campaigns or SMS to solicit input from your customers and ask for a resolution.
Delivering the wrong items to the customers.
Contradicting your refund and exchange policy.
Selling outdated products.
8. Keywords
All the effort in managing the above aspects of Amazon listing optimization will get wasted if you don't use relevant keywords. You can add the keywords with the highest volumes in your product title and product features.
To appear on the top of the search results, find out the most relevant keywords for your products and think like a buyer. While researching keywords, below are the things you should keep in your mind.
| | |
| --- | --- |
| Product Features | Here you can add keywords that talk about the additional features of your products such as lightweight, oil-free, wireless, and more. |
| Product Types | Think what do the buyers call the product? Full automatic washing machine, ink cartridge, WiFi router, etc. make sure you start with core words and check with the available keywords. |
| Related Keywords | Every buyer has their own way of searching for products on Amazon. You will have to keep all the possibilities in mind. Not only the core keywords but also think of how else your product can be called. Make sure that the secondary and tertiary keywords also must have good volume. |
| Benefits | What is good about your product? What benefits do buyers get when they use your product? Use keywords that define your product's benefits. |
After going through all the key approaches of product listing optimization, you must have realized there is lots of work to be done. And, all these aspects can only be fulfilled by the experts. Wondering if you can manage eCommerce price monitoring and product listing on your own? Let us take you through the constant challenges sellers go through when they optimize Amazon product listing.
Challenges Faced While Optimizing Amazon Product Listing
Small efforts towards your Amazon listing will have impacts, your conversion rate and ranking can be improved. While coming down to the listing details, every aspect of your product's listing is important. So, you must not undervalue any part. When you don't avail of Amazon listing optimization services, you end up making the following mistakes and face some critical challenges.
Not doing proper research and using less effective keywords. This may decrease the number of sales, as your product will not appear at the top of the list.
Not doing a competitor analysis and hence your products are ranking low. Learning about the competitors' prices and keywords will help you shape your Amazon product listing better.
Not creating a single product listing for multiple products. Hence, it is difficult for buyers to go through all product options via multiple listings.
When you miss out on optimizing product images while selling on Amazon, you minimize the boost in your revenue.
You may fail in creating Amazon product listings correctly. Because of sloppy product listings on Amazon, potential buyers may not trust your product.
Intentionally or unintentionally not keeping the Amazon guidelines in mind. You may also get suspended for not following the rules.
Not keeping products in stock. If you are one of the new sellers on Amazon and do not want to take risk of stocking goods, your eCommerce business may get affected badly.
Not subscribing to the FBA (Fulfillment of Amazon) is another mistake retailers make and because of the same, the shipment of all orders may get delayed or canceled.
Handling the Amazon advertising on your own. Not availing of the eCommerce SEO marketing services makes it difficult for you to get a good ranking and optimizing results.
Not taking customer's feedback seriously. Feedbacks are very important in buying and selling in Amazon businesses. As a retailer, you must always consider the negative feedback and make your product management better.
Taking help from Amazon listing optimization services will help you in fixing all the above-mentioned mistakes. There are many more benefits of it, to go through the detailed benefits of the service, click here.
Conclusion
By the end of the article, you will understand optimizing your product listing is an important task of the eCommerce business. If you optimize your product images, titles, features, keywords, and more, these conversion rates and sales will increase. Hire an eCommerce SEO consultant or Amazon listing optimization service provider and watch yourself touching the sky. Learn how to make your multi-channel eCommerce store a huge success, click here.