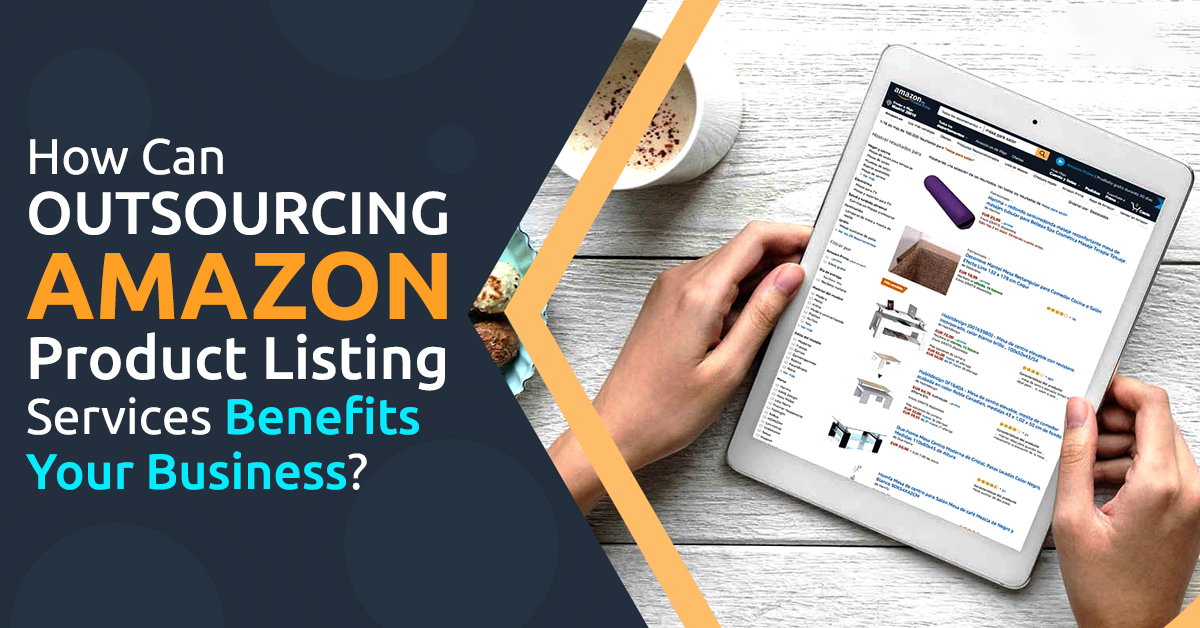 As one of the most peddled online retail destinations globally, Amazon has changed the way buyers buy and sellers sell while turning the online marketplace into one of the biggest shopping arcades.
Indubitably, it serves as the bridge between the buyers and sellers while opening up new avenues for small and medium-sized businesses and serving their customers.
But do you think the entire process of selling on Amazon is easy? Or let's put it this way: considering the fierce competition prevailing in the marketplace, do you think selling is as it sounds? Well, the answer is a big NO!
Selling on Amazon, or for that matter online, comes with its own set of challenges and requires hardcore efforts. However, every eCommerce platform has its own guidelines and so does Amazon. Amazon's regulations and stringent templates differentiate it from other eCommerce platforms – its product listing being the major one. In order to boost their profits and increase their market share on Amazon, sellers must have persuasive product listings. In other words, having an optimized listing, one that engages users, is the key to increased sales and profits on Amazon. But before we dive in further, let's see:
How Is Amazon Changing The eCommerce Game?
As already said, Amazon, being one of the largest eCommerce platforms, offers incredible opportunities to reach a massive audience whilst providing the infrastructure needed to do so.
Infact, we got hold of some eye-popping figures from RepricerExpress and here's what they have to say about Amazon's sales per second, minute and hour:
Each second, Amazon records $4,722.
Each minute, those sales amount to $283,000.
And in an hour, that averages more than $17 million.
That's how Amazon is evolving, and fortunately, it offers an array of opportunities to businesses. Easier said than done, manifesting yourself on Amazon and setting your footprint is more than sign-ups and product images. It is rather about differentiating your products/services from the competition while meeting consumer expectations and profit margins.
This is where Amazon product listings can be of help. As mentioned earlier, a good listing can not only engage customers but serve as an asset for you. This is perhaps one of the reasons behind the rising demand for Amazon bulk product upload services. Now, let's have a look at
What Do Amazon Marketplace Product Listing Services Include?
Amazon listing services consist of numerous features and services that cater to all of your product listing needs.
Amazon Inventory Management: Inventory management is crucial to any business, failing which might lead to unexpected outcomes. Amazon inventory management services keep you updated on the stock for you to handle restocks, shipment and other tasks accordingly. Further, it also makes sure whether your products are correctly listed.
Product Upload Services: This involves uploading each of your products on Amazon by carefully entering all the important information such as standard product ID, SKU, product tag, description data and other categories specific data so that the buyers can easily find your products.
Amazon Bulk Upload Services: As the name suggests Amazon bulk upload services are similar to product upload services with the only difference between the bulk upload tool that helps in uploading multiple products at the same time.
Amazon Listing Optimization: Once the products are uploaded, it is important to ensure that the product information is put to some good use. Amazon listing optimization services do the job by simply optimizing everything from product title to images to description thereby ensuring your listing connects you with your potential buyers.
Product Image Editing Services: Product images play an important role in convincing customers to buy. A poor image can immediately turn off the buyer and you certainly don't want that. With product image editing services, all the product images can be edited, resized, corrected and enhanced overall as per Amazon's guidelines.
Amazon Product Management: Not just inventory management but product management is also requisite where each product needs to be assigned to the correct category along with managing other attributes.
Having mentioned the comprehensive suite of Amazon product listing services, there are certain things that are crystal clear: a) it's not a cakewalk b) you can't manage everything on your own, neither do you have the time. Therefore, you must outsource marketplace product listing services to experts. After all, why bog down yourself or your team of the monotonous task of listing? Also, it's better to let professionals handle the hassle while you focus on other key areas such as responding to emails/customer queries or managing the shipment.
To help you stop being sceptical and start being confident about outsourcing product listing to an agency, we have a list of benefits that an outsourcing partner can bring to your business. Let's have a look.
Benefits Of Outsourcing Amazon Marketplace Product Listing Services
1. Boost Page Rankings and Visibility
No matter the business you run, you'd want to rank higher in Amazon and Google. An optimized product listing helps you achieve this by grabbing customers' attention in the right way. But getting an informative and engaging product listing is easier said than done. Fortunately, expert Amazon listing service providers handle this task exceptionally well by crafting a listing that's a combination of all major relevant product keywords and their variations. Once search possibilities are incorporated in your listings, the chances of being picked by search engines are higher. Also, your listings become more readable, apt and appealing while boosting your ranking and visibility.
2. Increase Conversions
Imagine buying a product online with incomplete or inaccurate project details. Will you buy that product? Of course not. What we are trying to say is, when buying online, buyers look for complete and accurate product details before adding it to the cart or making the purchase decision.
When you have hundreds or thousands of products to sell, writing good, informative descriptions for each product might sound time-consuming as well as mind-boggling. That's when an expert product listing services team can help you in not one but several ways:
Use compelling language and tone while focusing on the product's features and benefits.
Create a listing that's at par with your competitors while keeping in mind Amazon search engine results pages (SERP).
Ensure high-quality and clean images that clearly depict your product's original attributes such as color or dimensions.
Build customer trust by providing authentic, precise yet detailed information to customers.
When all this is put together by experts, you just don't get well-written product descriptions but increased sales, traffic and conversions.
3. Scalability
This goes without saying but scaling up is critical to business success. Isn't it?
Okay, let's put it this way. As your business grows, your inventory also expands. Managing the expanded inventory requires more time, efforts and of course management skills. You need to constantly keep a check on product updates, add resources as and when required and meet the increasing demands. Lacking scalability here to match the growth opportunities might have some serious adverse impacts in your business.
Your outsourcing partner, on the other hand, can assist you in scaling up through trained staff who can effectively handle any rise in demand or product volume and vice versa. This holds true in the holiday season as well when the demand is at its peak temporarily. Thus, you can grab better opportunities and leave no stone unturned.
4. Focus on Revenue Generating Activities
Day-to-day Amazon tasks can consume a major chunk of your time. While you are busy running ad campaigns or uploading products, you may unknowingly miss out on some serious growth opportunities. And, if you start with product listings, which might not even be your area of expertise, you would end up wasting much of your valuable time as well as resources.
On the other hand, a trusted outsourcing partner handles the task of product listings exceptionally well. They are well-acquainted with the product listing techniques and strategies required to help you engage customers, increase sales and stand out of the crowd. While they manage all of this, you can save your time and invest it in other revenue-generating activities that require your attention.
5. Expert Assistance
Being one of the eCommerce giants, Amazon has its own rules and regulations when it comes to its marketplace. From customer support to product upload to product listing, Amazon has its own stringent rules.
While you might have a basic understanding of how the Amazon bulk product listing works, an outsourcing partner has expertise as well as experience of creating and optimizing product listings for diverse businesses and clients. They have capable team members from writers to editors to SEO who utilize their skills and put the best foot forward. and Leveraging expert support ensures you the best-in-class services along with several business benefits.
How Can We Help You?
First of all, you don't have to be the jack of all trades. You must take the smart way and reach your goal without letting your business suffer, and this is where SAMM Data Services can help you.
Our Amazon marketplace product listing services are ideal for your business. From listing a product on Amazon to uploading product data, we cover everything with one hundred per cent accuracy. Our team strictly follows Amazon's ranking algorithm to optimize your product data while helping you gain a better position in search engine result pages. Further, the listing optimization experts strategically incorporate relevant and high-volume keywords in your product descriptions for higher rankings, maximum traffic and enhanced brand visibility.