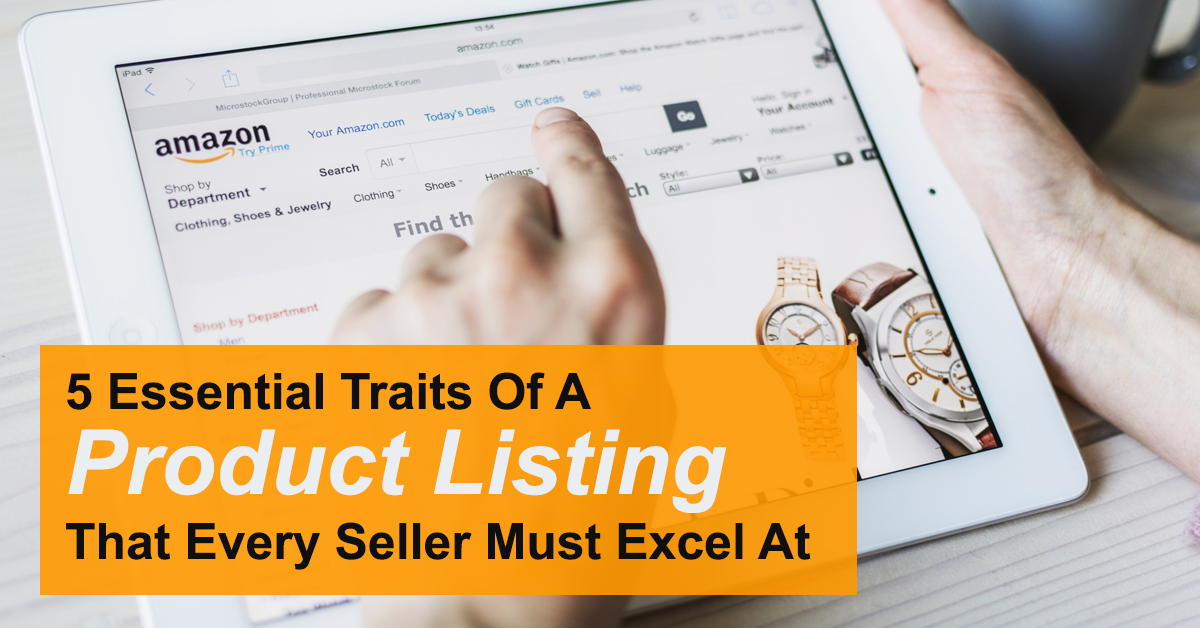 The job isn't over by just creating product listings for your online store. If you, as an eCommerce seller, intend to make a mark and convert your visitors to loyal customers, then you can't just sit back and wait for some magic to happen!
There exist a plethora of eCommerce marketplaces, the most popular ones being Amazon, eBay and Walmart. They provide a dynamic platform to a large number of sellers across the globe who have already established their place and listed their products well. With such a massive number of sellers already making the competition fierce, it becomes difficult for new merchants trying to carve a niche and manage the unique challenges, viz. suppressed listings, complying with the policies, bulk product upload, etc. So, as an eCommerce merchant, you must follow certain vital steps that will help increase the visibility of your products and boost conversion rates by not only optimizing your product listings, but also keeping tabs on the progress too.
Here are the various essential traits that every seller must take note of to make their product listings successful:
1. Right Categorization
The first and foremost thing that is necessary to get noticed by your potential buyers is choosing the right category for your offerings. Though this may get confusing with a plethora of product categories and subcategories at hand.
The intent should be to make your product searches relevant. For this, you may have to pick the categories and subcategories that are commonly used by your competitors. In addition, it should also be ensured that you match the SKUs with the respective categories and position them with the right set of attributes to facilitate relevant search results. You can always get assistance from a product listing expert, if need be.
2. Use The Keywords Judiciously
If you intend to increase the visibility of your product listings and rank them higher in the search results, incorporating relevant keywords and search terms / phrases in the product title as well as product description is the right thing to do. Your product listings will crawl up and get found by your prospects by just matching their search queries with your keywords and including them in your product copies.
If you think your prospective buyers won't click on the "buy" button if what they see doesn't grab the requisite attention or make sense to them, then you are right! The content should be more meaningful and should convey how it fulfills the buyers' needs. You may hire an expert rendering professional product description writing services to cater to all kinds of content-centric requirements, including copywriting, review writing, crafting titles & descriptions, etc.
3. Provide Complete & Accurate Information
It is important for you as a responsible eCommerce merchant to convey all the product details in a complete and accurate manner to ensure that your prospects make an informed purchase decision. For instance, if there exists any variant, color or size, you must mention it in the description to make them decide better whether to buy it or not.
By providing complete and accurate information to your potential buyers, your credibility increases and it surely makes you a trustworthy seller. This also gets you enhanced product rankings, and consequently more conversions.
In addition to the above, you must also lay focus on highlighting the prime features, benefits and other relevant information that a prospective buyer might want to know. Also, use bullet points wherever possible to enhance the readability and make the content scannable.
4. Focus On Clarity & Quality Of Photos
A photo can speak louder than just words. And when it is about photos that you'll use to sell your products online, it becomes extremely necessary to focus on the quality and clarity.
You can give your product the much-needed exposure by uploading high-resolution product images, probably in a white background for a clearer view, and avoid any distractions as well. You must also ensure that you exhibit your offerings with the help of product images from different angles.
You can opt for professional product image editing and retouching services to bring out the best in your product photos.
5. Right Pricing
Pricing is one of the crucial aspects of product listing. Before fixing a price for your products, make sure you do a thorough competition analysis. Competition analysis involves analyzing the prices of products of similar nature falling under the same category. You must know how your competing counterparts have priced their products.
You must finalize and set the profit margins for each and every product you sell and decide on a price that helps you stay afloat, yet gives rewarding conversions too. This is vital because price will greatly impact the sale of your products.
Make sure you don't set the margin substantially low or, even worse, overprice your products.
Go ahead and follow these steps to perfect your product listings and reach out to more and more buyers through relevant searches. The above traits are essential for bringing in more traffic to your product page and enhance sales and conversion rates.
Entrust SammData For Our Product Description Writing Services
As a seller, you must always be on your toes to sell your products effectively and bring in more traffic to your eStore. Furthermore, since the competition is getting intense every passing day, gaining advantage over your counterparts becomes quite difficult. So, as you need to bring your eCommerce store to the notice of your potential buyers, it is extremely important to build strong product listings for your products.
Still not so sure about your product listings? SammData is here to offer professional and affordable product description writing services to cater to all of your eCommerce product listing and optimization requirements. We possess a dedicated team of experts offering value-added services across the globe. Connect with us at info@sammdataservices.com to know more about our services or simply share your requirements.