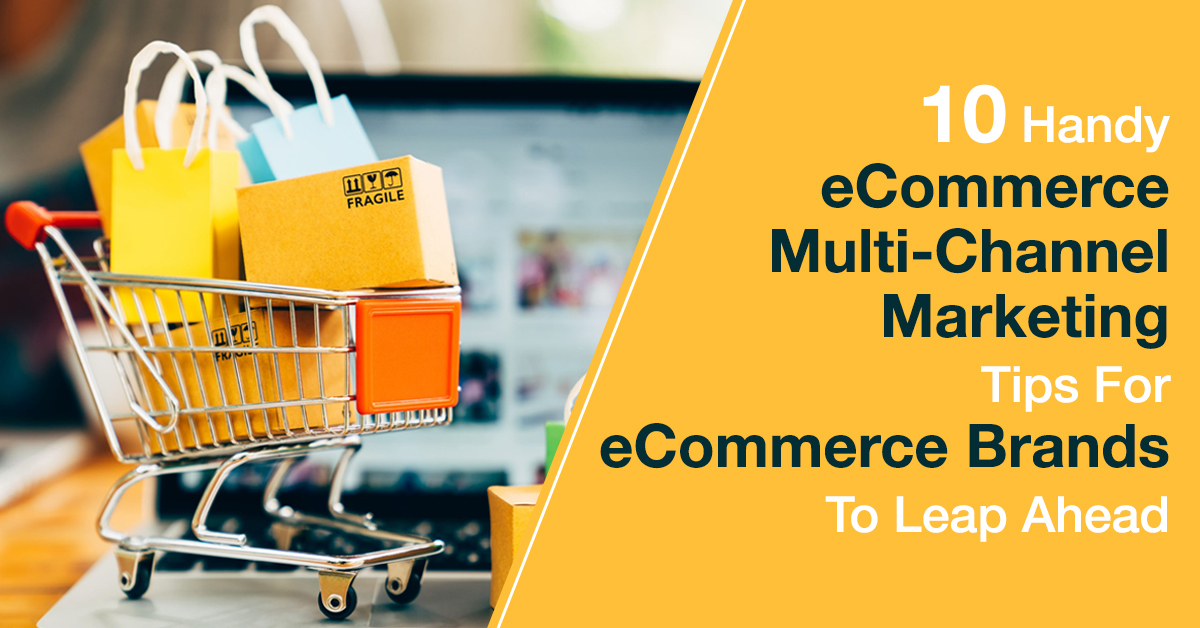 As per Wharton, around 66% of shoppers bank on more than one channel for online purchases.
This is surely an eye-opening fact and it actually unveils the importance of multi-channel retail. To understand this, let us first brief you about what multi-channel eCommerce is.
Multi-channel eCommerce – An Overview
Multi channel eCommerce is all about selling a wide range of products across various platforms, including:
A dedicated shopping website of your own
Online Marketplaces, viz. Amazon, Walmart, eBay, Rakuten, etc.
Comparison Shopping Engines like Google Shopping, PriceGrabber, NexTag, etc.
Now, let us walk you through the various tips that could help you increase the effectiveness of your eCommerce multi-channel marketing strategy:
1. Focus
Multi-channel doesn't really mean targeting all possible channels and platforms. You must first figure out which platforms are best suitable for your business, be it Facebook, LinkedIn, Twitter or any other. Make sure that the chosen channel works for your business, target audience and industry. Go for Instagram if you want success in B2C marketing and if you intend to do B2B marketing, then you might want to consider LinkedIn.
Analyze your competitors as well and decide whether you would like to follow the same path and choose the same channels or want to be a leader and discover your own successful path. You may go from a wide spectrum of platforms, including email, marketplaces, social media, online communities, organic search results, messaging apps, and more.
2. Understand the target audience
For your target audience to find you through organic search engine results, you must first understand your potential buyers' journey. You must be well aware of the behaviour of your prospects, be it their interests, preferences, needs, and so on.
A buyer's journey is not a linear path. It passes through a number of phases, viz. awareness, consideration, decision, and post-sale. Understanding your potential buyers and their needs is crucial to grow and scale your eCommerce business. And only then will you be able to render a better shopping experience.
3. Build a robust plan
By understanding the buyers' persona, you will be able to make a multichannel marketing plan effectively. A plan that clearly elucidates the various communication modes to be used, nature of content/media to be included, and the channel or a set of platforms to be used to start conversations with the potential buyers. Make sure your plan is realistic and achievable. In addition, go for detailed marketing tactics and communication for each of the channels and across multiple devices. Further, create action plans to keep the things on track.
Adopt an agile and strategic approach to act, reach, engage, and ultimately convert!
4. Remarketing is important
Dynamic remarketing allows you to display product ads to your potential audience who have already visited your website. The products showcased will be the ones they searched for or visited, and might as well include similar products. Remarketing basically means targeting the visitors again with custom messages for them to remind of their buying behaviour and product.
Remarketing facilitates a high conversion rate and a thin cart abandonment rate. In order to re-market your products, you must connect the feed of a particular product and the unique product ID, image and price with your ad building platform. You can insert various dynamic retargeting tags to all the product pages and social media ads as well.
For remarketing ads, you might want to edit the images to be used in the ads. In such a scenario, outsourcing product photo editing to a specialized professional is a viable thing to do.
Remarketing can also be done for your emails. All you need is an email marketing software that sends your visitors a series of emails reminding them of their wishlist, special offers on products, and so on. You can also acquire new customers by activating dynamic prospecting for your product ads. Dynamic prospecting helps show the right products at just the right time by collating user information and product information.
5. Tailor the messages for each channel
Every channel is different. It is not necessary that a marketing strategy devised for Facebook will work equally well for Instagram. Similarly, what works for Instagram might be a flop when it comes to email. This is because the kind of audiences differs and so do their expectations. So, even if you are leveraging more than one channel, make sure that you employ a different marketing strategy for every channel.
You must not craft the same messages for every channel, instead tailor the messages on the basis of expectations of your prospects as well as how the channel works. For example, YouTube can be used to share "How To", step-by-step guides, interview videos, and so on. As far as email marketing is concerned, share content pertaining to product updates, new product launches, cross-selling of products or any custom messages. Facebook can be used to send short messages or texts driving your customers to your blog page or share any new update.
6. CRM software can help too!
When it comes to multi-channel marketing, sharing of content must be done on a regular basis on all the channels to reap benefits. However, do not flood your channels with more and more content pointlessly. Just remember to deliver quality over quantity. With a variety of channels to look after, a Customer Relationship Management (CRM) software comes in handy to track all the interactions of your customers. A CRM software creates a user profile when a customer contacts your brand through one or multiple channels and this profile keeps getting updated with every contact or conversation. Conversation paths can also be identified to reach the customer by knowing his/her preferred time, channel preference, and more. This information can help brands in optimizing the channels and accordingly launch campaigns for better sales conversions.
You may also be able to discover the loyalty of your customer and figure out his/her long-term goal.
7. Consistency
You should be consistent in doing what you do. Your efforts to deliver value across various devices and channels should feel the same. If possible, use similar themes, images, colors, branding and messaging tone.
The above-mentioned tips will help you increase the effectiveness of your multichannel marketing plan.
Conclusion
Choosing the right channels for marketing is extremely important. You need to figure out which channels would actually make you stand out from the crowd.
SAMM Data Services is a multi-channel eCommerce management company offering augmented reach, better performance, and better customer experiences. In addition to our multi channel eCommerce management services, we render catalog copywriting services for various channels as well and also help you with bulk product upload and eCommerce product data listing services too. Connect with us at info@sammdataservices.com to get started.