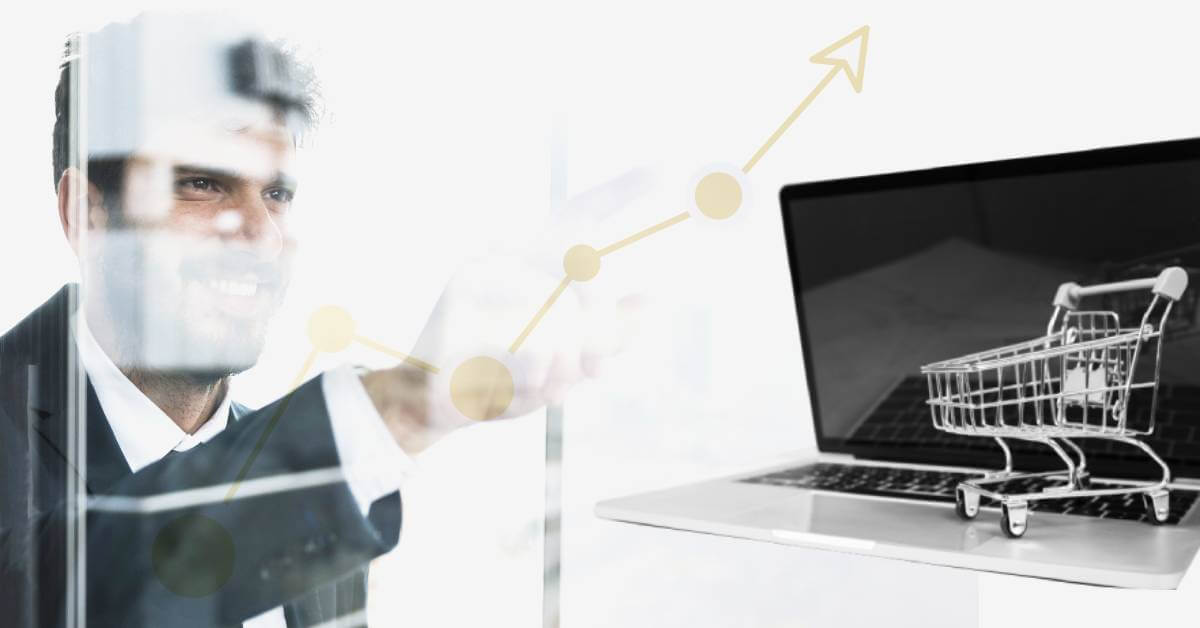 Probably, you've heard the saying – 'if you build it, they will come'. However, this popular phrase doesn't fit in the world of eCommerce. To grow your online business and outrank your competitors, you need to bring your store in front of your target audience.
So, what's the best way to market your online store that not only improves the visibility of your store but also brings qualified leads?
The answer to this mind-boggling question is – Organic search traffic.
According to a study conducted by Wolfgang Digital: 43% of eCommerce traffic comes from Google organic search.
From this, it's clear that online store merchants should have a robust marketing strategy at their disposal that not only drives new potential buyers but also retains existing customers as well. Luckily, growing your eCommerce store in the saturated market is not as challenging as it seems. You can easily outrank your competitors if you refer to this comprehensive guide covering the basic fundamentals of eCommerce SEO. In this guide, you will get to know how to catapult your online store to the top in organic search rankings of major search engines like Google, Yahoo, and Bing. Without further ado, let's look at it.
1. Sell on the Popular Marketplaces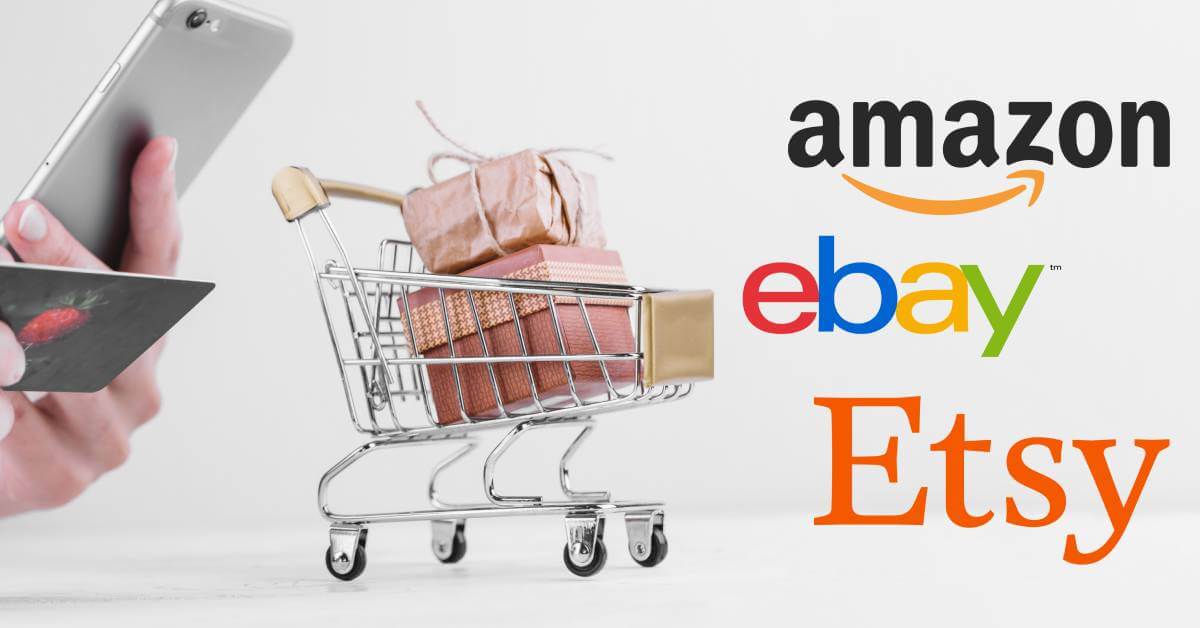 Selling on popular marketplaces like Amazon, eBay, Etsy, etc. can help you improve the visibility of your products and attract more customers.
"In a study, it was found that sellers who go for a multichannel marketing strategy and sell on 3 or more marketplaces are likely to sell 144% more".
Each marketplace has a defined user base and receives a whopping number of unique visitors on a regular basis. You can target such customers who may not have heard about your eCommerce store by expanding your reach across all the popular marketplaces.
Before you jump to any popular marketplace and start selling online, it's suggested to meticulously check the product listing guidelines, so that your product listing doesn't get suspended. In case you feel you need an expert to upload bulk products on multi-channels or list your products as per the said guidelines, you may outsource bulk product upload services to a specialized vendor. Always look for an expert who provides eCommerce product upload services to multiple marketplaces with a high degree of accuracy and in quick turnaround time.
Exposing your products to multiple marketplaces allows you to earn the trust of your customers and drive them to your dedicated eCommerce store.
2. Devise to Make a Strategic Partnership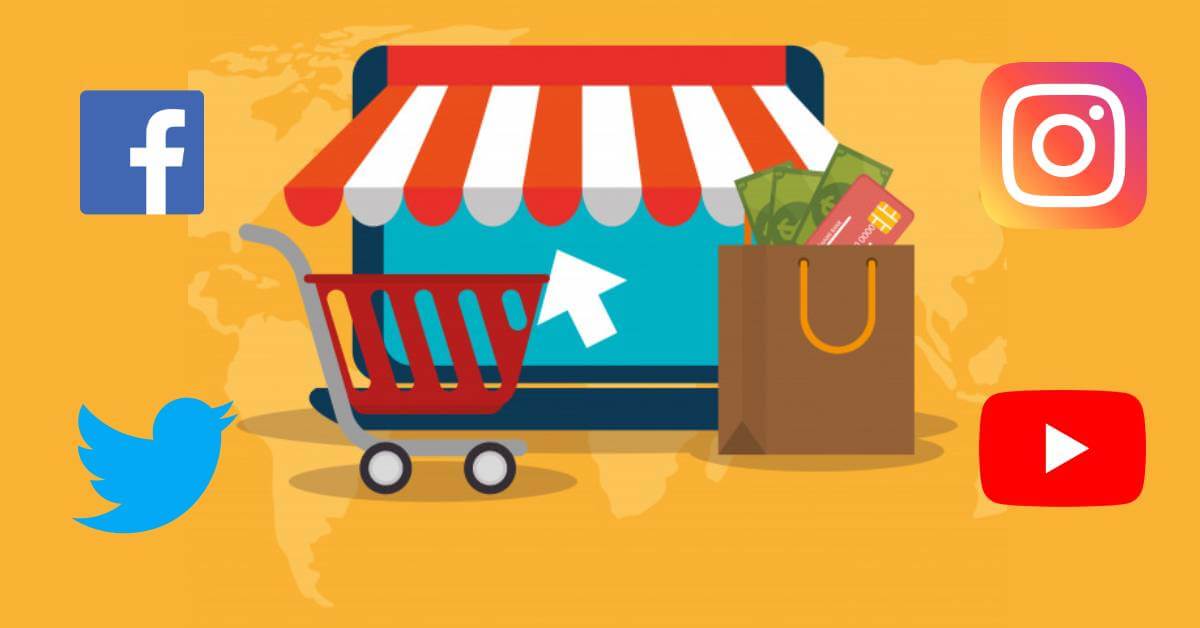 Another simple yet powerful way to grow your eCommerce store is collaborating with social media influencers of your niche. Reach them out with a lucrative proposal in exchange of promoting your products on their social media networks or blog, if they have any. Believe us, one social media post on the influencer's network is enough to drive an influx of visitors to your eCommerce store in a jiffy.
When looking out for an influencer, you should always collaborate with someone who has sound knowledge of creating laser-targeted content around your product. The simplest way to find the right influencers of your niche is:
Follow them on Instagram, Facebook, YouTube, and other social networks.
Monitor the number of views, likes, comments or shares they receive on their posts.
The key to build a successful collaboration with the influencers of your niche is to engage with them actively on every network they are available. Having an influencer on your side can not only improve the visibility of your products but also help you drive customers to your eStore directly.
3. Create a Blog and Craft Long-Form Content Pieces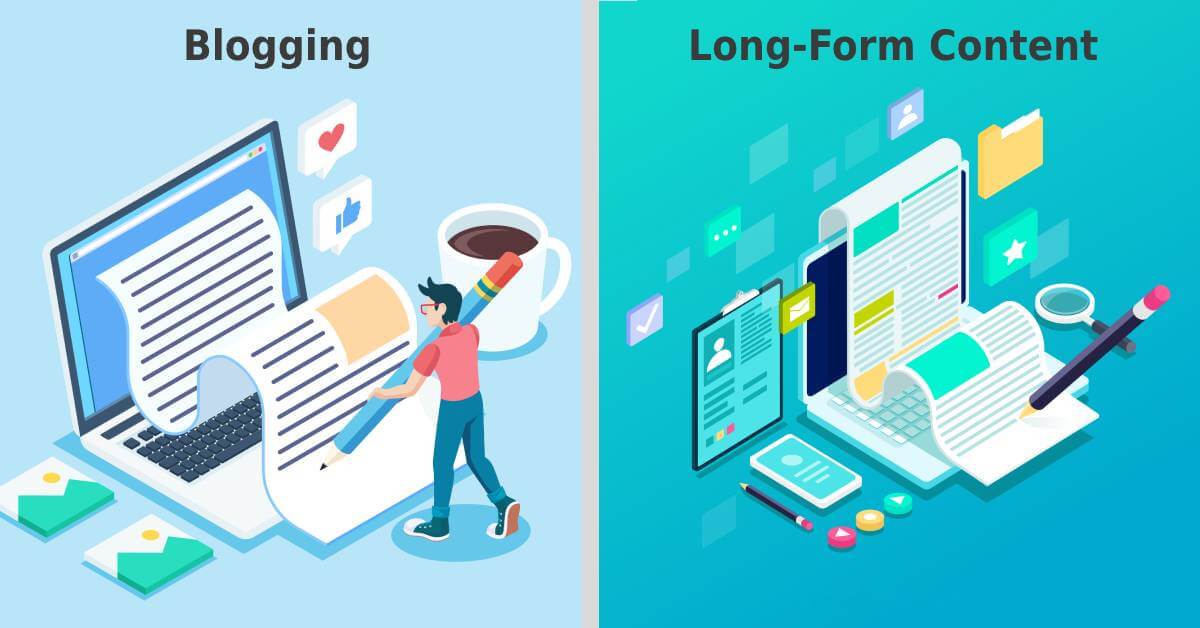 Blogging is not just an option, it's a necessity for your eCommerce business. Today, businesses of all industry verticals are leveraging blogging to engage audiences, build trust, generate leads, and improve the visibility of their brand. If you are still on the fence and wondering whether you should go for blogging, here are some facts for you:
Blogging can help you attract 97% more inbound links
Over ¾ of users on the internet read blog daily
You are likely to get 5x more traffic if you do blogging on a daily basis
Writing long-form content between 2,250 and 2,500 words can help you earn the most organic traffic. (Source: HubSpot)
As per the data from SEMRush, Google prefers to reward long-form content to the top in organic search results. The average word count of a blog post that ranks on the first position contains 1,890 words. (Source: Backlinko)
Long-form content is one of the easiest ways to cut through the noise and make your content piece stand out from the regular blog posts that are around 500 words. By investing your time and efforts in creating long-form content, you can not only educate your audience but also channelize them to your product pages directly from your blog posts.
If you are not sure about what topics you should write, you can create a list of questionnaires that your customers frequently ask. Now, create a long-form content that provides answers to all your customers' questions so that every time a customer faces the same problems, they can refer to your blog post. Creating such long-form content will serve as an evergreen content that will continually drive traffic to your website round the year. You can also try out popular tools like BuzzSumo, Ahrefs Content Explorer, etc. to come up with trending topic ideas that drive a significant amount of traffic. Once you have data-driven insights at your disposal, you can create high-performing content that drives sales.
Note: When creating long-form content, always ensure that you incorporate visually appealing images, infographics, and videos. Since visuals arouse the curiosity of visitors to read content by 80%.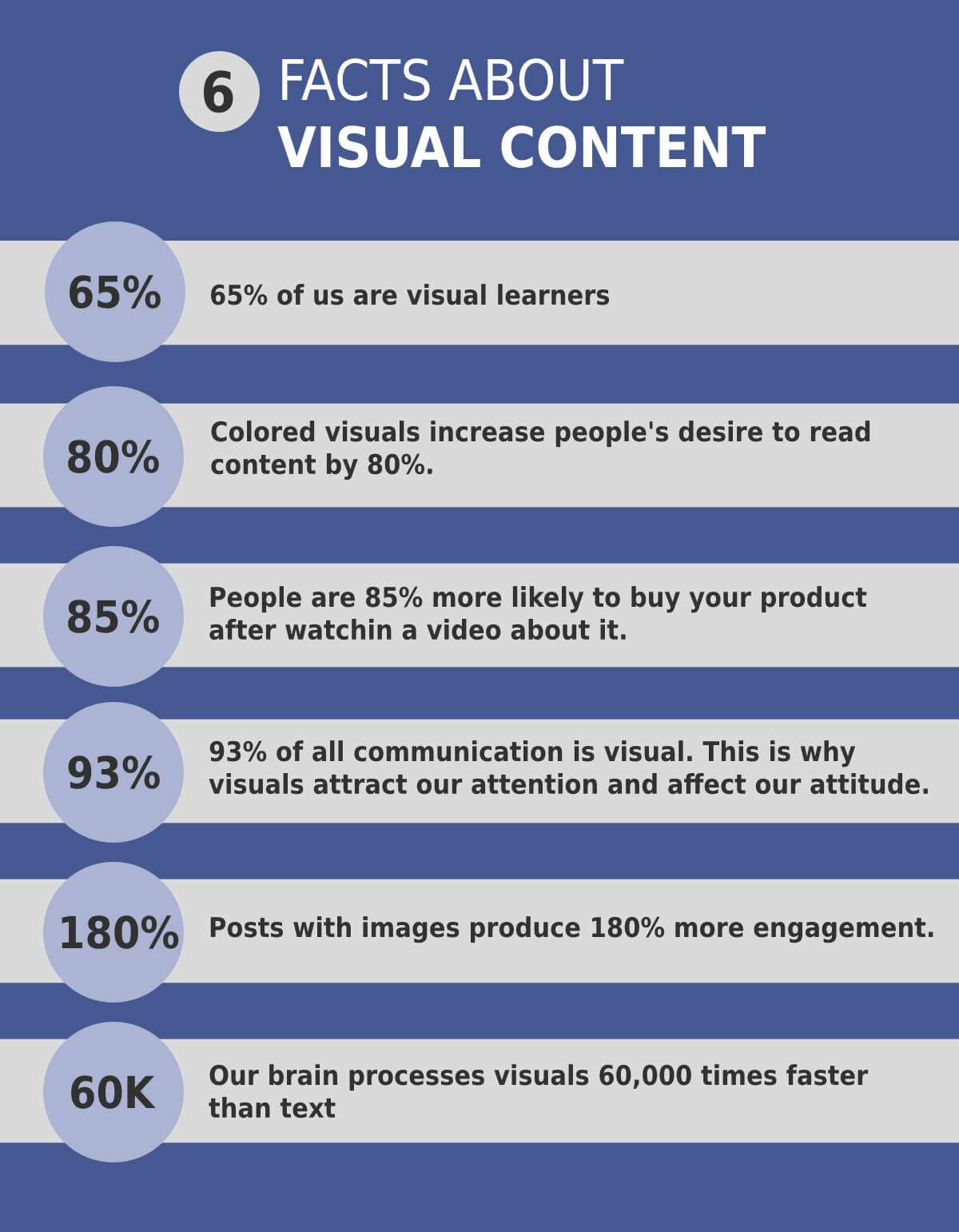 Source: Venngage
4. Don't Underestimate the Power of M-Commerce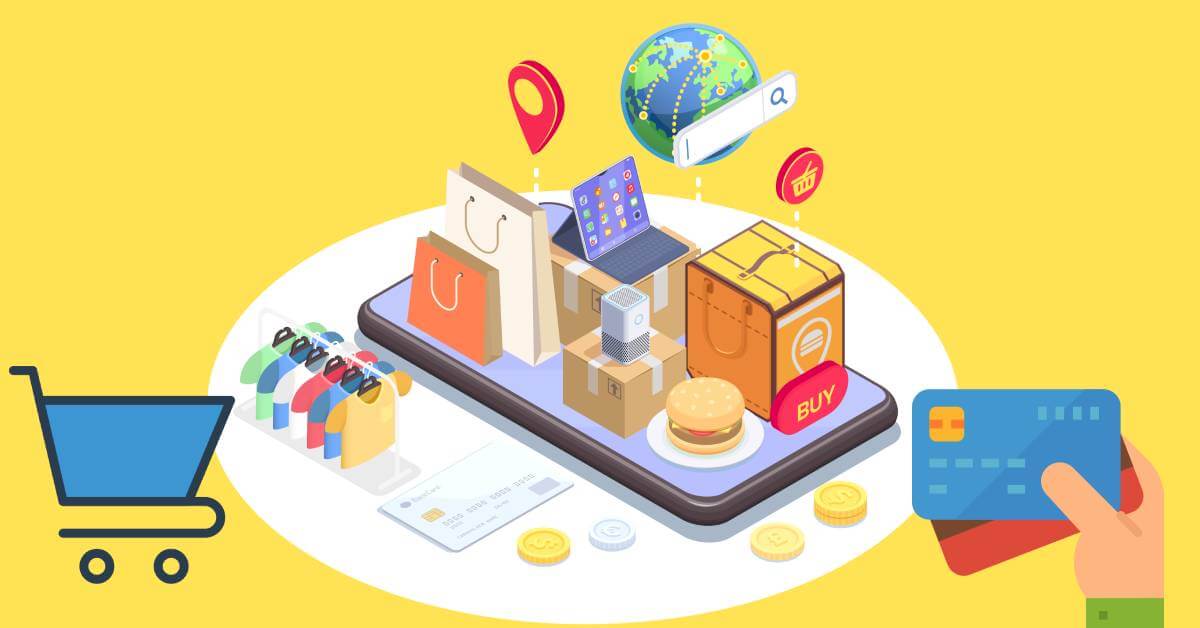 Today, people love to shop on the go. In other words, m-commerce is on the rise and it is predicted to grow up to $500 billion by 2020. By offering a delightful mobile shopping experience to your customers, you can increase the chance of a prospect buying from your eCommerce store by 67%. Here are a few things that you must consider to ensure that you provide a seamless mobile experience to your customers.
Ensure your website is fully responsive and works flawlessly across all mobile devices.
Improve your site search.
Simplify the lengthy checkout process.
Optimize your mobile's site navigation, icons, and menus.
Say no to Adobe Flash.
Keep a check on the speed of your mobile site and make sure it loads within 2-3 seconds.
Over to You
If you want to thrive in the growing eCommerce competition, you should embrace the latest technology, trends, and updates – because 'change is the only constant'. You have to keep experimenting with different strategies to find out what's driving more customers to your store. In this post, we have discussed a few actionable tips that can help you grow your eCommerce business. In case you need an expert on your side who offers affordable eCommerce product cataloging services or can optimize your site for mobile, you may hire certified and experienced professionals from SAMM Data Services. Connect with industry experts by dropping an email to info@sammdataservices.com.