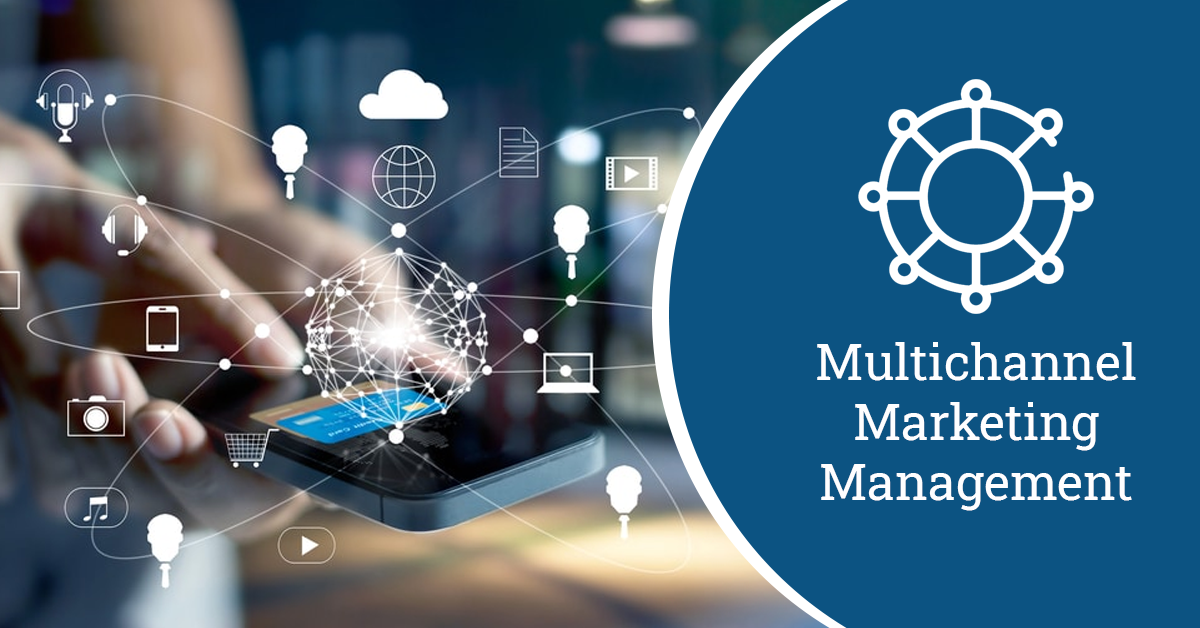 In today's thriving age of eCommerce business, the online market is huge and largely diversified. This has diversified the audiences to a large extent, as well. The huge number of online marketplaces means that the audiences have many options. While many online shoppers, especially first-timers, like to browse multiple marketplaces, there are others who are loyal to a particular marketplace.
In either case, it is essential for brands, manufacturers, and sellers to make their products visible on all online marketplaces. Sellers need to make their products available on some of the most popular eCommerce marketplaces such as Amazon, eBay, Sears, and Rakuten. Through the course of this article, we will study the importance of multichannel marketing, how to handle multichannel marketplace management, how various eCommerce marketplaces work, and the associated services.
Increase Visibility Of Products With Multichannel Marketing
Multichannel marketing indeed increases the visibility of your products. For any particular product keyword search on Google, results of various marketplaces might be ranked differently. For example, an eBay link might be the top result for 'Buy Sewing Machine Online', while Amazon might rank topmost for a phrase like 'Buy Mobile Phone' in the same geographical location. It is important for sellers to be available on both, or more marketplaces.
Multichannel marketing helps not only with the visibility, but your company's overall profits as well. Multichannel marketing acts like distributing your products across various online channels without having to travel as in the case of physical marketplaces. Showcasing a product's specifications precisely, while adapting to the format of each marketplace is the key. Let us now have a look at how multichannel marketplace management can be handled.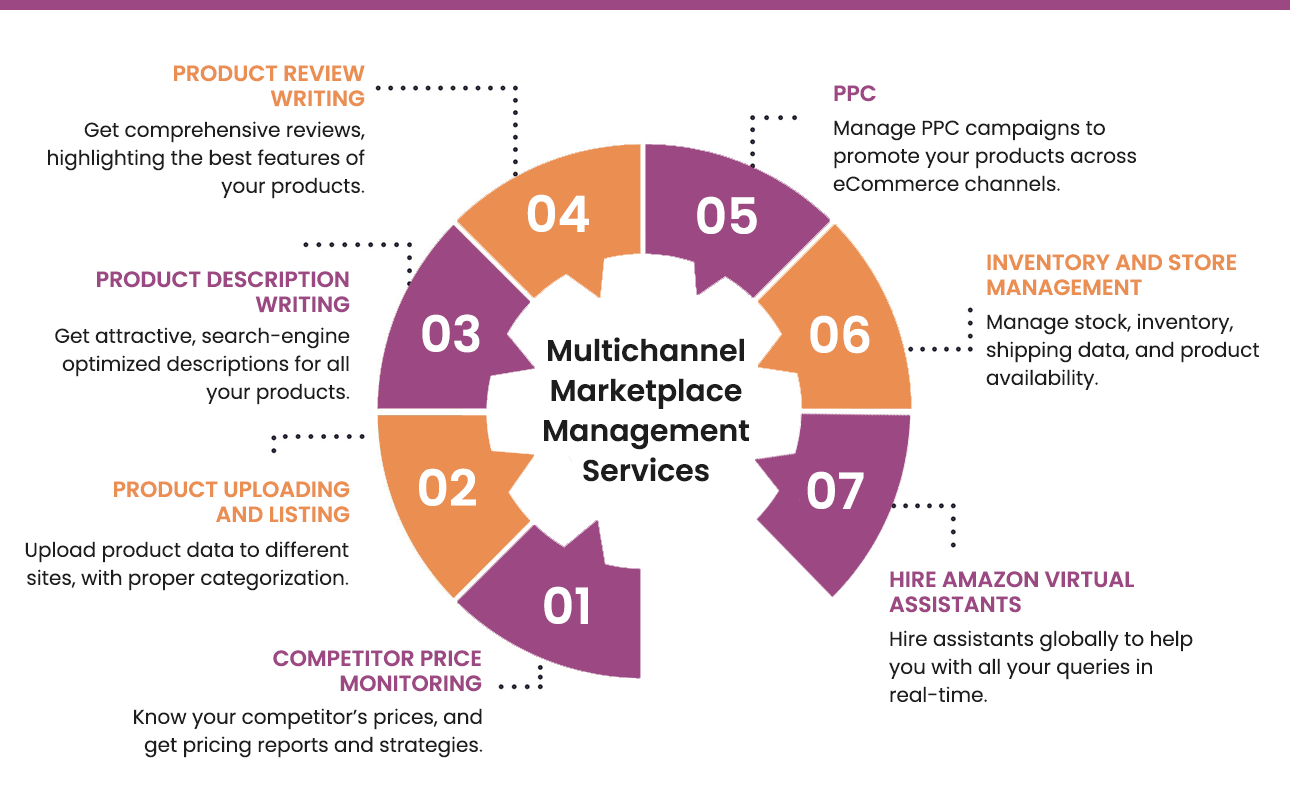 How Multichannel Marketing Works
You can outsource your multichannel marketing requirements to an expert or company with experience of working over various eCommerce marketplaces, including Amazon, eBay, Sears, etc. Your multichannel marketing manager would require some specific information, such as product data in a CSV format and inventory information. The marketing manager would take care of exporting the product data to various marketplaces and optimizing it.
Since every marketplace has its own format and regular updates, the marketing manager must update your data on each marketplace accordingly. All product information, such as title, description, category, images, discounts, etc should be properly entered and frequently updated. This process helps you target different audiences via a systematic procedure.
You can know more about the process, by going through this case study of a company requiring Amazon Catalog updation services.
Most Popular eCommerce Channels
Some of the most popular eCommerce marketplaces are Amazon, eBay, Walmart, Etsy, Sears, Buy.Com, Rakuten, and ChannelAdvisor. Each marketplace has millions of products and shoppers. Several thousand sellers have been using these marketplaces for years to drive millions of dollars as profits every year. Each marketplace has its own design, format, and way of working.
Let us study some of the most popular eCommerce channels, how they work, and all other requirements for each.
1. Amazon:
Amazon is one of the biggest online eCommerce marketplaces. Amazon consists of millions of products and thousands of product categories. Amazon has one of the largest customer bases and with services such as Prime Delivery and Prime Video, their consumer base keeps increasing. Amazon requires sellers to enter a lot of information, such as product name, price, seller's name, descriptions, weight, color, shape, etc.
One of the most important factors is entering the product category properly. With over 30,000 categories and sub-categories, choosing the correct category path is crucial. Categorical information can also be entered in the title and description but in the correct manner. The content and images should be original and optimized for search. Amazon Product listing services are quite helpful in this regard.
2. eBay:
eBay is one of the oldest, largest, and most relied online marketplaces for years. Besides just B2C, eBay also encourages individuals and wholesalers to feature their products via the marketplace. eBay also has the option of bidding and auctioning of products, which makes it unique in the way it reaches its customer base. In many cases, eBay requires its sellers to enter unique identification numbers.
These include Universal Product Codes (UPCs), International Standard Book Numbers (ISBNs), Manufacturer's Part Numbers, and European Article Numbers (EANs). Product images, variants and conditions also need to be entered carefully. eBay also encourages users to sell used and second hand products, so entering correct product information becomes all the more important. eBay product listing services are meant for this purpose.
3. Sears:
Sears is not only an online marketplace. It is a chain of department stores that have been in business for over a century. Many people who visit the stores physically also regularly visit the website. The marketplace has over 15 million unique online visitors. eBay sellers can also enter their products to Sears, so information should be entered very carefully.
Sears has over 20 merchandise categories. Electronics are an integral part of the website's products, so the number of product specifications increases. Besides textual content, images need to be of high quality. Getting images edited by professionals is a good option. Expert Sears marketplace management service providers will do a great job at managing your Sears accounts.
4. Rakuten:
Rakuten is one of the most credible electronic marketplaces online, with millions of products and online buyers spread around the world. The platform also helps you target many buyers in Asia and the eastern part of the world. Over 40,000 sellers from more than 30 countries are already selling their products on Rakuten. Registered brands can get customized storefronts via Rakuten.
While manufacturer IDs and barcodes are essential to upload products on Rakuten, products are individually screened before confirmation. Products then need to be listed via an RMS web tool. Several other categories of products, besides electronics, are also featured on Rakuten. Sellers must avail Rakuten Marketplace Management Services from experts.
eCommerce Services You Need
For effective multichannel marketplace management, there are several services you require to succeed. Some of them are product uploading, product listing, competitor price monitoring, PPC, inventory, and store management, and hiring Amazon virtual assistants.
Understanding the importance of each service would help you understand the significance of multichannel marketing in a better manner. Let us have a look at all the services one by one, and what all they incorporate.
1. Competitor Price Monitoring:
Pricing is one of the most important factors that influence buyers on all eCommerce marketplaces. Those who can master the art of pricing can handle multichannel marketplace management the best. Most marketplaces encourage sellers to introduce sales and discounts around the year, especially during festivals and holidays. Even without festivals and holidays, many sellers come up with discounts and attractive prices that result in instant sales and growth in profits.
Competitor price monitoring is a service that identifies your competitor's prices for the same products. After monitoring competitors' prices, it is essential to devise a dynamic pricing strategy. Pricing should be high enough to justify your investment, and low enough to encourage consumers to click on the 'buy' button. Experienced professionals study the pricing history of a product, present pricing data in the forms of graphs and charts, and present reports on prospective pricing strategies to drive sales. You can expect an instant increase in eCommerce sales using competitor price monitoring.
2. Product Uploading and Listing:
Uploading and listing products to online marketplaces is a crucial and tedious task. All relevant information such as product category, images, price, brand name, specifications, and features need to be entered properly. Products can be listed by matching or scanning the barcode, or by creating new listings.
For new listings, other information such as product title, variations, bullet points, offers, etc should be correctly mentioned. It is important to hire professional experts or outsource listing services to a team that regularly handles multiple clients, as they are up to date with the specific eCommerce website's requirements and latest updates. eBay and Amazon Product listing services help a lot.
3. Product Description Writing:
Product descriptions are the make-or-break factor in eCommerce sales. Descriptions need to be written in an articulate fashion, should be all-encompassing, yet subtle and unique. All the specifications a prospective buyer is looking for, should be mentioned in the product descriptions.
eCommerce Product descriptions writing should be well researched and persuasive enough to influence buyers on online marketplaces. Since there might be several products of the same kind on a particular marketplace, descriptions should be search optimized as well to help them rank high.
4. Product Review Writing:
The best eCommerce product reviews are the ones that are the most honest. Just using words like 'great', 'mind-blowing' and 'superb' are not enough to influence other buyers. The reasons behind using such superlatives need to be explicitly stated to make an impact. Product reviews must be written by experts to make them stand out and be ranked among the most relevant reviews.
All the USPs and standout features of the product must be highlighted in product reviews. The amount of time a user has used a product, its price, packaging and delivering, maintenance, and benefits in lifestyle after using the product must be included in eCommerce product review writing. Products must be well researched and used first-hand if possible before writing a review.
5. PPC:
PPC or 'Pay Per Click' is a great way of promotion and advertising for new sellers and brands on online marketplaces. While PPC might come across as an easy shortcut to promote a brand and drive sales, it requires expertise to drive campaigns that lead to results.
PPC experts work on several factors, including conducting in-depth research, setting up PPC accounts, deciding campaign budgets and timelines, writing ad copies, optimizing campaigns, analyzing and reporting. Each aspect, if covered carefully, can lead to a good brand recall value for future sales as well.
6. Inventory and Store Management:
Mismanagement of inventory can disrupt the entire product flow cycle. Sellers inexperienced in eCommerce management can find themselves in deep trouble without proper inventory and store management. Inventory records and product availability need to be updated in real time, and the flow of products between vendors and suppliers needs to be streamlined.
Store management incorporates updating full product data, availability, product category, and images. Orders need to be processed with 100% accuracy and any returns or refunds should also be noted.
7. Hire Amazon Virtual Assistants:
Hiring expert Amazon Virtual Assistants can help you save on time and get all your problems sorted within minutes. Amazon Virtual Assistants are available worldwide, so you rest assured of overcoming any issues in your geographical location.
Virtual Assistants are experienced consultants available on a full-time, part-time as well as on an hourly basis. Virtual Assistants include Amazon marketing professionals, listing experts, customer support experts, social media managers, and Amazon Seller Central consultants.
Outsource multi channel marketplace management
All your Multichannel marketplace management services can now be handled by experienced professionals. Whether it is multichannel management, competitor price monitoring, online product data entry, photo editing, marketing and promotion, SEO, or platform-specific copywriting, all services can be availed individually as well as under a package.
For all eCommerce and online marketplace management services at the most affordable prices and a quick turnaround time, contact SAMM Data Services here or send an email to info@sammdataservices.com.
FAQs:
1. What is multiChannel marketplace management and why do I need it?
MultiChannel Marketplace Management is basically about managing multiple eCommerce marketplaces, such as Amazon, eBay, Sears, etc. With most people buying products online, they browse all marketplaces to get the best products at great discounts and good service. MultiChannel Marketplace Management enables you to make your products visible on all eCommerce marketplaces in the desired format.
2. How does multiChannel marketplace management work?
The most important thing in MultiChannel Marketplace Management is the consistency of data. While each eCommerce marketplace has a separate format and requires different specifications, similar data asked across different formats must be filled similarly. Data can be sent in the form of CSV as well as Word Files, although CSV format is preferred the most. Information, such as product title, images, category, description, discounts, etc must be correctly entered and shared with the management service provider.
3. What are the various eCommerce services I can avail?
All eCommerce marketplace management services can be outsourced to professionals and companies. Some of these services are product uploading and listing, product description writing, review writing, photo editing, PPC – marketing and promotion services, inventory management, store management, hiring virtual assistants, and competitor price monitoring.